Air intakes are an essential upgrade for every performance enthusiast. Their high-flow designs hook your engine up with tons of power-enhancing oxygena so you can jump off the line faster, haul heavier payloads, and maybe even save a few bucks at the pump. With so many air intake brands out there it can be hard to find the right one for your vehicle. Check out two leading brands, Takeda and Injen, and discover the right air intake for your vehicle.
Injen Air Intakes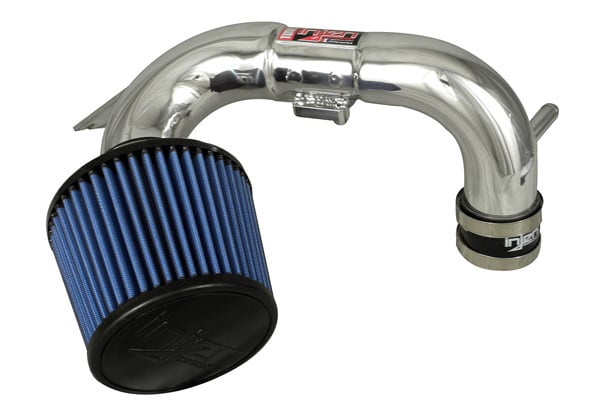 Injen Air Intakes are known for their superior air flow,and their finely-tuned designs give your engine optimized air/ful ratios. This maximizes your power output and gets the most combustion out of every drop of fuel. Whether you choose the Injen Short Ram Air Intake or the Injen RD Cold Air Intake, you'll add significant power, acceleration, and torque to your vehicle. The specially-designed Injen PowerFlow Intake takes this engineering to the next level, with a sophisticated tuning system that provides for incredible acceleration. Each Injen Intake is crafted from T-6061 aluminum for high strength and corrosion resistance, as well as a very light weight that won't bog your vehicle down.
Your Injen Air Intake comes with every piece of hardware you need for a complete installation, and thanks to their custom designs it's a pretty fast and pain-free process. Plus, with many systems you can choose between a glossy Black or Polished finish. Injen backs their intake systems with a Lifetime Warranty too, so you can rely on your intake for as long as you own your vehicle.
Takeda Air Intakes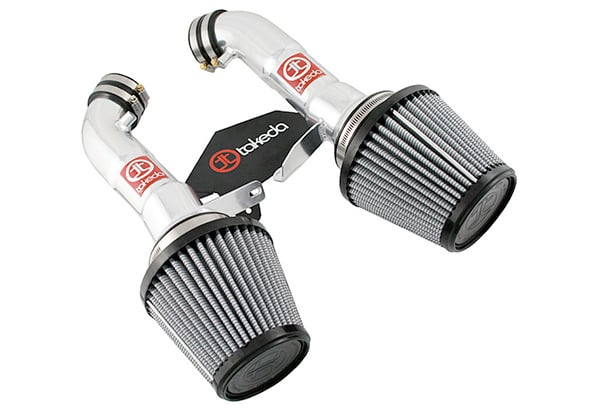 Takeda (a division of aFe) boasts with top-notch materials and Japanese-influenced designs. Their engineering is road-tested and proven to give your engine checkered flag-worthy power and torque gains. Every Takeda Intake is built from high-quality aluminum for superior strength and light weight. The tubes are also anodized to a glossy shine to give your engine bay a little bling, and the finish prevents oxidation and rust for years of show-ready looks. Every intake also features 4-layer synthetic Pro Dry S technology, which keeps your air supply free of dust and debris while maintaining superior flow.
Takeda Air Intakes come in three different designs, depending on your particular vehicle. Choose from the Attack Cold Air Intake, which places the filter behind the front bumper to draw in dense cold air, the easy-to-install short ram Retain Intake, or the versatile Link Conversion Intake, which includes a removable section of tubing to convert from a cold air to short ram design. Every Takeda Intake is backed with a 2-Year Warranty.
Injen or Takeda - What Is The Right Air Intake?
Now you know what both Injen and Takeda have to offer, so which one do you choose? Take a look at this chart to make a side-by-side comparison between Injen and Takeda Air Intakes. Be sure to check out our customer-written Air Intake Reviews and our Air Intake FAQ page for even more details about these high-performance systems. And finally, if you have any extra questions our customer service crew is ready to help, either by email, online chat, or by phone at 800-663-1570.
| | | |
| --- | --- | --- |
| | | |
| Starting From | $179.00 | $148.15 |
| Materials | Aluminum | 6061 Aluminum |
| Styles | Cold Air, Short Ram, Hybrid | Cold Air, Short Ram, PowerFlow |
| Finishes | Polished | Polished, Black |
| Available Accessories | None | Air Filters, Forced Induction Systems |
| Warranty | 2-Year | Lifetime |
| Shipping | FREE | FREE |
| | | |