Taylor Cable Helix Power Tower Throttle Body Spacer 34055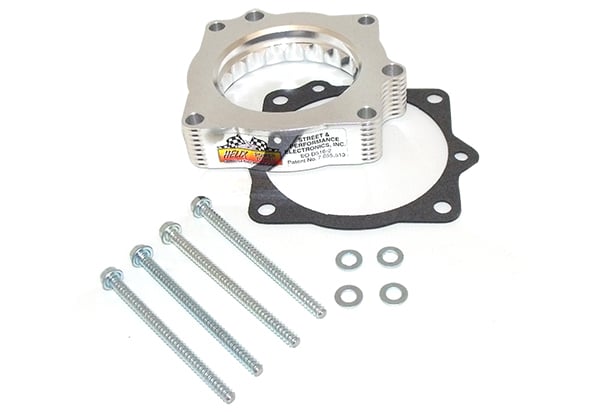 Our Price:

$89.93

Shipping:

FREE SHIPPING

Part Number: 34055
UPC: 088197340550
$89.93
Free Shipping
Select your vehicle details above to ensure item compatibility.
Ships between 11/03/20 - 11/04/20
The Taylor Cable Helix Power Tower Throttle Body Spacer brings breakthrough design for even better power and fuel economy
Precision-machined from solid billet aluminum
Computer designed channels and variable venturi aperture cause air turbulence and breakup for improved air/fuel mix
Variable venturi aperture
Provides up to 22 horsepower and 25 ft. lbs. of torque (depends on engine and driving style)
Can add up to 4 MPG to your gas mileage
Quiet operation without whistling
Works with fuel injection and carburetors
Installs in about 45 minutes without mods
Complete kit comes with all the hardware, gaskets, and instructions you need
CARB Certified, 50-state street legal
The Taylor Cable Helix Power Tower represents a true breakthrough in throttle body spacer technology. It is expertly engineered for optimized air breakup and turbulence, which translates into higher fuel burn efficiency. The result: gains of up to 22 HP, 25 pounds of torque, and even up to 4 miles per gallon.
Throttle body spacers are designed to cause turbulence in your engine's air flow to promote a greater air/fuel mix. However, many inferior spacers aren't properly designed, resulting in a spacer that whistles annoyingly while at work - if it works at all. Taylor Cable tests their Helix Power Tower spacers on the dyno and flow bench to ensure the best possible air turbulence for true power gains and quiet performance.
The Taylor Cable Helix Power Tower is crafted from solid, heat-treated billet aluminum. The machining is done on the most advanced CNC equipment available and every plate is held to extremely rigorous manufacturing standards. This ensures that every Helix Power Tower is the best throttle body spacer on the market.
Your Taylor Cable Helix Power Tower Throttle Body Spacer comes to your door as a complete kit, including all the gaskets, hardware and complete instructions you need for an easy, bolt-on installation. The Helix Power Tower installs in as little as 45 minutes. Plus, it's 50-state street legal, so you can take your new performance anywhere in the country.
Note: Thanks to the Magnuson Moss Warranty Act: US Code - Title 15, Chapter 50, Sections 2301 - 2312, the factory warranty of your vehicle is protected by law, even after the addition of aftermarket parts.
Taylor Cable 34055 fits:
1996-2004 Toyota 4Runner
1996-1998 Toyota T100
1996-2004 Toyota Tacoma