Oxygen is a critical component of combustion, and chances are your stock air intake just isn't giving your engine enough of it. It's fast and simple to install a Performance Air Intake, and the results are immediate - and amazing. Faster acceleration, greater overall horsepower, and even a couple extra MPGs are what you'll get with one of these intakes, household tools, and about an hour of your time. Volant and Airaid both make high-quality air intake systems that take your performance to the next level. Compare these two leaders and find the right air intake for your particular vehicle.
Volant Air Intakes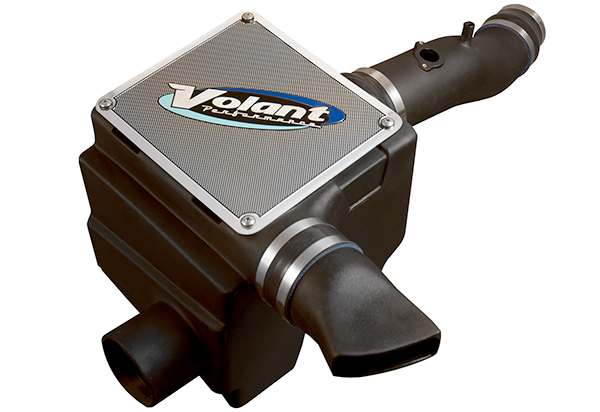 Volant's research and design facility is staffed with some of the most respected engineers in the performance parts industry, and that expertise shows when you step on the pedal. Because each Volant Intake is custom-tuned, you'll get air flow that's optimized for your particular vehicle. This ensures you'll extract the most power and torque out of your engine. Volant Air Intakes for many vehicles also come with a high-flow Velocity Air Box. This box is designed with a massive air duct, which pulls even more air into the intake.
A high performance air filter is also included with every Volant Air Intake. Both filters are re-usable, so you'll never have to buy another filter. Go with the high-flow Volant Primo Air Filter, which needs cleaning every 35-50,000 miles, or the super-low-maintenance PowerCore Air Filter which you can use for a whopping 100,000 miles before cleaning. With a Volant Pre-Filter over the intake filter you can give it extra protection from mud, dust, and rain water.
Airaid Air Intakes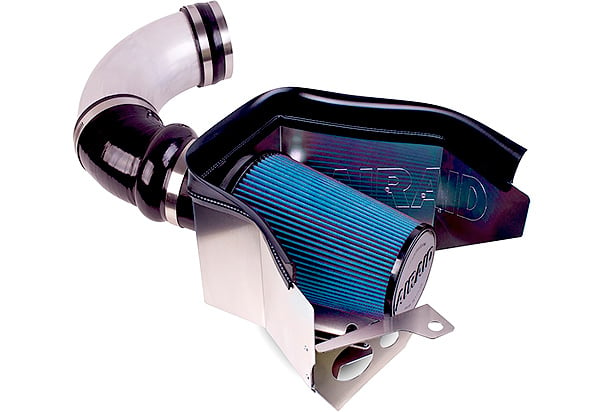 Airaid has over 15 years of air intake experience, and what they bring to the table is state-of-the-art, dyno-proven design technology. High-flow designs, custom tunes, and high-quality construction make Airaid Intakes a great choice if you're looking for serious power surges. They offer any and all the parts you need to upgrade your engine's breathing, from the full-blown Airaid Cold Air Intake (with an air box, filter, and tube) to the simple Airaid Intake Tube (only the tube - keep your stock air box and filter). With the Airaid Jr Air Intake you can split the difference, upgrading the filter and intake tube while keeping your stock air box. For those tinkerers who love fabricating custom gear, check out the Airaid UBI Universal Intake, which lets you build your own custom intake.
The filters included with the full Airaid Intake Kits feature a combination of cotton gauze and synthetic fibers, with a stainless steel or aluminum mesh surround. Hand-poured urethane coating on the casings make these filters super durable, so they'll stand up to the heavies-duty use. These filters feature cotton gauze, synthetic fiber, and an aluminum or stainless steel mesh. Their casings have a hand-poured urethane coating, making them super durable for the most demanding use.
Airaid or Volant - What's The Right Air Intake For Your Vehicle?
aFe and Volant both offer excellent air intake systems with true power and performance gains. So what is the right air intake brand for you? When comparing brands, think about your project budget, the type of vehicle you drive, and the kind of performance upgrades your looking for. Be sure to check out our Air Intake Reviews, written by our experience customers, and our Air Intake FAQ page, and call our customer service crew at 800-663-1570 for any other questions. But in the meantime, the following chart gives you a side-by-side comparison of aFe and Volant's brand-wide features.
| | | |
| --- | --- | --- |
| | | |
| Starting From | $67.71 | $92.78 |
| Materials | Crosslink Nylon, Polyethylene | Molded polyethylene |
| Styles | Cold Air, Universal, Build-Your-Own Kits | Cold Air |
| Finishes | Black, Polished | Black |
| Available Accessories | Throttle Body Spacers, Intake Tubes | Air Filters, Pre-Filters |
| Warranty | Lifetime | 1-Year |
| Shipping | FREE | FREE |
| | | |