With a handy Bike Rack on your vehicle, taking your 2-wheelers wherever you need to go is a breeze. We have all kinds of SUV and Car Bike Racks, each built by the leading names in the industry. Both Rhino Rack and Thule craft excellent bike haulers for a variety of vehicles - compare the two and find the best bike racks for your car or SUV.
Thule Bike Racks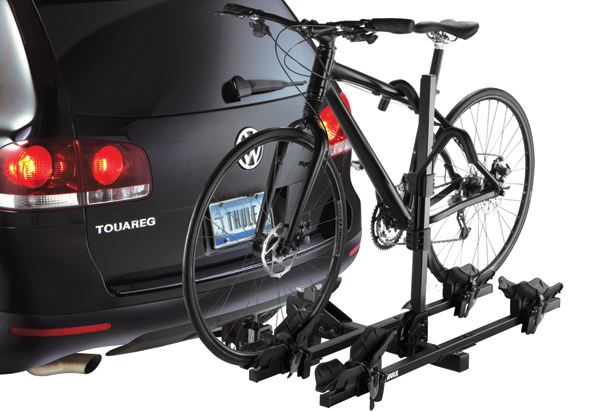 One of the most popular names in cargo carriers and roof racks, Thule has been buildling trustworthy cargo gear for a whopping seven decades. With that kind of experience, it only follows that Thule Bike Racks are some of the best around. Just like their cargo carriers and roof racks, Thule Bike Carriers boast state-of-the-art designs and tough materials that are built to last. Thule also offers a wide selection of bike rack styles, so you can get the perfect carrier for your vehicle and your unique needs.
From compact cars to full-size SUV's there's a Thule Bike Rack for your vehicle. Check out the Thule Parkway Bike Rack or Helium Bike Rack if you've got a trailer hitch - these racks simply slide into the hitch receiver for a quick installation, and many of them fold down or swing out of the way so you can get to your trunk or cargo area. SUVs with spare tires can easily be equipped with a Thule Spare Me Bike Rack, which helps you make the most of that unused space behind the tire. If you're in a car with a roof rack, choose a roof-mount hauler like the Thule Criterium Bike Rack and you'll be on your way.
Thule Bike Racks are built with decades of experience, top-notch materials, and rugged designs, and that's why they confidently back every one with a Lifetime Warranty.
Rhino-Rack Bike Racks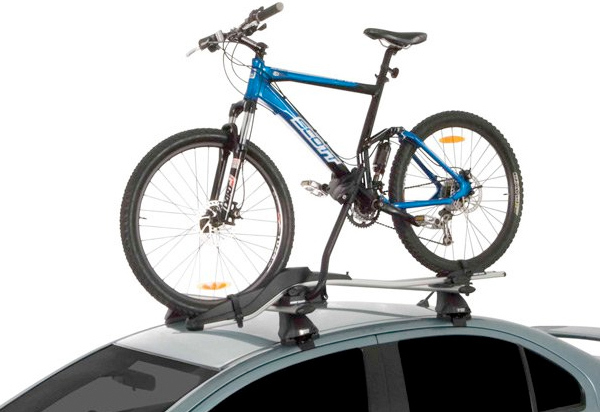 Another leader in cargo-hauling innovation, Australia-based Rhino-Rack knows quite a bit about how to carry bikes. That knowledge shows in every Rhino-Rack Bike Rack we carry. They build their bike racks to the highest quality standards, with rugged materials that survive through all the hazards and difficulties of heavy-duty driving. Plus, they're designed for total convenience and flexibility.
Carriers like the Rhino-Rack Discovery Bike Rack mount instantly to Rhino-Rack Aero Roof Rack crossbars. They can install to either side of the bars, giving you extra space for cargo carriers or luggage - or even another bike rack. They also build the Rhino-Rack MountainTrail Bike Rack, which fits all Rhino-Rack roof racks. This flexible system works with all kinds of wheel dimensions and brake systems.
Like Thule, all Rhino-Rack Bike Racks are backed by a LIfetime Warranty.
Rhino Rack vs. Thule: Which Is The Right Bike Rack For Your Vehicle?
Thule and Rhino-Rack both build excellent bike carriers, and with so many available it may be hard to choose one. Use the chart below to compare the two brands directly, and consider factors like your typical road trip distance, your vehicle type, and how many bikes you have to haul to help you decide o the right bike rack for your needs. And with the help of our real-world Bike Rack Reviews, you'll be able to get all the info you need. And if you have any more questions, feel free to give us a call at 800-663-1570.
| | | |
| --- | --- | --- |
|   | | |
| Racks Starting At | $42.45 | $143.10 |
| Styles | Hitch Mount, Spare Tire, Roof Rack Mount, Bike Wheel Carrier, Truck Bed | Roof Rack Mount |
| Number of Models Available | 17 | 2 |
| Available Accessories | None | None |
| Warranty | Lifetime | Lifetime |
| Shipping | FREE | FREE |
|   | | |