Can't decide whether you want to take the bike out on a spin, or take the car out on a spin? Why not both? With a bike rack you can load up the car, load up you bike, and hit the road. This comes in handy when you want to take the bike out to some better trails, take the bike camping, or even take the car to work, but take the bike to lunch. Every bicycle owner should have a bike rack that's compatible with their vehicle.
At AutoAccessoriesGarage, we've got all kinds of bike racks. Some mount to your rooftop crossbars, some mount to a hitch, some mount on your trunk, in your truck bed, or even on your spare tire holder – but they all hold bicycles. So needless, to say there are a lot to choose from. That's why we here at AAG decided to put some of our data to good use. We took a look at all of our top sellers, and compared data with our customer reviews and star ratings to bring you the 2022 edition of the Top Ten Best Bike Racks for Car, Truck or SUV.
The Best Bike Rack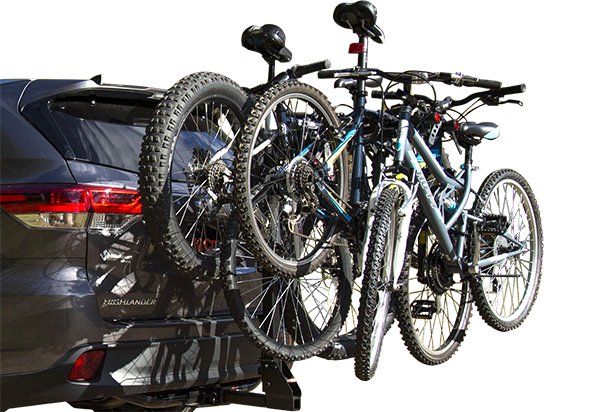 Easily attaching to any vehicle hitch, the Curt Premium Bike Rack is black powder coated to resist corrosion and comes is available in a three, four, or five bike holding arrangement. That's right, you could carry up to five bikes and 225 lbs. of weight on the back of your vehicle with this set-up.
What I really appreciate is that the rack doesn't just attach to the car, but also secures the bikes to the rack. Total confidence with my bike on here while I drive.

Read More Curt Premium Bike Rack Reviews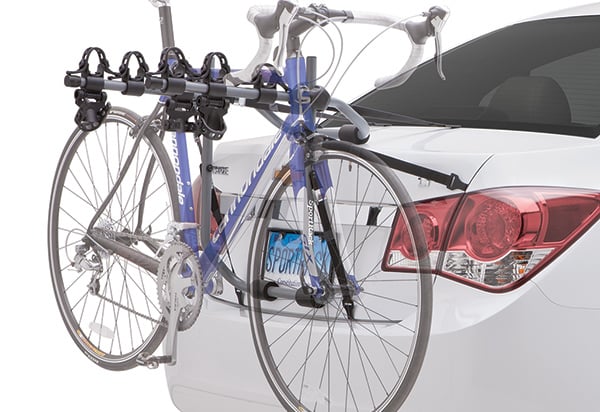 The Pursuit Rack from SportRack is the first bike carrier on our list, and it holds up to three bicycles. Mounting on your trunk, this rack is easy to remove and reinstall which is why SportRack proudly refers to it as a "non-permanent" rack. It also folds up so it won't take up too much room in your garage when it's not in use.
It shipped out quickly and installed very easily. I would recommend buying this product. You just can't beat taking the bike to the beach!

Read More SportRack Pursuit Bike Rack Reviews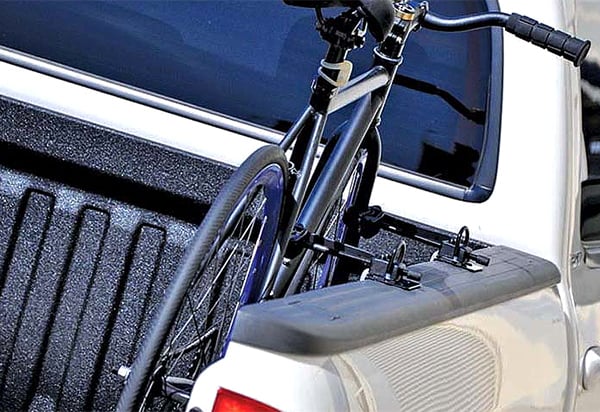 Another interesting option for pickup drivers, is to mount your bike rack in the bed of your truck. This way, you can travel with a bicycle and still retain about 90% of your truck bed space. With the Velo Gripper from Inno, innovative clasps have made an installation like this possible with no tools or permanent modifications to your truck.
A unique way to put a bike rack in a pickup truck. Works really well and what I like most is that I don't have to remove a wheel on the bike. It can only take a single bike, but it's a quality product. I drive pretty fast on the highway, and it seemed to be held securely the whole time.

Read More Inno Velo Gripper Truck Bed Bike Rack Reviews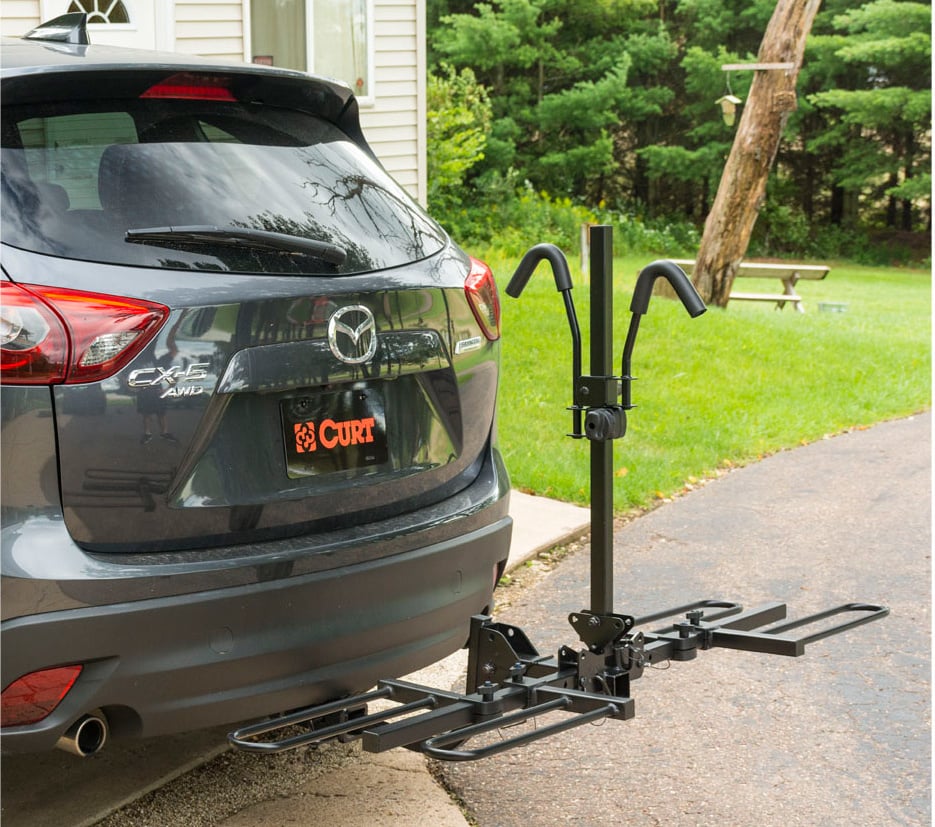 Available in 2-bike or 4-bike sizes, the Curt Hitch Mount Bike Rack is a great way to get the whole family's bikes out of the garage. Operation is easy with adjustable arms that accommodate a wide variety of different bike styles and sizes. The powder-coat finish looks great and refuses to rust and when not in use the entire unit easily folds up and out of the way.
Very happy with this purchase, didn't take long to set-up and seems very sturdy. The clips to hold the pins in are very strong. Takes everything I have to get them off but that is the way you want it.

Read More Curt Hitch Mount Bike Rack Reviews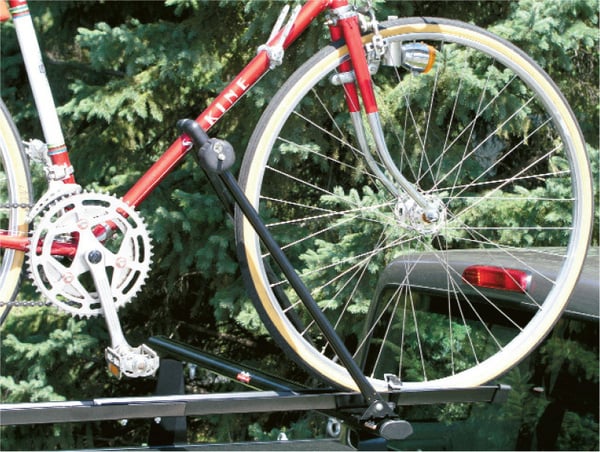 Another option if your drive a pickup and have some truck bed crossbars, is the Sport Bike Carrier from ProRac. This fully locking rack has a fully adjustable upright combined with wheel straps to safely secure any bicycle into your truck bed. Beyond safety and security, this system is designed to be economical, and as quick as it is easy.
I have a ProRac set on my truck cap. I ordered a ProRac product because I thought it would fit my rack specifically and uniquely. Once I got them I saw that they would fit any crossbars really. Just and FYI. They do work well, and I like that it matches my existing bars.

Read More ProRac Sport Bike Carrier Reviews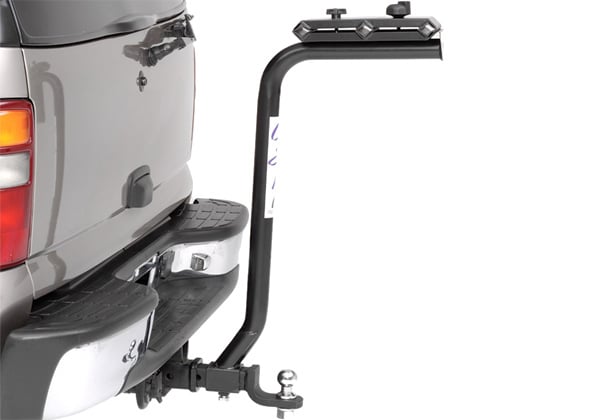 Forged from heavy-duty Steel, your Surco Slide Over is an easy-to-use bike rack that can hold up to 4 bikes without breaking a sweat. As long as you have (or plan to get) a ball mount or drawbar measuring at least 5" long, this set-up will be easy to operate, and easy on the eyes. The powder-coat finish looks cool while it staves of rust and corrosion.
Great and simple unit. Easy to install and good to use. Delivery was on time and price is totally okay! It shipped out quickly too. I have already recommended this to friends.

Read More Surco Slide Over Bike Rack Reviews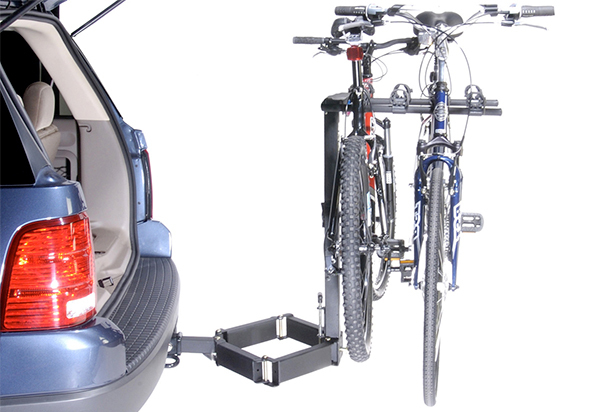 Once concern many bike rack shoppers have is finding a rear mounting bike rack that won't obstruct their access to their trunk, hatch, or cargo space. Luckily with the GlideAWAY from Advantage, you can easily push your rack from side to side with one hand. This system holds up to four bikes and installs easily on any 1.25" or 2" hitch.
Received it very quickly and took no longer than 5 minutes to assemble. Another 2 minutes to install. Looks and works great! Just wish it was a little shorter to fit under a tonneau cover to leave in full time, but I don't think it would function as well if it was. It is very easy to remove and put back so not that big of a deal. Great product!

Read More Advantage GlideAWAY Bike Rack Reviews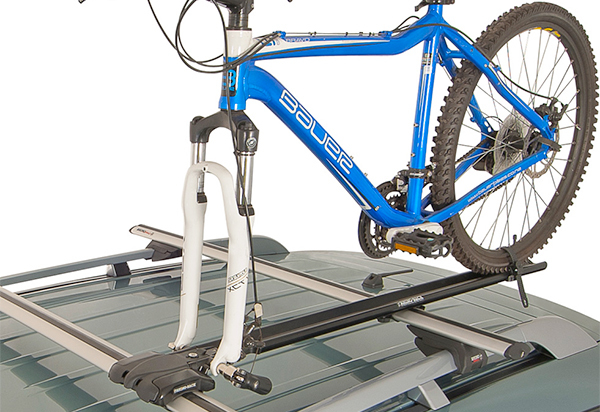 Storing your bike on the roof is another great way to get from A to B. And if you have virtually any roof rack already on your roof, the Mountain Trail carrier will work for you. Just remove the front tire from your bicycle, toss it in the trunk, and your two-wheeler will go right into place on this rack. This rack fits pretty much any wheel dimension and brake system.
I've tried Yakima and Thule racks in the past and I was very impressed with this rhino rack. The design and the quality are both impeccable and I have already received compliments on it. It installed easily on my stock Subaru roof rack. This even locks unlike most other bike racks. I'm totally satisfied with this purchase.

Read More Rhino-Rack Mountain Trail Bike Carrier Reviews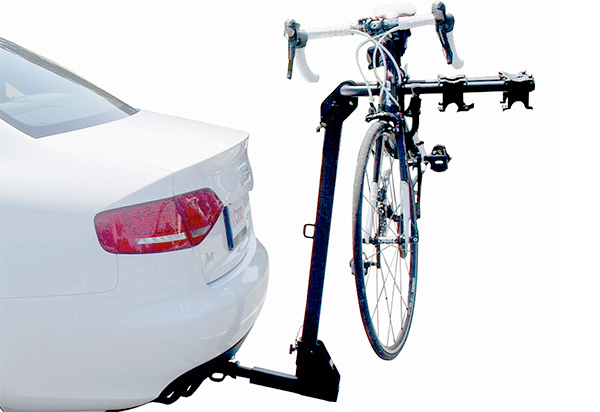 "Standard" is in the name, and when it comes to bike racks that's really not a bad thing. The Curt Standard Bike Rack to many people is the quintessential bicycle carrier. This sturdy rack installs in any 1.25" or 2" receiver hitch and comes in various models that will hold two, three, or four bikes. Plus the entire rack tilts away from your cargo area to offer you complete hitch access.
You can't find a better bike rack, you really can't. It's powder-coated so it never rusts. You don't even need to read the directions to install and use, it's just that easy. What I always say is if you don't buy a curt product now, you'll just be buying one later when the other garbage falls apart.

Read More Curt Standard Bike Rack Reviews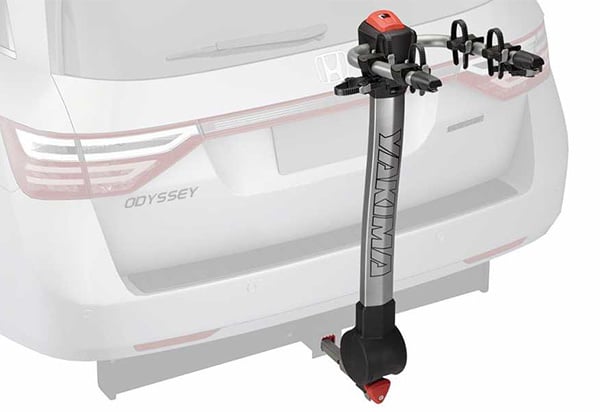 One of the great things about the Yakima RidgeBack is that it ships fully assembled so all you need to do is place it on a 1.25" or 2" receiver hitch. Then the SpeedKnobs and ZipStrips are designed to make use an absolute breeze. Plus it folds completely flat so you can easily store it in your garage. It even comes with a build in bottle opener, because why not?
I had a good feeling about this bike rack and it lived up to my expectations. It showed up fully assembled and ready to rock. I like that there is a built-in lock in the hitch. The lever that tilts the rack down is a little too stiff, but other than that I think it's perfect.

Read More Yakima RidgeBack Bike Rack Reviews
Bike Rack Buying Guide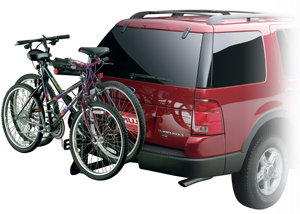 Your car, truck, or SUV can take you just about anywhere your wanderlust leads. Of course, you can't use it to traverse all the winding paths and off-road trails this country has to offer - that's why you long to take your bike with you. You need a secure, convenient way to haul your 2-wheelers without taking up all your interior space. The best way to do that is with a Bike Rack or Bike Carrier.
Read on to learn about the different types of Bike Racks out there and see what kind of accessories you can use to maximize your experience. Also, find out how to pick the right Bike Carrier for your vehicle and your needs.
Bike Rack Styles
There are many different ways to haul bicycles on your vehicle. Let's take a look at the different styles of Bike Racks out there.
Hitch Bike Racks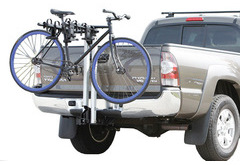 One of the easiest ways to carry your bikes is with a Hitch Bike Rack. These bike carriers attach to your 1 1/4" or 2" hitch receiver for simple installation, and they can carry up to 5 bikes. Some even mount onto the trailer ball mount or around the receiver, leaving the hitch free to pull a trailer or mount other accessories. Many Hitch Bike Racks, like the Thule Parkway and Yakima Ridgeback, tilt down or swing away to provide full access to your trunk, hatchback, or SUV cargo area.
Roof Mount Bike Racks
If your vehicle is equipped with a roof rack, you're already equipped for a Roof Mount Bike Rack. These racks let you mount a bike overhead, so you still have full use of your receiver hitch. Many bike roof racks, including the Echelon Bike Rack, secure your bike by the front fork, while others like the Yakima Raptor Bike Carrier grab the bike by the frame or tires so you don't have to remove the front wheel. Roof Bike Racks only carry one bicycle at a time, but you can mount multiple carriers onto your roof rack if you need to haul more bikes. An excellent accessory for roof mount racks is the Yakima Roof Rack Wind Fairing which reduces annoying wind noise from your roof rack.
Trunk Mount Bike Racks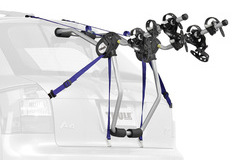 Not every car has a hitch or a roof rack. That's where Trunk Mount Bike Racks come in. These versatile bike carriers mount to just about any vehicle, from sedans and compacts to SUVs and minivans. They're easy to install and mount to the rear of your vehicle in just minutes using adjustable straps and padded brackets. Whether you need a simple economic design like the Yakima LittleJoe Bike Rack or need one of the top end Thule Bike Carriers, these racks do the job well. Plus, despite their universal design and ease of use, these rear bike racks still have an impressive capacity of up to 3 bikes.
Spare Tire Bike Racks
If your SUV has a spare tire mounted on the back, make the most of it with a Spare Tire Bike Rack. These racks, including the Thule Spare Me Bike Rack and the Surco Spare Tire Bike Carrier, attach by bolting through your spare wheel and carry up to 2 bikes. Spare Tire Bike Carriers offer a snug and secure installation and keep your hitch free for trailers or accessories.
Truck Bed Bike Racks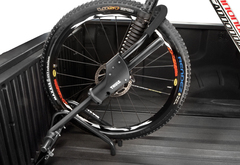 Forget about piling bikes in your truck bed and getting pedals and handlebars tangled up in their spokes. For secure and easy bike hauling in your pickup, choose a Truck Bed Bike Rack. With a Thule Bed Rider Bike Rack or BeddyJo Bike Rack you can turn your bed into a reliable bike hauler. If your truck already has a ProRac Bike Rack, you can mount bikes above the bed with the ProRac Sport Bike Rack. This carrier sits over your truck bed, so you can still use a tonneau cover to secure your other cargo.
Bike Rack Accessories
Most of our Bike Racks and Bike Carriers are ready to go right out of the box, but you may find yourself needing a couple of accessories to make them work even better. Here are a few pieces you may want to add to your bike-hauling rig.
Conversion Bars

Most hitch-mount and trunk-mount bike carriers are designed to grab your bike frame by the top bar. That works great for standard road bike frames, but what about female bikes and full-suspension bikes with Y-frames? Conversion Bars are the answer. These bars, which you'll find with Surco Bike Rack Accessories, bolt to the seat post and gooseneck, forming a temporary top tube for the bike carrier to grab. These bars adjust to fit a variety of bikes, from rock hoppers to kids' bikes. The Thule Frame Adapter is another excellent choice for hooking bicycles of any size or shape to your hanging rear-mount rack. It installs cleanly between your bike's handlebars and seat.

Bike Locks
Every time you hop off your bike, the first thing you do is find a rack or other place to lock it up. When you come in from a biking excursion and mount your 2-wheeler to your carrier, you should lock it up there, too. Many car bike racks come with built-in lock systems, but if yours doesn't you can add your own Bike Locks for extra security.
Your bike isn't the only valuable piece of equipment attached to your vehicle - thieves may be eyeing your rack as well! Even if your bike is locked to the rack, if the rack itself isn't secured to your vehicle it can be easily removed. That's why the Yakima DeadLock Bike Rack Lock kit includes both an upper lock for the bikes and a lower lock that goes in place of the hitch pin, keeping the rack secure. The Yakima SKS Lock Cores are another great option for keeping your Yakima gear safe from theft. These lock cores work perfectly with all lockable Yakima accessories, including rooftop cargo carriers and bike racks.
How To Pick The Right Bike Rack
With all the different types of Bike Racks out there, how do you pick the right one for your needs? Here are some factors to consider when shopping for the best bike rack.
Your Vehicle
What kind of vehicle do you drive? If you ride in an SUV with a hitch, you have plenty of options, from Surco Bike Racks to Thule Bike Carriers. If you drive a Jeep, make the most of your hardware with a Spare Tire Bike Rack like the Yakima SpareJoe Bike Carrier. Hatchback, compact, and sedan drivers may not be equipped with hitches or roof racks, so consider a Trunk Bike Rack.
Your Driving & Bike Hauling Needs
How many bikes do you need to take on the road? If you're going it alone, you'll probably be fine with a single-bike roof rack like the Thule Big Mouth Bike Carrier. If you're taking the whole family on a biking trip, however, you may need a Thule Bike Carrier, which can hold up to 5 bicycles.
Where and how you drive is an important consideration. You need maximum upper and rear clearance when driving in parking garages or parallel parking in the city. In those instances, consider an easy-to-remove trunk carrier like the Yakima SuperJoe Bike Rack. You can also maintain rear clearance with a bike rack that folds up against the rear of your vehicle, like the Yakima StickUp Bike Rack.
Cargo Access
Helpful Tip: Spare Tire Bike Racks don't block your cargo door, but they may make it heavier. Take care when opening or closing your rear door, especially if it opens vertically.You may be taking some coolers, cargo, and other luggage on your next biking-heavy road trip, and you shouldn't have to climb over your rear seats to get to it. Don't worry about having your hatch back or SUV rear door obstructed by your bike rack. Many hitch-mounted carriers, like the Yakima SwingDaddy Bike Rack, swing away from the cargo door, giving you full access to your gear. Other racks like the fold-down Lund Bike Rack tilt down and away to let you open the hatch.