Truck Bed Bike Racks
Truck Bed Bike Racks give your bicycle an easy and secure way to get around. Say so long to piles of bikes that cause tangled pedals, bent goosenecks, and broken spokes - our Thule Truck Bed Bike Racks keep your bikes upright and supported so they never even touch each other. And best yet, they remove quickly for those times when you need all the truck bed space you can get.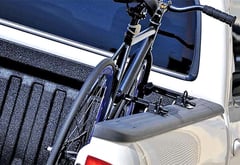 Keep your bicycle in the trunk bed without losing all your storage space with the Inno Velo Gripper Truck Bed. This rack retains 90% of pickup bed storage area by gripping along bed rail or c-channel track system and includes a front and rear attachment.
From $89.99
Free Shipping
Quick View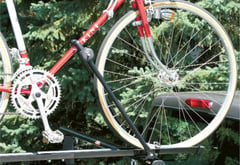 The Pro Rac Sport Bike Carrier hauls your 2-wheeler the simple, secure, and cost-effective way. This economical bike rack mounts to ProRac Roof Rack crossbars and features an adjustable upright arm to fit a variety of bicycle frames. Plus, its locking knob provides extra security against theft.
From $79.52
Free Shipping
Quick View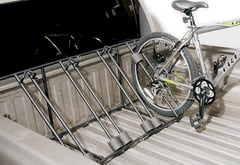 Bring along your bikes and still enjoy the full use of your trailer hitch with an Advantage BedRack Truck Bike Rack. Fully expandable up to 72.5", this 4-bike rack folds open to use or closed for easy storage. No drilling is required for installation, and this in-bed bike rack allows you to use your receiver hitch for other towing purposes.
From $148.75
Free Shipping
Quick View
Want to learn more? Read our:
About Truck Bed Bike Racks
You've got all that cargo space available, so it only makes sense to take advantage of it. Toss your cycle in with a Truck Bed Bike Rack and bring it along for the ride in safety. Instead of just leaving it out in the open, susceptible to damage, loss, or theft, strap your bike in tight and know that it will arrive in great shape. A variety of designs give you options, but one thing is for sure: your bike isn't going anywhere, and you'll have a blast when you get where you're going.
Pickup your truck bed bike rack at AutoAccessoriesGarage.com because it's easier here. And by it, we mean EVERYTHING! Take a gander at our selection, laid out simply for a no-pressure perusal that allows you to take your time and find what you need. We'll then ship whatever you buy your way completely free of charge. We're not here to make your life more difficult: in fact, at AAG, we're here for the exact opposite reason.
More Popular Bike Racks Vehicles: