When going on big trips to the Great Outdoors, there's nothing more essential than a high quality Bike Rack. Rather than trying to disassemble your bikes and cram them into your car, these handy racks let you simply strap them to your roof, over your trunk, or behind your trailer hitch. Both Thule and Yakima are some of the leading names in Bike Racks and Cargo Carriers, so let's look at these two popular brands to help you find the best Bike Racks for your needs.
Thule Bike Racks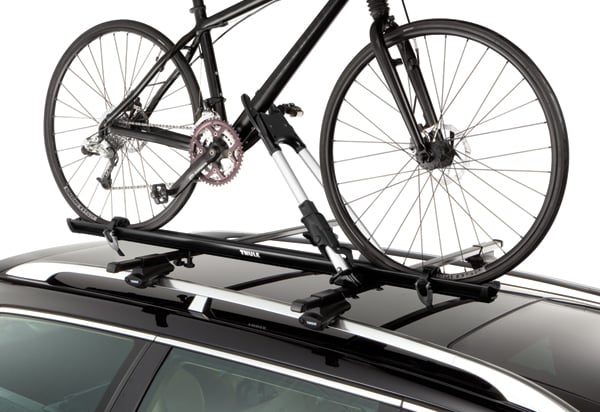 One great way to take your bikes on the road with you is to use a Thule Bike Rack. Thule Bike Carriers  are built by one of the most popular and trusted names in cargo carriers and roof racks, and their bike racks are made with that same attention to detail and quality. From durable construction and finish-friendly cradles to easy-to-install designs and adjustable arms, Thule Bike Racks have every base covered.
Thule offers a wide range of bike racks to suit all kinds of vehicles and uses. Check out the SUV spare-tire mounted Thule Spare Me Bike Rack, which makes clever use of the wasted space behind your spare tire to carry up to 2 bikes. Or you can slide a Thule Ridgeline Bike Rack into your hitch receiver for 4-bike capacity that also tilts down for full rear access. If you already have a Thule Roof Rack installed you can go with one of their roof-mount carriers like the Thule Peloton Bike Rack. This rack lets you mount your bike overhead, saving room behind your vehicle if you want to haul a trailer or other cargo carrier.
Thule Bike Racks haul your bikes safely and securely, no matter what style or size you ride. They're also backed with a Lifetime Warranty that lasts as long as you own your vehicle.
Yakima Bike Racks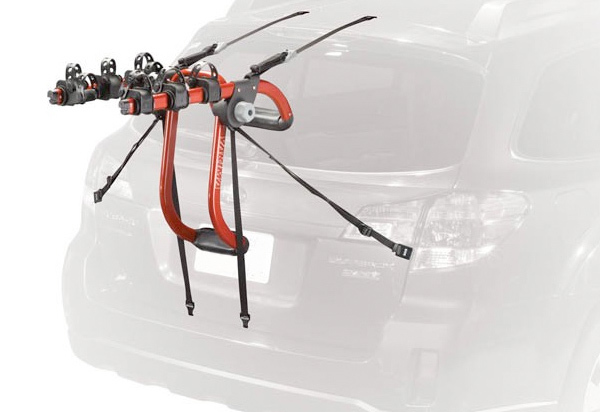 Yakima's got over 25 years of experience building roof racks and bike racks, so they really know what they're doing. They're committed to constantly updating their designs and offering products that are truly state-of-the-art. With a Yakima Bike Rack on your roof, trunk, or hitch, you'll be hauling your bikes in high style and high security.
 No matter what kind of vehicle you drive, there's a Yakima Bike Carrier for you. If you're in an SUV or truck with a receiver hitch, check out one of their receiver-mount racks like the Yakima BigHorn Bike Rack or the Yakima SwingDady Bike Rack, which easily swings out of the way to give you access to your cargo area. On the other hand, trunk-mounted racks like the Yakima SuperJoe or LittleJoe Bike Rack let you turn your car into a trusty bike hauler.
Yakima also offers some accessories to enhance your bike hauling experience, including Yakima Bike Rack Locks that offer extra anti-theft security. Plus, every Yakima Bike Rack is backed with a Lifetime Warranty, so you can count on these products for years to come.
Yakima vs. Thule: Which Is The Right Bike Rack For Your Vehicle?
Deciding between Yakima and Thule Bike Racks can be tough, as both brands make a wide variety of great products. Be sure to factor in what kind of vehicle you drive, how many bikes you typically need to transport, and your budget when choosing between the two. Check out the chart below to help you find the right bike rack for your needs, and also be sure to check out our customer-written Bike Rack Reviews to get some real-world testimonials.
| | | |
| --- | --- | --- |
|   | | |
| Racks Starting At | $42.45 | $76.41 |
| Styles | Hitch Mount, Spare Tire, Roof Rack Mount, Bike Wheel Carrier, Truck Bed | Hitch Mount, Spare Tire, Trunk-Mount, Roof Rack Mount |
| Number of Models Available | 17 | 11 |
| Available Accessories | None | Locks, Roof Rack Wind Fairing |
| Warranty | Lifetime | Lifetime |
| Shipping | FREE | FREE |
|   | | |