EBC Sport Rotor Brake Kit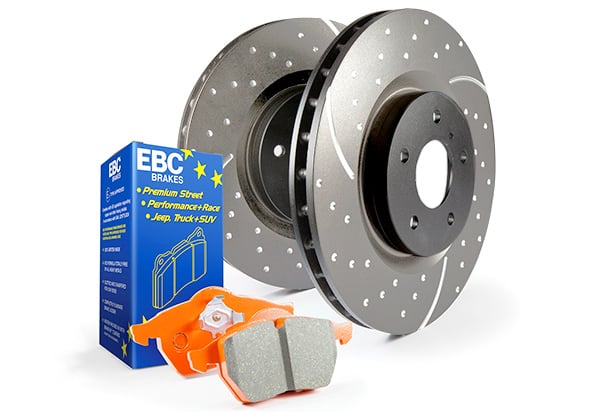 Regular Price:

$177.65-1,776.55

Our Price: $

120.60

-

1,206.07

Shipping:

FREE SHIPPING
Take your braking performance from stock to sporty with the EBC Sport Rotor Brake Kit
Choose between Blue Stuff, Orange Stuff, Yellow Stuff, or Green Stuff Brake Pads depending on model
Includes EBC's slotted, dimpled, and rust resistant Sport Rotors
Pre-balanced for a wobble-free performance
Available for front or rear
Backed by a 12-Month/10,000-Mile Warranty
Your OEM brake system was designed for driving to work and running errands. Even if you drive a sports car or off-road truck, the stock system just isn't up to the standards of a sportier driving style. But when you upgrade with the help of the EBC Sport Rotor Brake Kit, you'll get race or off-road-ready braking in one easy, DIY package.
Your EBC Sport Rotor Brake Kit includes EBC's Sport Rotors for the front or rear of your vehicle. These zinc-coated rotors are rust-free and feature extra-wide slots as well as dimples to vent gasses fast and efficiently, resulting in greater braking performance. These rotors are known for their structural integrity and are highly resistant to cracking and fading.
This kit allows you to choose your preferred brake pads from a selection that is compatible with your make and model. Options may include Green Stuff Brake Pads, a great starter set to improve your friction over OE performance. Yellow Stuff pads are track-ready and considered to be EBC's flagship product. Orange Stuff offer the maximum braking performance on EBC's line. Blue Stuff offer the highest available friction levels.
Each component in this kit is backed by a 12-Month/10,000-Mile Warranty
More like this
EBC Sport Rotor Brake Kit

Customer Reviews
Overall:
Performance:
Quality:
Appearance:
Average Install Time: 30-60 minutes
James B

who drives a

Dodge Ram 1500



2018-12-09
Excellent brakes. Easy to install and awesome stopping power. I will buy any other brand again.
Install Time: 30-60 minutes
I am a big fan of EBC brakes! I have them on 03 Silverado and 07 Trailerblazer 08 Cobalt was the last one way better than oem!
Arik C

who drives a

Cadillac CTS



2018-05-27
They look great and work even better! I had read some customer reviews concerning the rotors prior to buying. I found only a few negative reviews, and it appeared to me they failed to follow the installation process. I followed the installation process ("RUN OUT") and I have no issues with pulsation or any kind of vibration. These are not like your AutoZone or Checker parts, they need to be professionally installed or you WILL have problems, period! I would use these again!
Anthony W

who drives a

Dodge Ram 2500



2018-01-26
These are the best brakes I have ever installed on any vehicle I have owned. The stock brakes took too long to shut down my 7500lb vehicle. Huge difference since installing these rotors with the Green Stuff 7000 series front and 6000 series rear pads. The brakes are amazing on this truck now.
William T

who drives a

Chevrolet Camaro



2018-07-27
Does not work that good on my car.
Install Time: 30-60 minutes
Kevin

who drives a

Toyota 4Runner



2018-02-01
This kit is really nice. At first I thought my front wheel bearings were bad because I had the common Toyota vibrating brake pedal. I bought a set of these hardened, vented and drilled rotors, Installed them and the pedal feels as smooth as silk. Best thing of all, is that they are made right here in the USA.
Install Time: 30-60 minutes
Petroboy

who drives a

Lotus Elise



2018-07-25
I've installed several sets of these rotors on a Lotus Elise. They're long-lasting, surviving repeated track days without cracks or troubles of any kind. A great inexpensive piece of machinery.
Install Time: Under 30 minutes