EBC Sport Rotors GD7682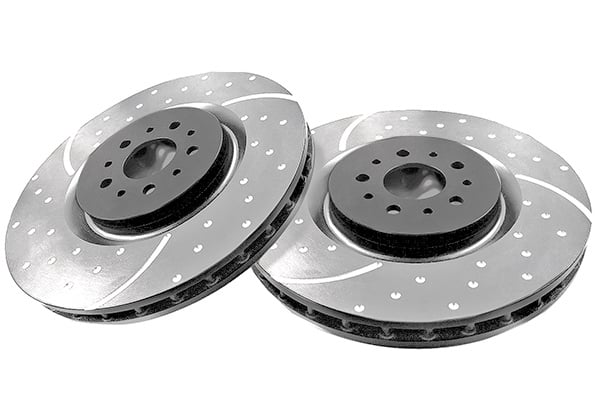 Our Price:

$138.61

Shipping:

FREE SHIPPING

Part Number: GD7682
UPC: 889668003161
Sport Rotors
Part #:

GD7682
11.0 In. Diameter
$138.61
Free Shipping
Ships between 10/13/22 - 10/21/22
Discover the consistently powerful braking of EBC Sport Rotors
Custom made to your exact vehicle - no modifications necessary
EBC Sport Rotors arrive pre-balanced for smooth, wobble-free performance
Each EBC Sport Rotor has wide-mouth slots that suck in cold air and expel dirt
Precisely bored dimples vent pad gases and protect against brake fade
Unlike crack-prone cross-drilled rotors, EBC Sport Rotors maintain their structural integrity
No rust - all EBC Sport Rotors have a gold or black anodized-zinc coating to ward off corrosion on the non-swept surfaces
Rotors come in pairs for either the front or rear of your car, truck or SUV
Covered by EBC with a 12-month/10,000 mile warranty
Keeping temperatures down is essential when it comes to braking performance. That's a pretty hard task given that brakes need huge amounts of friction to work, and friction naturally causes extreme heat. Luckily EBC Sport Rotors are specially engineered to stay cool for excellent performance and consistent stopping power.
How do EBC Sport Rotors do it? It's quite simple, really - they're designed with wide slots that act like a fan that pulls cool air over the rotor surface. This keeps the Sport EBC Rotors cool for a stronger pad bite and shorter stopping distances. The slots also expel brake dust, water and other debris off the surface for cleaner rotors that last longer and extend the life of your pads.
EBC Sport Rotors aren't just slotted - they also feature precision-drilled dimples that vent pad gases and prevent brake fade. They're also finished with a gold or black anodized zinc coating for rust protection and hot looks behind your rims. EBC Sport Rotors are custom-designed to your exact vehicle for a direct-replacement fit and are backed with a 12-Month, 10,000-Mile Warranty. EBC Brake Rotors are sold in pairs for the front or rear of your vehicle.