Power Stop Brake Pad Comparison Guide, Compare PowerStop Z16, Evolution, & Extreme Brake Pads
Power Stop is one of the leading brake manufacturers on the market today. They're known not only for building great brakes and brake kits for daily drivers, but also for offering rugged high-performance options for heavy-duty towing or racing situations. Chances are, Power Stop has what you need, but before you buy you should know which are the best brake pads for your particular driving style.
Power Stop Evolution Brake Pads - Clean, Quiet Stopping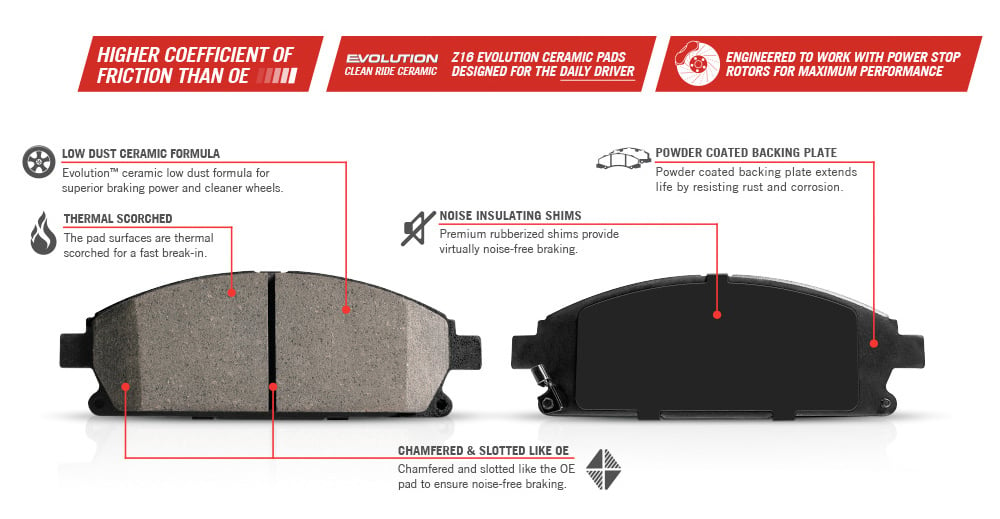 When the time comes to replace the pads on your daily driver, Power Stop Evolution Pads are where it's at. These pads are crafted from a kevlar-enhanced ceramic material that provides far cleaner and quieter braking than stock parts. Rubberized shims help cut down on vibrations, and the pads go through a Thermal Scorching process that cooks off extra gases and resins that occur during manufacturing. The result is a brake pad that keeps your wheels clean, keeps your vehicle quiet, and most importantly, keeps you and your family safe.
Power Stop Z26 Extreme Brake Pads - High-Intensity Brake Power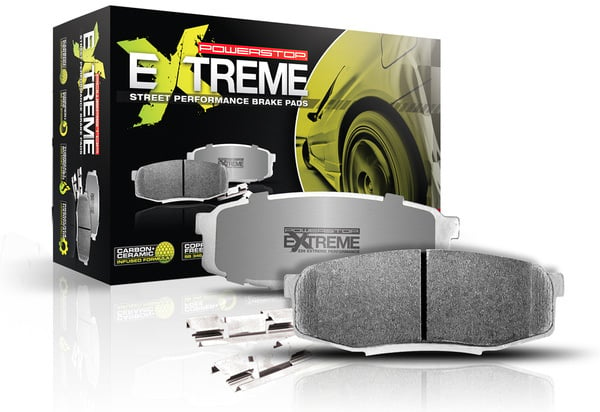 Sometimes, you need a little more bite and thermal resistance than the pads you might put on the family vehicle. If intense, spirited driving is how you get your kicks, then Power Stop Exteme Brake Pads are the solution for you. The copper-free, ceramic/carbon-fiber compound in these brakes makes them ideal for hard-core punishment and big-wheel applications. The carbon fiber infusion also helps minimize noise and brake dust, so your rims will retain their shine longer. Plus, they include all of the shims and hardware you need for a complete installation. Racing and intense driving demand equally intense stopping power, and Power Stop Z26 Pads provide it in spades.
Power Stop Extreme Truck & Tow Brake Pads - Heavy Trailers & Payloads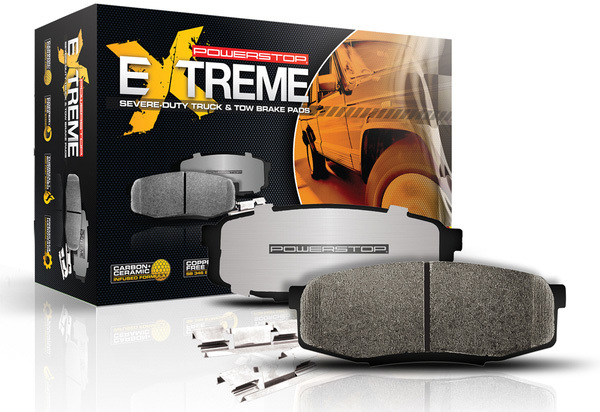 Just like light-and-fast race cars, vehicles that are extremely heavy demand extreme braking power. Pickup trucks and SUVs, especially those hauling loaded trailers or carrying heavy payloads on steep grades, are prime examples of such vehicles. All that extra mass puts a serious demand on your braking system, so you need beefy pads that are ready to take the heat. Power Stop Z36 Brake Pads boast a metallic compound that provides maximum thermal stability for exceptional stopping torque. This aggressive compound wears 40% better than OEM pads, giving you far better pad life than stock without a bunch of noise and ugly brake dust.
Which Power Stop Brake Pads Are The Best For You?
Now that you've read about Power Stop's three main brake pad designs, which model is the best for your purposes? Check out the following chart to line them up side-by-side. If you have any other questions, feel free to use the comments section below, Live Chat with a representative right here on our site, or give our brake experts a call at 800-663-1570. Happy shopping, and happy stopping!
 

Starting At

$17.28
$46.89
 $52.04
Materials
Kevlar-Enhanced Ceramic

Ceramic/Carbon Fiber

 High-Friction Metallic Compound
Ideal Use
Everyday Driving
Performance-Oriented Driving, Racing
 Towing, Heavy Payloads, Mountain Driving
Warranty
3-Year, 36,000-Mile
90-Day, 3,600-Mile
 

3-Year, 36,000-Mile

Shipping
FREE
FREE