When you drive a high-horsepower vehicle, performance brake pads are a must. There's no better way to increase your handling power and safety on the road than with a set of top rated brake pads. And sadly, your OE pads usually just won't cut it.
When you are looking for a new brake pad set, "good" brake pads simply won't cut it. You want the absolute best. At Auto Accessories Garage, we're sitting on a goldmine of information when it comes to top selling brake pads, and our real world customer reviews give us a unique ability to determine the top rated brake pads of the industry. We're happy to share this information with you so you are able to make the right decision for your particular vehicle.
In this article, you will find in-depth brake pad comparisons that will provide you with the knowledge you need to make the right purchasing decision. Our list of the top pads includes the most well-known and best brake pad brands available on the market. This article provides info on the various types of brake pads, including ceramic, metallic, and organic and helps you differentiate between them. Browse the Frequently Asked Questions at the bottom of this page to help you understand what the average customer is considering. We've also provided our picks for specific categories, like Best Overall Choice, Premier Pick, and Best Value for Your Budget. Without further ado, we present the Top Ten Best Brake Pads of 2022, complete with reviews.
The Best Brake Pad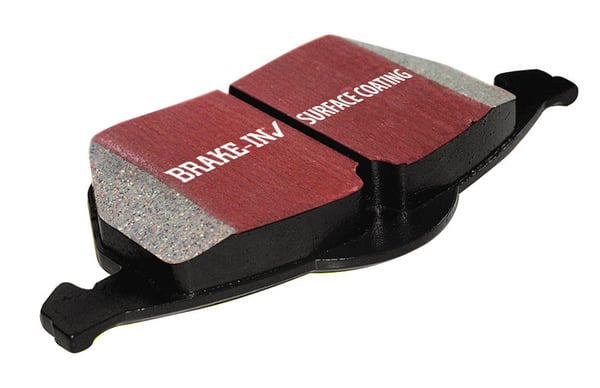 EBC Ultimax Brake Pads are designed not just for strength, but silence as well. A proprietary blend of metallic filament and synthetic aramid fibers brings your ride an aggressive bite that's also built to last. The beveled edges on each pad further extend their life and reduce noise. A center-line slot allows each unit to reach high temperatures without cracking from undue stress.
Very nice quality and excellent stopping power! Produces about the same or maybe a little more brake dust versus the OEM pads. Overall I would recommend this product.

Read More EBC Ultimax Brake Pads Reviews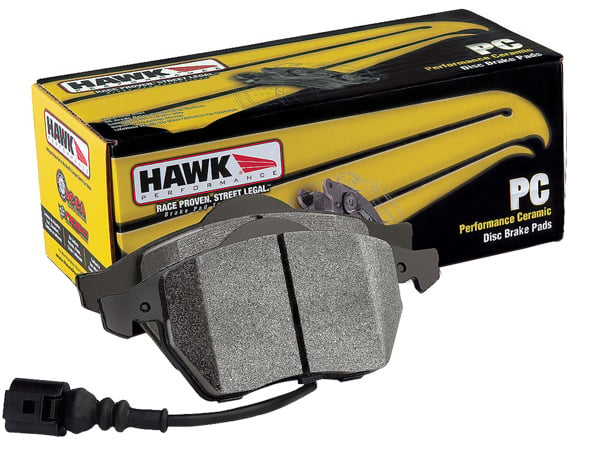 As a direct OE replacement, Hawk Performance Ceramic Brake Pads are designed to last. Not only will the pads themselves last, but they will extend the life of your rotors as well. In fact, Hawk trusts these pads so much they back them up with a Lifetime Warranty.
I got them for my 2012 Lexus [luxury vehicle] and they are a MAJOR upgrade over the stock brakesin every way! No squeaking or dust and they stop on a dime! I'm very impressed with these brakes and I highly recommend them!

Read More Hawk Performance Ceramic Disc Brake Pads Review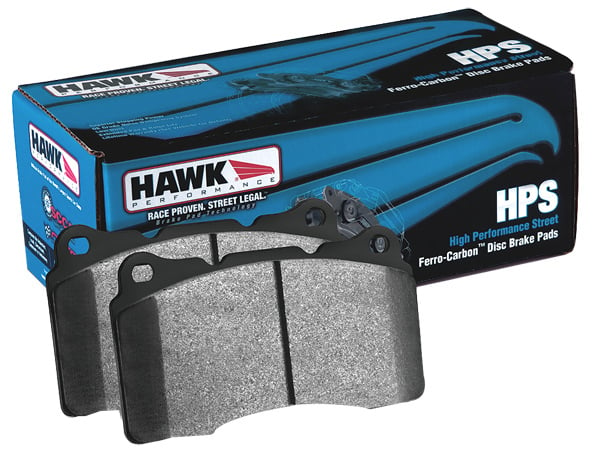 Hawk pulled out all the stops on their HPS Performance Street Compound brake pads. And the results is a stopping power you won't find anywhere else. Thanks to a proprietary ferro-carbon composite material, the friction on these pads is reduced leading to lower brake fade and rotor warp. Hawk backs these with a Lifetime Warranty.
The hawk HPS pads are very good and I can tell a big difference from my stock brakes. I do not regret buying these and will shop for their brakes in the future. Thanks for the good sale.

Read More Hawk HPS Performance Street Compound Disc Brake Pads Reviews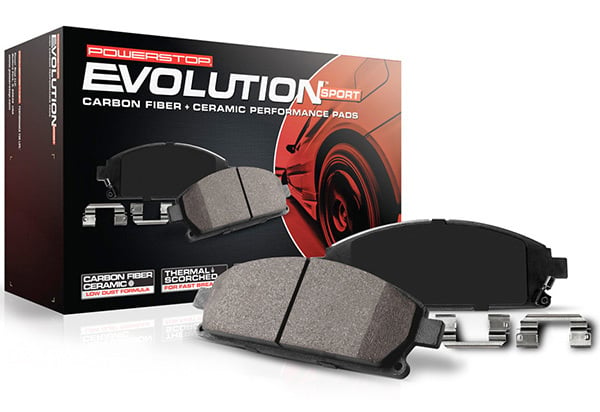 Virtually silent and designed to withstand ultra-high temperatures, the Z23 Evolution Sports Brakes really pack a punch. These pads are thermal scorched in the manufacturing process, so the break-in period has been vastly reduced. You'll feel the bite as soon as you have these installed and each set includes the necessary Stainless Steel hardware to make the installation easy.
These brakes are awesome! I love the fact that there is virtually no evidence of brake dust on my wheels which helps keep my car looking cleaner much longer. Also the stopping performance is great and the quiet braking makes the product even sexier.

Read More Power Stop Z23 Evolution Sport Disc Brake Pads Reviews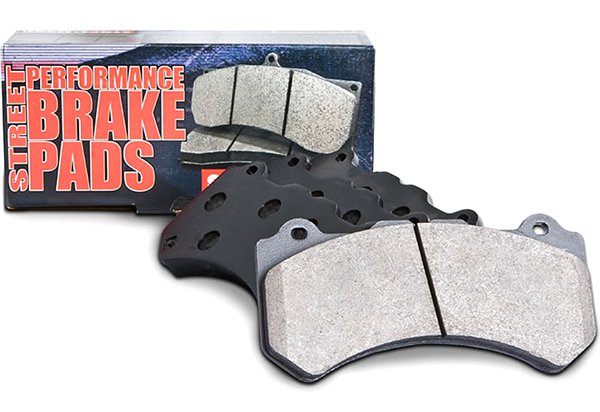 Consistency is the name of the game when it comes to StopTech Street Performance Brake Pads. A high-temperature compound ensures that each time you hit that pedal, you'll feel a familiar bite that you and your racer can come to rely on. Summer, winter, rain, or shine, these pads will deliver with a vibration-free, ultra-quiet stop.
Awesome replacement for the OEM pads on my Mazda [compact car]. Picked these up instead of the popular HPS pads because they're supposed to have a stronger initial bite. They feel great under-foot.

Read More StopTech Street Performance Disc Brake Pads Reviews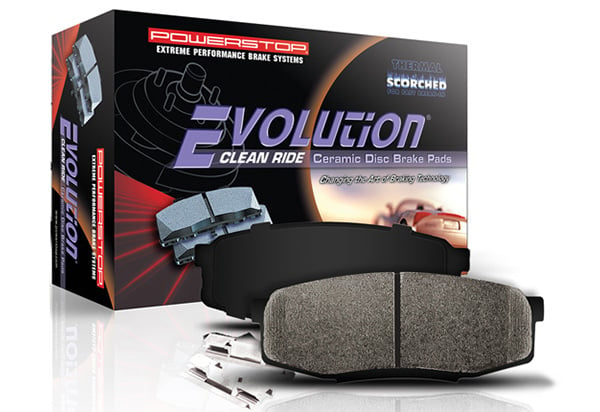 When it comes to brake pads there's nothing worse than screeching metal and metal wear. That's why the Evolution Clean Ride Pads from Power Stop are 100% non-ferrous, to nip this problem in the bud. The kevlar-enhanced ceramic is proven to be quieter and less dusty than non-enhanced pads.
I have 2014 [Chevy sports car] with Z51 package. After a few miles of driving you could see brake dust accumulation with factory pads and after a 40 mile cross town drive in shop and go traffic, the wheels would look as if they had not been washed for weeks. I installed Evolution Clean Ride pads on front and rear. Very, very light dust after a 30 mile drive. Wiped wheels off next day took about a sixty mile drive no brake dust. Someone needs to talk to GM. Now I can enjoy my [sports car].

Read More Power Stop Evolution Clean Ride Ceramic Disc Brake Pads Reviews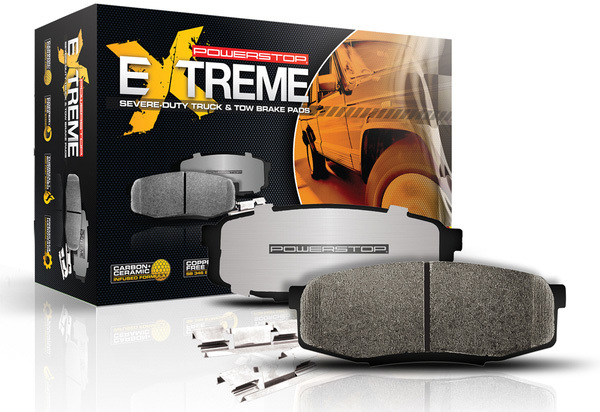 Extreme is right. Extreme Truck Tow Brake Pads from Power Stop are aggressive, and wear up to 40% better than stock pads. Custom made to fit your make and model, these pads go right into place, and make a big difference immediately. If you drive through mountains, or just try to move mountains by truck bed or trailer, these are the pads for you.
Since I replaced fronts last year with same brand and liked them so well decided to use these on the back. Just wish I knew the backs would have needed to be replaced sooner so that I could have changed at same time.

Read More Power Stop Extreme Truck & Tow Disc Brake Pads Reviews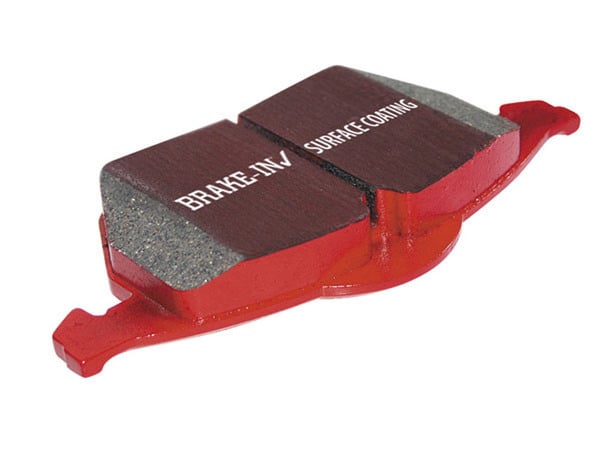 Red Stuff from EBC will outperform stock brake pads in pretty much every way. Their focus though, is on stopping distance. If you want your street-legal ride to stop on a dime, these are the ticket. The secret is a unique coating and rapid ribbing. Another bonus is that these things are as quiet as a church mouse.
Great stopping power. Perfect fit and easy install. Huge improvement over OEM pads that fade. These pads hold strong stopping power regardless of how hard you push them.

Read More EBC Red Stuff Disc Brake Pads Reviews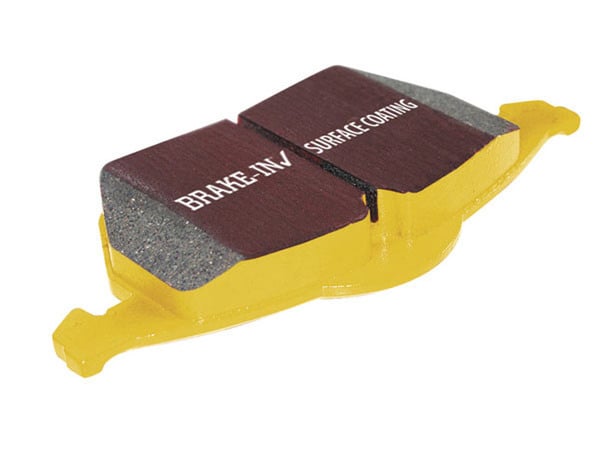 If racing is your pleasure, stopping is a necessity, and Yellow Stuff pads from EBC are your new best friend. These are the strongest gripping pads EBC manufactures, and the proof is plain to feel the first time you brake. Beveled edges makes these among the quietest pads available anywhere. They're guaranteed to drop jaws.
Great pads! I purchased them for my '05 [Ford sports car] v6 and even before they were bedded in I actually had that bite that I was lacking from the stock pads. Follow the bed in process and then enjoy the awesome stopping power!

Read More EBC Yellow Stuff Disc Brake Pads Reviews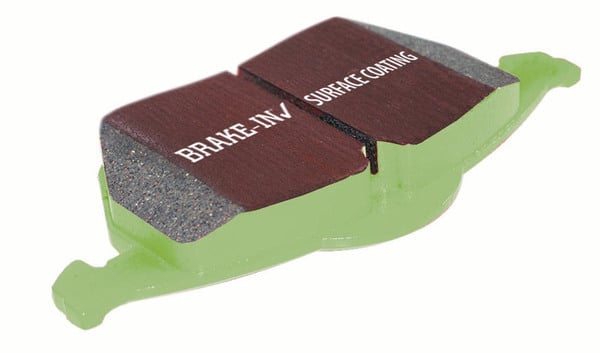 EBC's got three major pads on the market, Green, Red, and Yellow. All three make the top ten, but first, the Green. These pads are designed for street performance - particularly on muscle cars and imported sedans. They boast 30% less dust than your OE pads and feature a center slot for additional cooling.
This is the third time I have used these pads and would not use any others. I had to replace the brakes on my [Chrysler minivan] which is a poor system on cars driving in mountains. Chrysler replaced them twice and I replaced them and now I'm very happy with the brakes. I also replaced the rotors to match the pads. Best thing I ever did for this car.

Read More EBC Green Stuff Disc Brake Pads Reviews
What's the Best Fit for Your Vehicle? Enter Your Info Below to Find Out!
Brake Pad Buying Guide: Ceramic vs Metallic vs Organic
Your braking system is made up of two main components, the pads and the rotors. To put it simply, the rotors are spinning right along with your wheels, and the pads clamp down on the rotors to slow your vehicle's movement. No matter the style or material, your brake pads are there to provide the friction to top, and they will wear down over time.
Below, we'll describe the various materials and design features available on modern brake pads.
Ceramic Brake Pads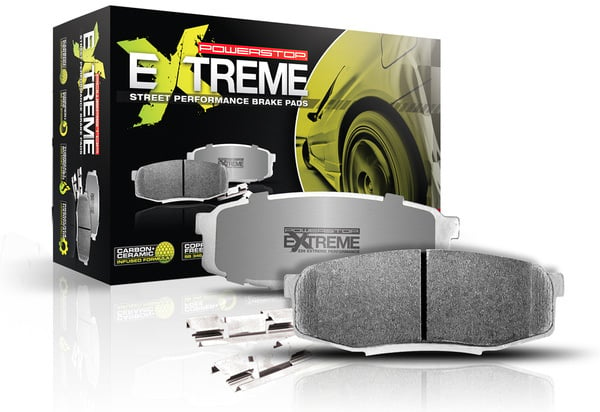 No doubt the most common material for brake pads, ceramic pads are often found in less demanding applications like daily commuters, lighter-duty trucks, and general street driving. They generate very little brake dust and are known for a quiet and dependable performance.
If you're not a race car driver and you don't routinely haul super-heavy loads up and down mountains, ceramic brake pads might be for you. When we say "ceramic", now, we're not talking about alabaster dolls or place-settings on a wedding registry. These pads result from blending ceramic material with either copper or carbon fiber.
They take it easier on your brake rotors and produce less noise and brake dust than metallic pads. They also dissipate heat better, which allows for your system as a whole to last longer. They're not super-aggressive, though, which can lead to slippage in extreme weather conditions. Even so, if you'd prefer a leg up on your factory, OEM pads, these are a convenient, cost-effective way to get it.
Metallic Brake Pads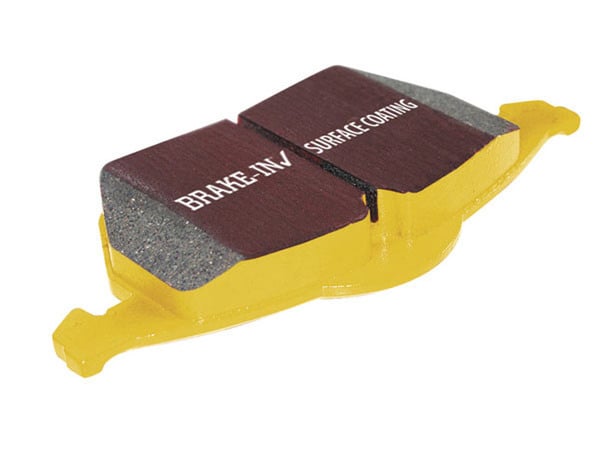 If you go a little harder in your ride than the average daily driver, whether that means racing quarter miles or carting around heavy-duty loads in your truck, then you should consider Metallic Brake Pads. These puppies chomp into your brake rotors with a reliable, aggressive bite, no matter the conditions.
These pads do, however, tend to burn up much faster than ceramic, while also braking louder and producing substantially more dust. Depending on how hard you go, you might cycle through a few sets in short order; then again, that might be the idea! After all, if you're going to put that pedal down, you need total confidence your brakes will have your back. In certain applications, nothing but a metal-on-metal set-up will do.
Semi-Metallic
Since racers plan to bring their vehicles to higher than average speeds, they need higher than average stopping power. Noise and dust are secondary concerns to race-minded drivers, so semi-metallic brake pads are more common in these circles. Brake pads like those from EBC feature bits of steel, copper, or iron suspended in synthetic material to maximize friction on your brake rotors.

Low-Metallic
Bringing the copper or steel ratio down to thirty percent or lower, low-metallic brake pads provide a healthy amount of friction without being as hard on your brake rotors as semi-metallic pads may be. These pads are slightly noisier than ceramic pads and generate more dust, but they are not as noisy or dusty as semi-metallic pads.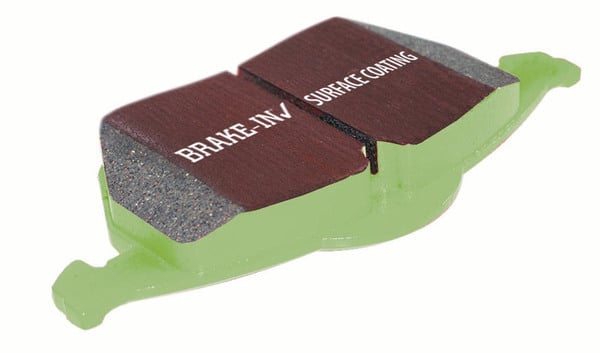 Organic Brake Pads
Brake pads made from natural materials such as carbon, glass, or Kevlar are known as organic brake pads. They are quieter than any metallic brake pads and easier on your brake rotors. And unlike some race-inspired brake pads, organic pads work great when cold which makes them ideal for daily drivers and commuters.
Brake Pads FAQs and Answers
What do the brake pads do?
The friction created by your brake pads is the force that actually slows your vehicle. The main components of your braking system are the brake rotors, and the brake pads. The rotors are connected to your wheels and spin at the same rate. Your brake pads clamp down on the brake rotors, effectively slowing your tires.
How much does it cost to replace brake pads?
The cost of replacing your brake pads will depend on many factors. These factors include your vehicle type, and the type of pads you wish to use, and whether your brake rotors will also need to be replaced. At an auto shop, you can usually expect to pay at least $100 per axle, and up to $300 per axle.
How do you know when you need new brake pads?
There are several red flags that may indicate it's time for new brake pads. The most common sign is that you'll hear it. When your brake pads wear down, you'll start to get metal-to-metal contact and you'll hear it when it happens. An awful squeal will make the hair stand up on the back of your neck and tell you it's time for new brake pads. Other warning signs are a longer stopping distance, difficult handling when braking, or a spongy feeling when depressing your brake pedal.
Can I replace brake pads myself?
It may be an intimidating prospect for people who are new to home auto care, but changing brake pads is one of the easiest auto maintenance tasks you can do yourself at home. For most people, the task will take about an hour and could save hundreds of dollars in labor costs.
Are OEM brake pads better than aftermarket?
It depends on the brake pad. Some low-quality aftermarket brake pads are designed with nothing but a low price point in mind. These pads may be less desirable than OEM pads. However, many aftermarket brake pads, like the ones offered on Auto Accessories Garage, are designed to optimize performance on your vehicle. These pads are usually better than OEM pads and offer fewer failure points.
Are ceramic brake pads more expensive?
Ceramic brake pads are typically more expensive than organic brake pads. They are also of higher quality. Since organic brake pads are less expensive, they are much more common, especially in regards to factory-installed, OEM brake pads.
Are ceramic brake pads worth it?
Despite a higher price point, ceramic pads have grown greatly in popularity over the past few decades. Unrivaled stopping power combined with very low noise levels make ceramic pads the most desirable on the market for racers and off-roaders. Overwhelmingly, drivers who try out ceramic pads are sold for life.
Are ceramic brake pads worth it?
Despite a higher price point, ceramic pads have grown greatly in popularity over the past few decades. Unrivaled stopping power combined with very low noise levels make ceramic pads the most desirable on the market for racers and off-roaders. Overwhelmingly, drivers who try out ceramic pads are sold for life.
Do ceramic brake pads wear out rotors faster?
On the contrary, ceramic brake pads tend to cause less wear on the brake rotors. Fully optimized, ceramic brake pads are able to handle high-heat better than any other brake pad material. They also generate less dust, recover faster, and wear more slowly than any other material on the market.
Do you need to bed in ceramic brake pads?
Yes. You will need to bed in your new ceramic brake pads. For the first hundred miles you drive with your new pads, it's important to try not to stop too quickly or harshly. Find a safe area for driving like an empty parking lot and go from about 35 MPH to just above 0 about six or seven times. Then repeat the process from about 45 MPH to just above 0. Finally do this process again from about 65 MPH.