Go Industries Grille Guards & Brush Guards
Go Industries knows what it takes to provide superior front-end truck protection - and that's exactly what you'll get when you bolt on a one of their Grille Guards. With completely custom designs, these shields bolt right to your frame and look flawless. You can also customize your Go Industries Grille Guard by choosing models with or without headlight guards. Order your grille guard through AAG, and you'll get the added bonus of free shipping.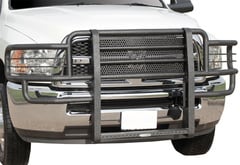 From $611.20
Free Shipping
Quick View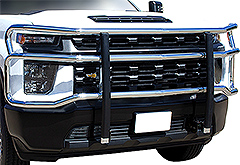 From $436.07
Free Shipping
Quick View
About Go Industries Bull Bars & Grille Guards
A polished Grille Guard from Go Industries adds next-level looks to your truck, and at AAG we make buying one a simple process. Our site's vehicle selector ensures that your guard will be custom-fit to your exact vehicle, and our detailed photos and product descriptions let you know exactly what you're getting. We strive to offer the best prices on our truck accessories. Add free shipping on top of that, and you'll be getting the best deal on Go Industries Grille Guards at AutoAccessoriesGarage.com.
Go Industries Bull Bars & Grille Guards Reviews
P.J
from Wasco, CA says:
The grill guard was very easy to to install, the instructions were easy to read and the guard sure does not feel to weigh 160 lbs. all the hardware needed for the installation was missing, so i just spent another hour and a couple bucks to find the bolts i needed at the local hardware store, and the carrier took three weeks to deliver to my house. overall. good product, looks great, but the crucial parts missing, and the extended delivery date was a downfall. Read more Go Industries Rancher Grille Guard customer reviews.
Mark C
from Nickerson, KS said:
I ordered this guard after I hit a deer and messed up the front of my 07 Gmc truck. After it came and I installed it I like the rugged look it gives the truck and so far I have not had to see what will happen if I hit another deer though I have had 3 more come out into the road. Really like how much more this guard uses bigger steel and makes it fit your truck.
Gallagher
from Baltic, CT says:
Love this guard, have the urge to run into someone now just to test it out! The black paint on this guard is sweet, its pretty hard to chip, going to put it on I spun and hit the headlight area against a toolbox and you'd never know I did. Putting it on was interesting, because the "directions" it comes with are absolutely terrible, if you can even classify a picture with a couple lines drawn on it directions. They fail to tell you that you need to use four of the bolts ALREADY holding the bumper on. It did not require too much work to install it though, took me and my dad roughly an hour and fifteen to complete, and half the time was trying to figure out how to mount the brackets, and when you combine two polish guys and bad directions it gets interesting. All in all, I LOVE this guard, it looks amazing on my truck. And for those of you who didn't think of it, use some of the touch-up paint they give you to paint the heads of the bolts and the nuts so they wont rust, that way in a few years if you need to take it off it'll be much easier. Also, if you are curious, this doesn't mount TO the bumper, it mounts to the bumper mount bracket which holds the bumper on, which is much better than just to the bumper. This is one thing I wanted to know before purchasing and couldn't really find out.
Popular Go Industries Bull Bars & Grille Guards