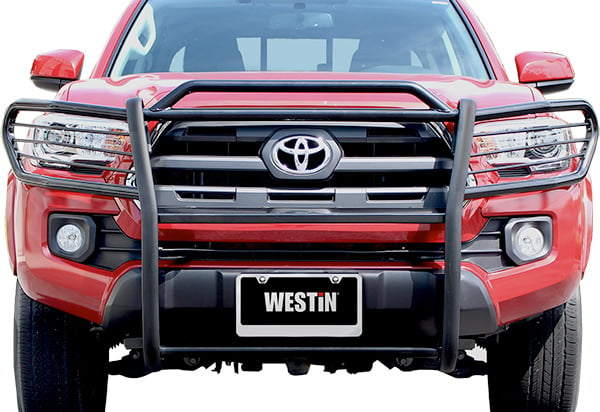 Bolting on a Bull Bar or Grille Guard is the way to instantly toughen up your truck or SUV, both in looks and in durability. These protectors provide a durable shield against road borne hazards and strengthen your front end in the event of light impacts. Plus, Bull Bars and Grille Guards for trucks and SUVs enhance your style and give your vehicle a commanding presence on the road.
We offer a full line of Grille Guards and Bumper Protectors for a wide variety of vehicles. Read on and check out the different styles out there and learn out how to find the best SUV and Truck Grille Guards for your vehicle.
What Do Bull Bars & Grille Guards Do?
You've most likely seen plenty of trucks and SUVs on the road with big burly bars covering their headlights, bumpers and grilles. Why are so many 4x4 drivers bolting on these Grille Guards and Bull Bars?
Protect Your Front End
Whether you're an off-road fanatic, a contractor, or a daily commuter, your truck or SUV takes a lot of abuse. Kicked-up rocks, tree branches, and stray shopping carts all threaten your pristine headlights, grille, and bumper. Before long, even a brand-new truck will start to look beat-up and haggard.

Grille Guards and Bull Bars act like a football player's face mask for your truck's front end. They sit in front of your grille to absorb impacts from rocks and debris, and they can even be used to push other vehicles at low speeds. Most Grille Guards also include side sections that wrap around your headlights to block flying objects and prevent cracked lenses.
Every piece, from the thick-wall steel tubing to the center uprights, is crafted from heavy-duty steel for maximum strength and impact resistance. Plus, our Grille Guards and Bull Bars bolt directly onto your frame for unbeatable rigidity.
Grille Guards & Bull Bars Toughen Up Your Style
Naturally, you don't bolt anything to your truck that doesn't look like it means business. That's not a problem with our front-end gear. When you equip your truck with a Westin Grille Guard or an Aries Bull Bar, you add a whole new aggressive off-road attitude to your vehicle's face. The unmistakable look of a Go Rhino gives your truck a commanding presence on the road. If you want a more low-key look for your SUV, models like the Romik Bull Bar provide front-end protection and a sleek Euro-inspired design. Plus, most of our front-end protectors are available in both Polished Stainless Steel and Black Powder Coat finishes, so you can achieve the look you want and match your other accessories like nerf bars and bed rails.
Mounting Off-Road Lights & Accessories

Bull Bars and Grille Guards outfit your truck with style and strength, but that's not all. They also make a great place to mount some extra accessories. Most of our Grille Guards are pre-drilled so you can easily bolt on a set of auxiliary off-road lights. Bull Bars like the Westin Safari Light Bar are specially designed with light tabs for easy mounting.
If you want the front-end protection of a Grille Guard and need a heavy-duty winch for your recovery and pulling needs, you can get them both with the Go Rhino Winch Mount Guard. This Grille Guard features a built-in winch mounting plate that accommodates most popular winches rated up to 9,500 pounds, all without having to do any modifications.
It's Easy To Install Bull Bars & Grille Guards
Most of our Grille Guards are easy to install. Each one is custom-designed to your exact year, make, and model truck or SUV for a perfect fit. They're even designed to mount to existing holes in your frame, so you can bolt your Bull Bar directly to your vehicle without any drilling, cutting, or welding.
Grille Guard & Bull Bar Styles
There are several different ways you can shield your front and and enhance your vehicle's rugged style. Let's take a look at the different styles of Bull Bars & Grille Guards out there.
Full Grille Guards

Full guards, like the Go Industries Rancher Grille Guard and the Dee Zee Euro Grille Guard, feature a pair of center uprights that mount to your frame, as well as side brush guards that wrap around and cover your headlights. These heavy-duty grille guards offer the most front-end protection for your truck or SUV, whether you're tearing up the trails or just cruising around town. Because the brush guards curve around your lights, they provide extra protection from side impacts as well as front-end hazards. The Go Rhino 3000 Series Grille Guard comes with the option to select the grille and headlight brushguards or just the grille guard only.
Center Grille Guards

Some truckers want rugged front protection without the dominating wrap-around look of a full guard. Center Grille Guards fulfill this need by utilizing the same tough middle upright design without the side brush guards. The Go Industries Knockdown Grille Guard comes as a center-only guard, but you can add and remove optional headlight guards any time you want to change up your style.
Bull Bars

Bull Bars provide a more subtle stylistic touch while guarding your front end. They protect your bumper and the lower section of your grille from rocks and curbs without covering up your whole grille and headlights. Bars like the Steelcraft Bull Bars are crafted from the same burly steel tubing as full-on Grille Guards, and they're often equipped with tabs or pre-drilled holes to mount off-road fog lights and driving lights.
Bull Bar Skid Plates

Many of our Bull Bars are available with or without skid plates. These plates are built from tough steel sheet metal and are bolted or welded to the bottom of your bull bar. Skid plates may be removable on some models like Aries Bull Bars or they can be permanently mounted, such as on the Westin Bull Bar. These plates shield your bumper agsint the pebbles and debris that get kicked up by the cars in front of you. They also add extra protection against big rocks, curbs, and tall parking barriers to keep your bumper looking pristine.
Rear Bumper Guards

Don't forget to cover the back of your vehicle, too. Your rear bumper takes a lot of abuse from other drivers, not to mention botched parallel parking jobs you'd rather not talk about. Rather than shell out for a new paint job or a replacement bumper, keep it shielded with a Rear Bumper Guard. The Romik Rear Bumper Guard is built from tough stainless steel tube and is custom-designed to your exact vehicle for a perfect fit and rugged protection from impacts.
Compare Our Most Popular Bull Bars & Grille Guards
Price
from $180.00
from $427.35
from $276.58
from $629.00
from $645.05
Shipping
Free Shipping
Free Shipping
Free Shipping
Free Shipping
Free Shipping
Special Offers

Same Day Shipping

Rating

Overall:
Performance:
Quality:
Appearance:

Install Time
30-60 minutes
30-60 minutes
2+ Hours
1-2 hours
2+ Hours
Fit
Vehicle-Specific Fit
Vehicle-Specific Fit
Vehicle-Specific Fit
Vehicle-Specific Fit
Vehicle-Specific Fit
Colors
Warranty
Lifetime Warranty
Lifetime Warranty On Polished, 3-Year Warranty On Black
5-Year Warranty
1-Year Warranty
2-Year Warranty
More Details
More Details
More Details
More Details
More Details
How To Choose The Best Grille Guard For Your Truck
With all the different kinds of Bull Bars and Grille Guards out there, how do you find the right one for your needs? Here are a few things to consider when making sure you're purchasing the best Grille Guard for your truck or SUV.
Front-End Coverage
Safety Tip: Grille Guards protect your front end from debris and minor impacts, but they do not make your vehicle any more safe in the event of a high-speed collision. Your airbags will still function normally, however.How much protection do you need from front-end debris and impacts? If your driving habits typically involve just getting around the neighborhood, you could get by just fine with the simple protection of a Steelcraft Bull Bar or an Aries Bull Bar.
If you frequently take your vehicle off-road or often face of rugged conditions like construction sites and farms, you would benefit from the full-frontal protection of a complete Grille Guard. The Aries Grille Guard and Ranch Hand Brush Guard provide durable protection from impacts and scratches, whether you spend your time climbing boulders or climbing ladders.
Accessories
When shopping for a Brush Guard or Bull Bar, keep in mind any other accessories you'd like to use on your truck. Do you need a sturdy place to mount your winch? If so, choose a Go Rhino Grille Guard with a sturdy winch plate. Most of our Bull Bars and Grille Guards, including the Westin E-Series Bull Bar and Romik Bull Bars, come with pre-drilled holes or tabs to mount a set of off-road lights front and center.
Style
Like anything you bolt onto your truck, you have to make sure it looks as good as it performs. No matter your stylistic tastes, we have a Bull Bar or Grille Guard for you. If you're looking for bumper protection with a more understated visual accent, choose a less-imposing bull bar like the Aries Sport Bar. For a tougher off-road look, go with the more commanding full-size Dee Zee Grille Guard.
You also have options when it comes to finishes. Whether you go for a subtle Westin Ultimate Bar or a full-blown Go Rhino Grille Guard, most models are available in both Black Powder Coat and Polished Stainless finishes. Both finishes are designed to match your other factory and aftermarket exterior accessories, so you can maintain the blinged-up or blacked-out look you crave.
Final Thoughts
Bull Bars and Grille Guards for trucks and SUVs are essential for enhancing your vehicle's looks and durability. We hope this Research Guide helps you make the right decision when shopping for a Grille Guard. If you have any questions or suggestions about the information in this guide, feel free to call our experienced Customer Service staff at 800-663-1570.
This page was written by Packy AutoAccessoriesGarage