Iron Cross Bumpers
A time will come when you want to replace your truck's bumpers, and when it does you need Iron Cross front bumpers! These heavy-duty implements bring a mixture of strength and style to your rig's presentation, and better still they protect the most sensitive areas of your truck from accidental damage. Available in exactly the style and fit you need, every custom-built bumper is guaranteed to be the right size for you. No question about it: when you need a bumper you can count on, you need a bumper from Iron Cross.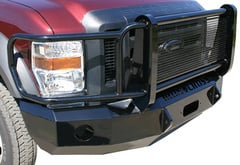 From $1,170.00
Free Shipping
Quick View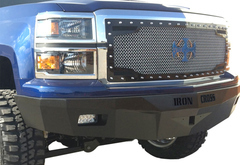 From $1,579.50
Free Shipping
Quick View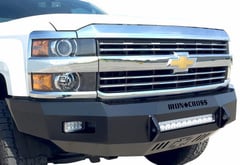 From $1,579.50
Free Shipping
Quick View
Want to learn more? Read our:
About Iron Cross Bumpers
There's just the one option, but here's the thing: it's amazing! When you pick up an Iron Cross bumper, you gain access to unparalleled craftsmanship and a perfect fit to your truck. Your rig has never looked bigger or tougher, not by a long shot, with these bumpers that compliment your factory style in ways you're guaranteed to love. No fooling: guaranteed!
There's a certain comfort and security that goes hand-in-hand with one of these. You get extra front end protection, no matter how you use your truck. Off-road excursions ain't no thang, and a hard day's work is helped just as well. An Iron Cross bumper is the kind of accessory that gives your rig a little bit of everything while taking nothing off the table: in other words, they're fantastic!
You can trust AutoAccessoriesGarage.com when it's time to shop for your new bumpers. That's because we offer our Iron Cross bumpers in applications fit specifically to your vehicle. Just tell us your year/make/model, and if there's one available for your truck we'll show you pictures and descriptions so you can make an informed decision. Once your decision has been made, we'll ship it your way for free. Shop with confidence at AAG: our goal is to help you find your perfect Iron Cross bumper.
Iron Cross Bumpers Reviews
Jeff H
from Douglasville, GA says:
The bumper came in quickly. It was very easy to InStyle. All the holes lined up very well. Looks great on truck. A lot stronger than stock bumper.
Kenneth A
from Newport, VT said:
I love this bumper. Looks great. Easy to install. Heavy duty. Beautiful
MITCHELL D
from Cheraw, SC says:
This bumper was heavy duty with a good fit. I own a body shop and many aftermarket parts do not fit as advertised. We were pleasantly surprised with the ease of assembly.
Iron Cross bumper
from Evansville, WY says:
Bumper is awesome and looks great! Very easy to install!