A new front-end bumper will not only make your truck tougher, it'll also improve the rugged style of your pickup. Since most of the truck bumpers we carry are custom designed to fit your make and model, they'll accentuate your pickup's existing curvature and bring head-turning good looks to your rig. And yet, the process of finding the perfect aftermarket bumper for your ride can be overwhelming - there are a ton of bumpers out there. Thankfully at AAG, we have enough sales data, customer reviews, and experience in the industry to give you some pretty worthwhile advice.
At AutoAccessoriesGarage, we've got bumpers upon bumpers to look through. Some include an integrated bull bar, some include a grille guard, some allow you to mount winches or LED lights, some are steel bumpers - what we're getting at here is that there are a lot of bumpers to choose from. While our product specialists are happy to talk trucks all day long, we also wanted to build a sheet that our customers could easily reference. We took data from our top-selling bumpers, our customer reviews, and our star ratings to build what we're proud to present as our Top Ten Best Truck Bumpers of 2019.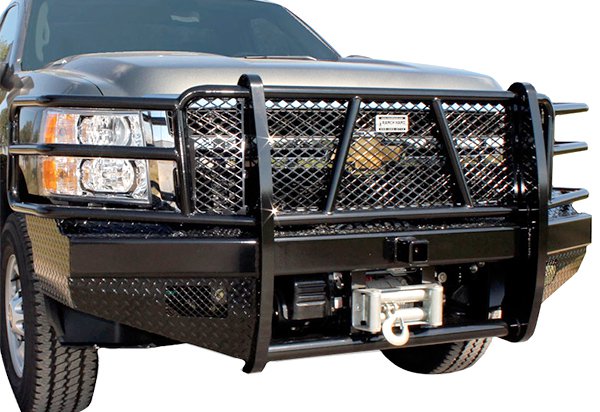 With a built-in, winch-ready grille guard, it's no surprise that the Ranch Hand Sport Front Bumper is so popular. If you know you want a winch, a grille guard, and a tough bumper, why not go for something that encapsulates all three? The diamond-plating and black powder coating make this bumper look as rugged as it performs.
Install was simple and straightforward (took about two hours). I would honestly recommend a rolling jack to help. The final look, safety improvement and ride stability is totally unmatched as far as I'm concerned. I've also ordered a winch which I hope will install as easily as the bumper did!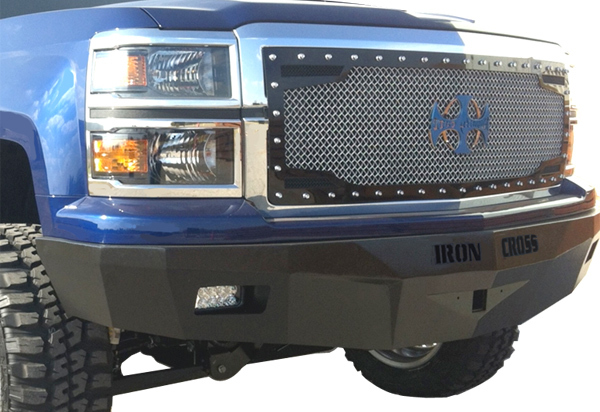 Forged from 10-gauge American Steel, the RS Bumper from Iron Cross is completely designed and manufactured right here in the USA. Meant to be a direct replacement, it bolts directly into your factory mounts with no drilling required. Iron Cross stands by the construction too, and backs this bumper with a Limited Lifetime Warranty.
The strength and quality of this bumper is outrageous. If you're looking for a more aggressive bumper I would highly recommend this one. I'm happy with the product and how it makes my truck look as a whole. Thanks guys!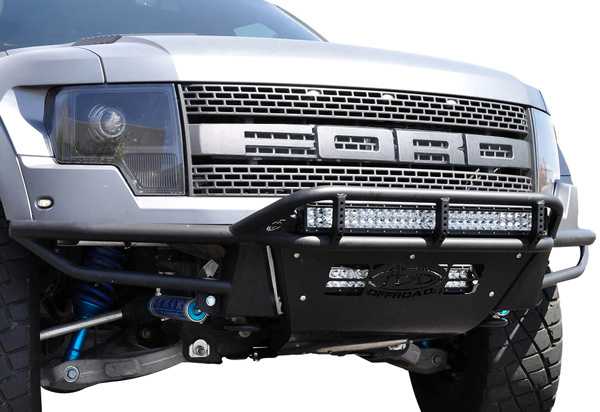 For Baja and Pre-Runner styled trucks, Addictive Desert Designs is a clear frontrunner. If this is the direction you're taking your rig in, we can't recommend anything more than the Radical ADD Race Series Front Bumper. Available for F150s only at this point, this slim-line construction maximizes your approach angle, and brings a mean style to your front-end.
Ya gotta love anything made in the USA! ADD really understands what a desert race truck is, and what it should look like. I drive tough and I know this bumper looks good and also will stand the test of time.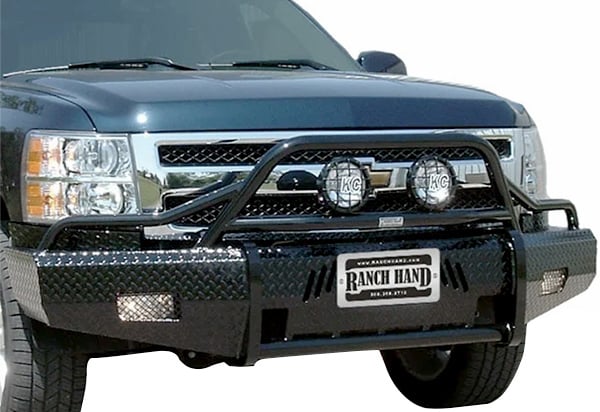 Available in a Bullnose or Grille Guard variation, your Summit Bumper from Ranch Hand includes fog light and tow hook cutouts. This bumper is diamond treaded and finished in a Black Powder Coat. The twelve-gauge Steel construction is surprisingly lightweight but also as tough as can be.
It is PERFECT!!! My husband is so EXCITED with his new bumper. Thank you. It's exactly as described and the shipping was prompt and very professional.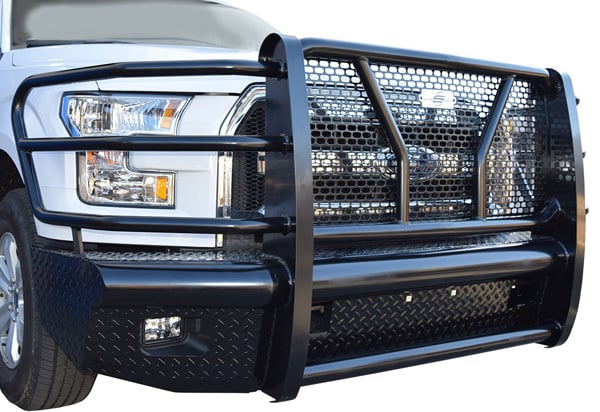 With a one-piece welded design, the HD Bumper from Steelcraft is incredibly durable. A punched-plate grille insert allows you to retain the use of your fog lights and tow hooks and the entire piece bolts directly to your existing frame. An electrically applied e-coat means this bumper will never give in to rust and corrosion.
I love this front bumper and it was a cinch install. Thanks to AAG it got delivered within a few days after I ordered. This is clearly a high quality bumper which is designed to withstand impact.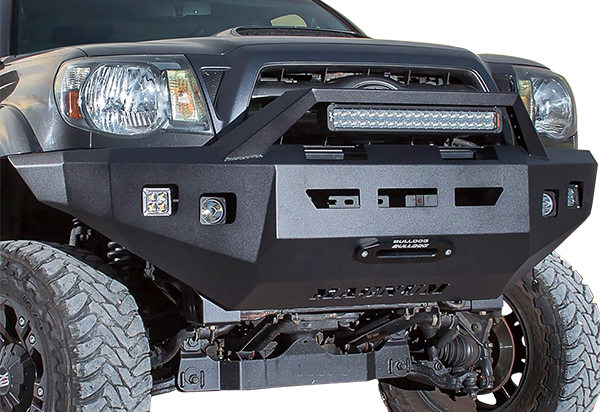 No tow rings? No problem! The Magnum Front Winch Bumper from ICI includes its own integrated tow rings. It also makes it easy to install your own aftermarket LED lights. This bumper is perfect for people that like to stay on the trails until late at night and beyond.
I thought I needed a bumper as tough as my truck and I think I found it. Work with two other Sierra drivers, so when I pull up now I have definitely set myself apart from the herd. Lol.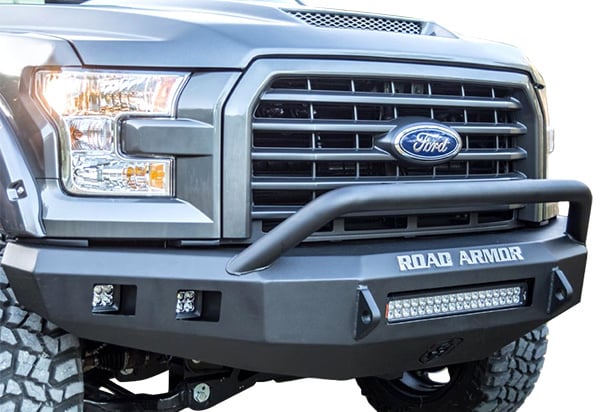 Available with integrated grille guards or bull bars, the Stealth Bumper from Road Armor offers a simple bolt-on installation. Made in America, this tough bumper includes a 12,000 lbs. winch mount for American trucks (or a 9500 lbs. mount for Toyotas). As tough as they come and powder-coated, this bumper is backed by a Lifetime Warranty.
I like the road armor bumper and I can already see that it will outlast my truck easily. If you plan on using a winch and led light combo on your truck, you can't to much better than this.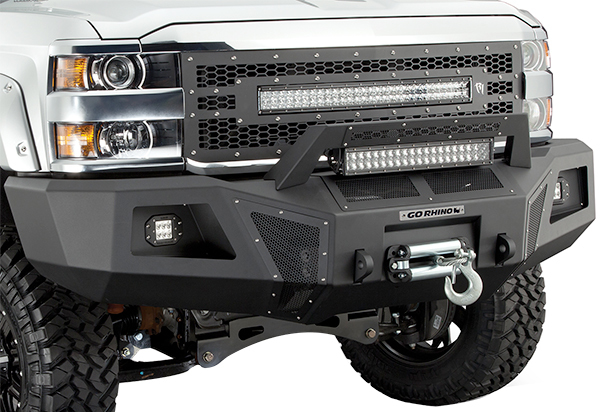 Specifically designed with an easy installation in mind, the BR10 Bumper from Go Rhino is constructed in textured Steel. A quarter inch thick, this superiorly durable front-end piece is capable of pulling up to 16,500 lbs. when combined with a winch.
Install was no sweat and I love the look of this bumper! Shiny chrome hardware and winch really pop on the dark black steel. Trust me, combine it with a winch and this bad boy is unstoppable.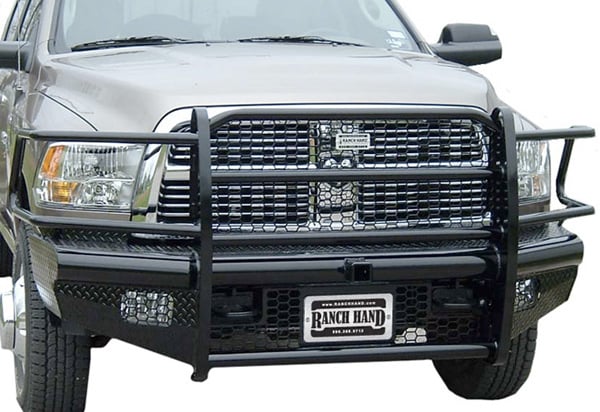 Available with a bull nose, grille guard, or winch-ready bull nose, the Legend Front Bumper from Ranch Hand takes truck bumpers to a whole new level. Made from Schedule 40 Pipe Steel, this piece looks more at home on industrial machinery than your pickup, but if you work your truck like a machine it may be just what you need.
I received this with fast shipping and it was wrapped in a very protective packing. Install isn't too hard if you have help to lift it and the instructions are clear. I have had it on my truck for two months now and I am very happy with it. It has enough room for me to stand on when I work on my truck but I recommend adding grip tape. A truck grinded its side on my bumper and there were no marks on it.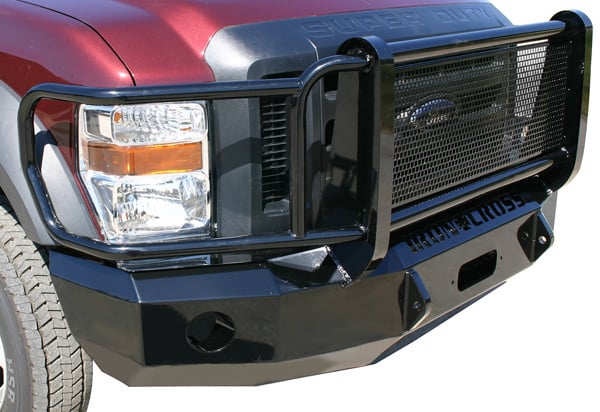 It's no surprise that one of our top-selling, top-rated bumpers also happens to be the flagship front bumper from Iron Cross which they simply call the Iron Cross Bumper. A plain bumper is manufactured, as well as options that include a grille guard or push bar. Each Iron Cross Bumper comes custom made to fit the exact dimensions of your rig's make, model, and year.
Very nice replacement bumper. Also installed 12000 lbs winch. Bolted up great. Nice fit, easy install. Would purchase again if needed. Would recommend. Also check out the Iron Cross rear bumper and side steps.
What's the Best Fit for Your Vehicle? Enter Your Info Below to Find Out!