Husky Liners Cargo Liners & Trunk Mats
With over 20 years of experience, these folks know a thing or two about interior protection. That's why Husky Liners Cargo Liners are made from high-quality thermo-plastics, with an unmatched level of attention to detail. When you drop a liner like this in your SUV or trunk, you're keeping it safe from harm for years to come. Save and get free shipping on your whole order at AutoAccessoriesGarage.com.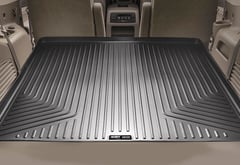 From $109.49
Free Shipping
Quick View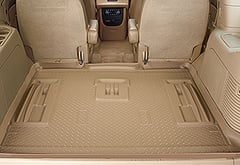 From $104.49
Free Shipping
Quick View
About Husky Liners Cargo & Trunk Liners
With every piece of luggage, load of groceries, or muddy dog you bring into your vehicle, you set your interior up for some real damage. Plus, cleaning the factory carpet in your trunk or cargo area is difficult and expensive. Take the initiative to protect your investment with a rugged, great-fitting, and good-looking Husky Liner Cargo Mat.
Formed from durable materials and custom-molded to your vehicle's exact contours, Husky Trunk Liners are built to last. From spills and mud to scrapes and scuffs, these mats can withstand all kinds of abuse. The best part is, when they get dirty all you gotta do is lift them out of your cargo area and hose 'em off. How much easier can it get?
Husky Liners Trunk Liners and Cargo Mats are custom-designed for just about every vehicle out there - but how do you find the one they made for yours? It's simple; at AAG all you have to do is tell us what you're driving and we'll only show you the trunk liners, for instance a Chevy Suburban Cargo Liner, that fit your year, make, and model. Then we'll ship it to your door absolutely free, so you'll save some extra dough.
Husky Liners Cargo & Trunk Liners Reviews
Dina D
from San Antonio, TX says:
It does not fit a 2018 Ford Escape. Too big, extends past the latch area, so you can't close. It was no cut out slot on the right side for a custom fit. It was made from good durable materials, waiting to return it. Read more Husky Liners WeatherBeater Cargo Liner customer reviews.
Sharon H
from Coalinga, CA wrote:
Top quality, instant install, perfect fit and provides excellent protection for the carpet. What more could you ask for? You might say cheaper price, but remember the old adage, "You get what you pay for". This was a fair price for an excellent product. And might I add the service and shipping was great!
Alan K
from Corvallis, OR says:
This Husky liner seems to be well made, durable, and it's not too heavy. It came rolled up in the box and needed to be flattened out, but this was easily accomplished by weighting the corners for about a day. (It might have taken longer in colder weather, though.) The fit is fine for my RAV4.
Scott H
from Waunakee, WI says:
After unrolling the liner and cutting out the holes for the cargo tie downs the liner slid right into place. It completely covers the cargo area. The next day my wife loaded the CRV with flower pots, plants, and bags of potting soil. She was happy that she did not have to worry about dirt and water damage in her new SUV.
Alan Fellows
from Butte, MT wrote:
Very much impressed with this liner. We went groceryshopping and the milk tipped over and spilled in the new car but the liquid was all contained on the liner and wiped right out. No fuss no muss, it's a great product! Al Fellows
RoyB
from Woodstock, GA says:
Fits my 2012 Sorento perfectly. This is what I was looking for. Priced very nicely. Engineered and made very well. I would highly recommend this liner instead of one from the dealer. I purchased one for my 2013 XC 60 Volvo from the dealer and it doesn't fit as well as this one for my Sorento.