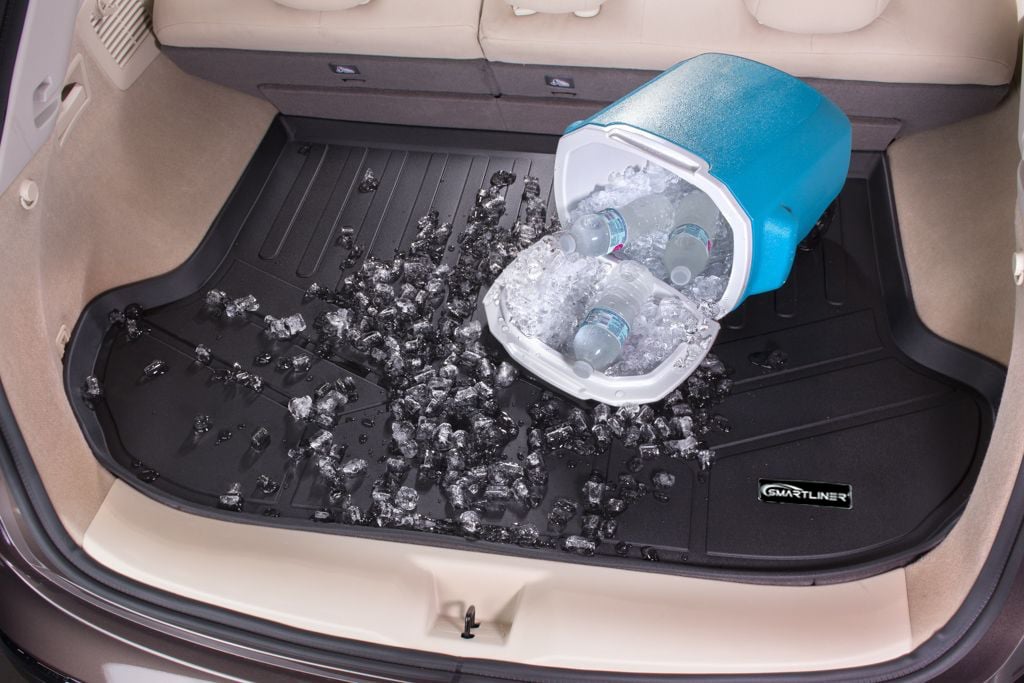 Your trunk or cargo area was meant for hauling all the essentials. But when it comes to muddy sports gear, leaky grocery bags, or dirty tools, sometimes you'd rather not make such a mess in your vehicle. Luckily, you can transport anything you need to when you have a form-fitting cargo or trunk liner.
With so many cargo mats on the market, we at Auto Accessories Garage thought it might be helpful to shine some light on some of our favorites. Take a look at what we consider the Top 10 Best Cargo Liners & Trunk Mats of 2023, complete with customer reviews.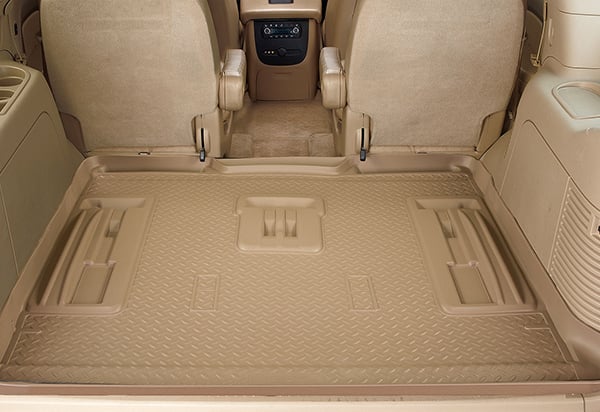 Customized to fit your specific vehicle's cargo area or trunk, the Husky Liners Cargo Liner has got it all! This rubberized thermoplastic mat resists cracking and splitting and is available in your choice of black, tan, or gray. A diamond-plated surface not only looks good, but will keep your cargo from sliding from side to side when you take tight turns.
I bought the liner for a 2011 [Toyota compact SUV], fits perfectly, have a Husky liner in my Jeep Grand Cherokee so I knew the brand was excellent. Shipping was quicker that expected.

Read More Husky Liners Cargo Liner Reviews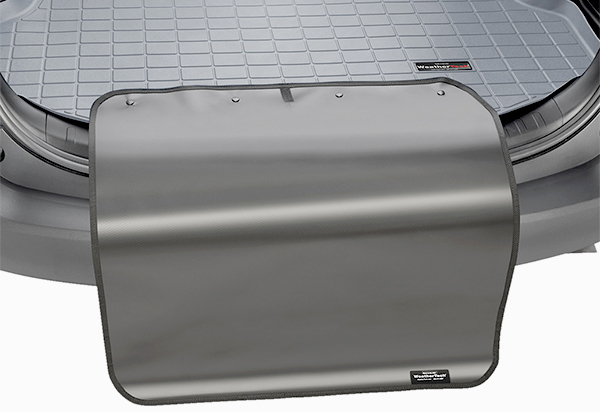 The interesting thing about the WeatherTech Cargo Liner with Bumper Protector is that it, well… has a bumper protector! This integrated flap will easily roll out and over your bumper to reduce the risk of scratching your bumper when you load or unload the vehicle. Like all of WeatherTech's products, this liner is made in the USA and backed by a Limited Lifetime Warranty.
The cargo liner I got was a perfect fit for our vehicle. It was exactly what we needed for our trip to the beach. Keeps everything in one area, looks good in the vehicle, all in all very happy.

Read More WeatherTech Cargo Liner with Bumper Protector Reviews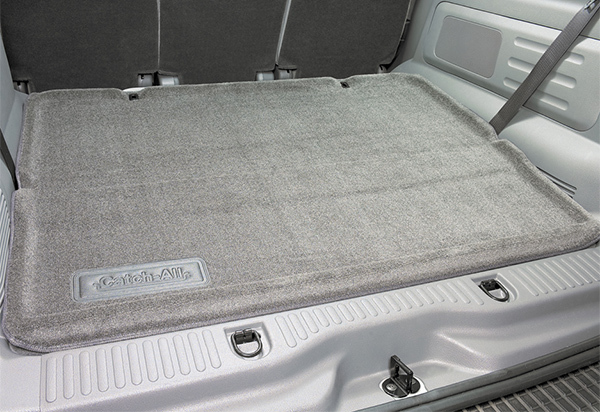 Like its name suggests, your Lund Catch All Premium Cargo Mat will really catch it all. A raised outer edge is there to catch liquids, and the color is designed to match your existing interior carpeting. Plush carpet protection softens the impact of dropping gear in the back and protects your vehicle from spill, scrapes, and more.
Perfect fit, the lip of the mat lies exactly where we want it in every direction. Which is great because this mat can really not be adjusted. That said, it seems to have been well made the first time and durable.

Read More Lund Catch All Premium Cargo Mat Reviews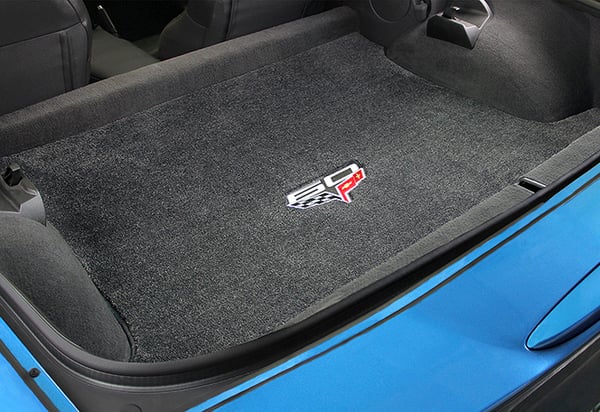 High quality looks and performance with a personalized and customized flair can be yours with the Lloyd Ultimat Cargo Liner. This custom crafted liner is made from a heavyweight 32 oz. nylon carpeting and is available in a wide variety of colors to match the interior style of your vehicle. Logos and premium binding are also available.
I am totally blown away by the quality, workmanship, and just the whole cargo mat in general - marvelous!

Read More Lloyd Ultimat Cargo Liner Reviews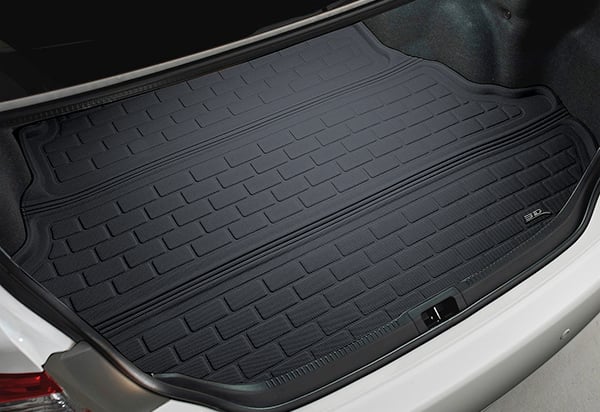 No PVC, no glue, and no plasticizers are ever used on your 3D Maxpider Kagu Cargo Liner. This liner features three unique layers of protection and comes precision molded to fit your vehicle exactly. An under-level of Maxpider fibers will grip the factory-installed carpeting of your vehicle and insure that this cover always stays in place.
After research, I Decided to go with 3D Maxpider with my 2007 [Lexus compact luxury crossover SUV] and I am oh so glad I did. They look awesome in my car.

Read More 3D Maxpider Kagu Cargo Liner Reviews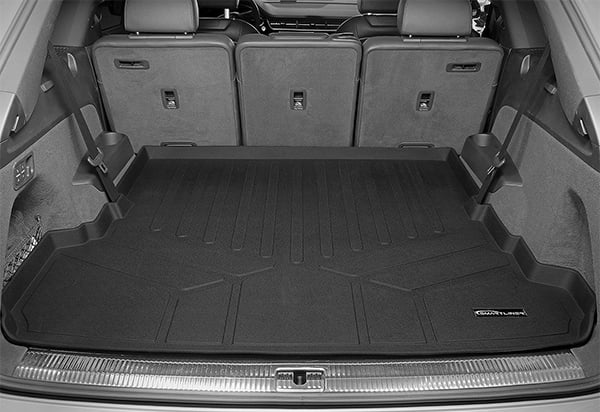 With extra-tall side-wall barriers and a thick polyethylene construction, the Maxliner Maxtray Cargo Liner is designed to take on some serious spillage. From muddy soccer cleats to root beer floats (don't ask us how) everything will be contained in this cargo liner, and clean-up is as easy as hosing it off in your yard.
I love this. Fits perfect and has a lip for spills. Made well and protects against everything!

Read More Maxliner Maxtray Cargo Liner Reviews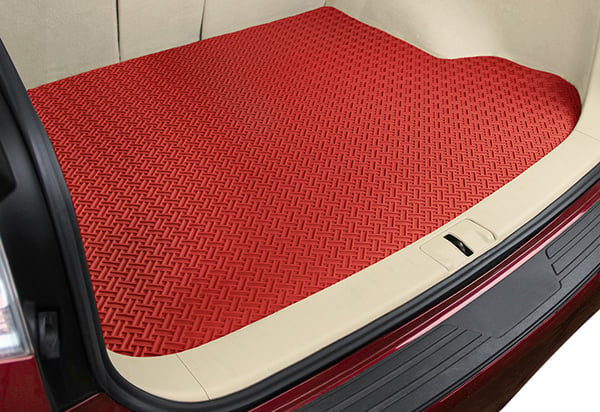 Available in eight different colors, the Lloyd NorthRIDGE All-Weather Cargo Liner features a non-skid nibbed backing and hundreds of little pockets for mud, grime, and spills to collect in. These "control zones" are there to ensure that even big messes don't go far and are easy to clean up. This mat is backed by a 4-Year Warranty.
Awesome product. Installing is literally just setting it into place. I use my trunk all the time so there are plenty of messes back there. Pull out this mat, wash it, put it back in place. So great.

Read More Lloyd NorthRIDGE All-Weather Cargo Liner Reviews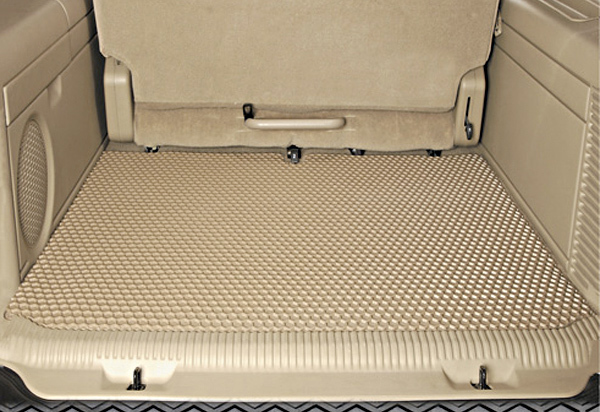 Available in a variety of colors including clear, the Hexomat Cargo Liner from Intro-Tech employs a space-age composite rubber material that is as durable as it is flexible. Backed by a Lifetime Warranty, Intro-Tech insures this material will never crack, fade, or deteriorate. Plus, the honeycomb texture will catch loads of spills and messes.
My Hexomat Cargo Liner arrived sooner than expected, I was actually surprised by the overall thickness and quality. Fit is near-perfect and it's done a great job off protecting my car. Thanks guys!

Read More Intro-Tech Hexomat Cargo Liner Reviews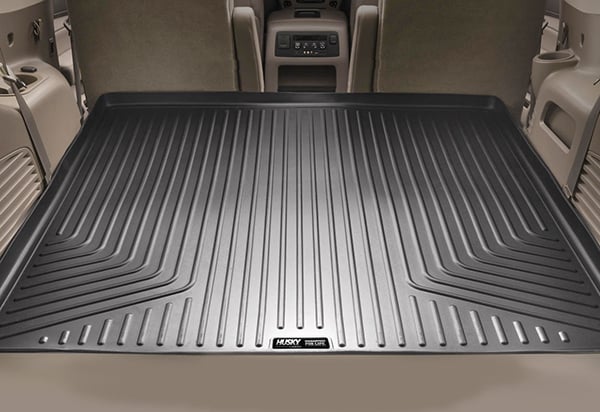 Thick, custom-tailored, and built to last, you really can't beat the Husky Liners WeatherBeater Cargo Liner. This all-season rubberized thermos-plastic is designed to handle the rigors of each of the four seasons with gusto. This material will stand up to everything from mud and snow to motor oil, gasoline, and even battery acid!
I bought this cargo liner for my 2011 [Kia SUV]. It's the PERFECT fit! I especially like the lip around it which will come in handy to contain possible spills. This was a worthwhile purchase.

Read More Husky Liners WeatherBeater Cargo Liner Reviews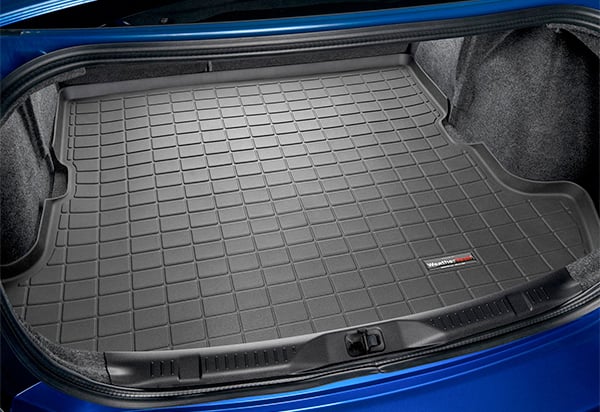 With a textured finish to keep gear in place and a raised lip to keep spills contained, the WeatherTech Cargo Liner is an impressive product. Whether you have a leaking shopping bag or muddy boots, this cargo mat will stop it all and protect your vehicle from permanent damage. WeatherTech makes this product in the USA.
I bought the black Cargo liner along with the digital fit floor mats. I must say they fit perfectly, down to the smallest detail. I ordered on a Monday and had they were on my door by Thursday. Great company to deal with.

Read More WeatherTech Cargo Liner Reviews
What's the Best Fit for Your Vehicle? Enter Your Info Below to Find Out!
Cargo Mats & Trunk Liners Research Guide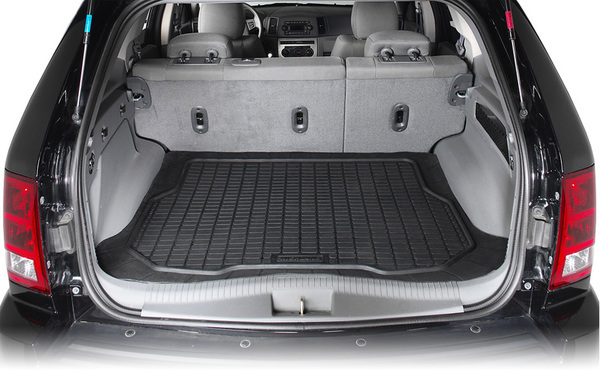 Car and SUV designers didn't just tack on a trunk or rear cargo area for nothing. This important part of your vehicle lets you carry all of life's cargo, little and big. If you use your car or SUV to haul anything, from groceries and pets to luggage and tools, then you need a Cargo Mat or Trunk Liner. These liners protect your investment, secure your cargo, and even help you add some extra style to your vehicle.
Read on to acquaint yourself with the different styles of Cargo & Trunk Liners and find out how to choose the best liner for your needs.
Why Use a Cargo Mat or Trunk Liner?
You've probably seen these rugs or rubber liners in the back of many different vehicles. Why are so many different kinds of drivers using these mats?
Protect Your Cargo Area From Stains & Damage

No matter what you carry in your vehicle - whether it's groceries, landscaping supplies, or the family dog - your trunk or SUV cargo area gets a lot of action. That also means there are plenty of opportunities to ruin your factory carpet. Spilled dirt, muddy pet paws, and sharp tools can stain, tear, and mat down your stock carpeting, compromising your clean interior and lowering your vehicle's resale value.
With a Cargo Liner in the back of your SUV or trunk, you can shield your carpet from stains and tears. Our All-Weather Cargo Mats completely block spilled liquids, while durable Carpet Cargo Liners resist tears and scuffs. Even if you haul the messiest cargo daily, the factory carpet on your trunk or cargo floor will look pristine - and when the time comes to sell your vehicle you won't have to make any compromises.
Cover Up Existing Damage
Not everyone drives a brand-new car or SUV. Perhaps your cargo floor or trunk is already stained and torn up from years of use and abuse. Cargo Liners for SUVs and Trunk Liners for cars are the easiest way to hide damaged carpet. In fact, they give your floors a whole new face. By simply laying a Cargo Liner from Avery's or Lloyd Mats down you can refresh your interior while protecting it from further damage.
Protect Your Cargo
By laying down a Carpet Rear Cargo Mat you add an extra bit of padding and softness to your trunk or SUV floor, making it even safer for your fragile cargo. Plus, many of our All-Weather Cargo Liners such as the Lloyd Mats RubberTite feature a textured design that provides extra traction to keep your gear from sliding. You can even take cargo security to the next step with the Nifty Cargo Logic Cargo Mat. This liner includes four "Cargo-Loks" that attach anywhere on the carpet, acting like a barrier to keep your cargo upright and in place. No matter how much or how little you haul, a Cargo Mat provides versatile protection for your stuff.
Add A Touch Of Custom Style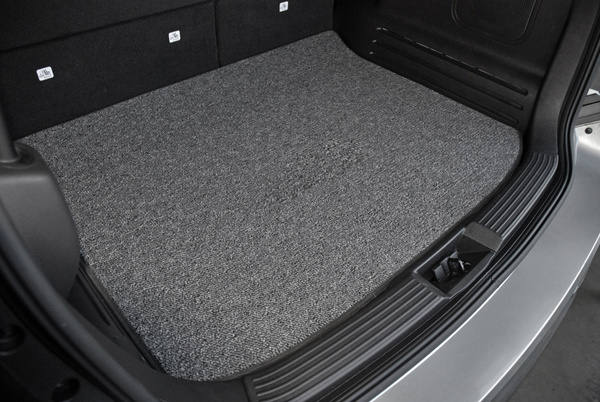 Cargo Mats are a pretty utilitarian auto accessory, but that doesn't mean they can't also look good. Our Carpet Cargo Mats like the add a plush, luxurious look and feel to your car or SUV. With certain Lloyd Mats Cargo Liners like the Ultimat Cargo Mat you can even add custom embroidery or logos to make your trunk or cargo deck truly unique. Sports fans, take note: we also offer cargo mats with team logos like the Fanmats NBA Cargo Liner, which comes emblazoned with your choice of Officially-Licensed NBA team logos so you can show off your allegiance.
Cargo Liner Styles
Cargo Mats & Trunk Liners come in two main styles, each with their own benefits. Let's take a look at how you can protect your interior.
All-Weather Cargo Liners

Muddy shoes, greasy tools, and coolers full of ice are no match for the durability and water resistance of All Weather Cargo Liners. These mats are crafted from tough plastic and rubber, making them stand up to just about anything you throw at it. Plus, because they're molded they can take on any shape for a super-precise fit and total floor coverage. Wade Cargo Mats and WeatherTech Cargo Liners are digitally-designed to match the shape of your floor, while the Husky Liners WeatherBeater Cargo Mat features a custom-tailored design that hugs every curve and contour of your trunk or rear cargo area. Because they're made from molded plastic, All-Weather Cargo Mats are also easy to clean. Simply remove them from your vehicle, hose them off, and put them back in place once dry.
Carpet Cargo Mats

If you're looking to protect your floors while maintaining a softer feel and more stock look, go with a Carpet Cargo Liner. These mats are made from high-quality nylon or poly blend carpet that's often treated to resist stains and spills. With a Nifty Catch-All Cargo Mat you can enjoy the durability and raised-edge spill containment of a cargo liner with a plush carpet look and feel. Carpet Cargo mats for SUVs like the Intro-Tech Designer Cargo Mat are available in a wide range of colors to match or accent your interior, and many Lloyd's Mats Cargo Liners can be custom-embroidered so you can fully customize your look.
Compare our Top Selling Cargo Liners & Mats
Price
from $107.95
from $96.95
from $69.90
from $59.99
from $59.90
Shipping
Free Shipping
Free Shipping
Free Shipping
Free Shipping
Free Shipping

Rating

Overall:
Performance:
Quality:
Appearance:

Install Time
Instant
Instant
Instant
Instant
Instant
Fit
Vehicle-Specific Fit
Vehicle-Specific Fit
Vehicle-Specific Fit
Vehicle-Specific Fit
Vehicle-Specific Fit
Colors
Material
Proprietary Compound
Rubberized Thermo-Plastic
32 oz. Nylon Fiber
Polyethylene
Rubber
Shape
Raised Edges
Raised Edges
Flat Edges
Raised Edges
Flat Edges
Underside Texture
Smooth
Smooth
Smooth
Spikes
Top Design
Textured Rectangles
Grooves
Swooping Lines/Channels
Dimpled
Warranty
3-Year Warranty
Lifetime Warranty
2-Year Warranty
Lifetime Warranty
Lifetime Warranty
More Details
More Details
More Details
More Details
More Details
Choose the Best Cargo Liner For Your Needs
We offer over 30 different Cargo Liners and Trunk Mats, which can seem like a lot to choose from. So how do you find the right one for your needs? Here are a couple of factors to consider.
Your Cargo Needs
Helpful Tip: Take the guesswork out of shopping for a cargo mat! On our Cargo Liners category and product pages, use our Vehicle Selector to pick your exact year, make, and model. We'll only show products that fit your vehicle.What kind of cargo do you usually carry in your vehicle? If you often haul messy items like tools and sports equipment or take your dog on road trips, an All-Weather Cargo Liner offers the kind of protection you need from mud, spills, and scuffs. Check out the Highland Rubber Cargo Mat for your all-weather needs. If your trunk sees less rugged activity like groceries and the occasional load of luggage, a Carpet Cargo Mat like the Intro-Tech Berber Cargo Liner is a great choice.
Interior Style
Your vehicle is an extension of your personality, so you should also consider the kind of look you want your trunk or SUV cargo area to have. Carpet cargo liners are often available in a wide range of colors so you can pick a mat that stands out from your stock interior or perfectly matches it for a fresh-from-the-factory look. With select liners like the Lloyd Velourtex Cargo Mat you can even add custom logos or text and make a statement that's all your own. On the other hand, if you want a cargo liner that's got the looks to match your enthusiastic lifestyle, choose a molded All-Weather Trunk Liner like the diamond-tread Husky Liners Cargo Liner.
Final Thoughts
With a Cargo Mat or Trunk Liner in your car or SUV you can maintain your factory carpet's showroom-new look, no matter what you haul. We hope this Research Guide will help you when looking for the best cargo liner for your vehicle. If you have any questions about the info in this guide, please call our knowledgeable Customer Service team at 800-663-1570.