Electric Cooling Fans
Staying cool can mean the difference between domination and damage. Equip your engine bay with an Electric Cooling Fan for substantial airflow gains to your radiator and cooling systems. Electric Cooling Fans are the first step towards gaining horsepower and torque as well as improving your overall performance and the life of your vehicle.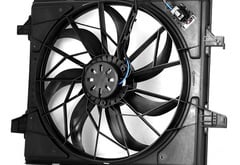 Replacing your Jeep's fan couldn't be simpler than with the Omix-ADA Fan Assembly. Fan, motor, and support come fully assembled for a simple plug and play installation. Meeting all OEM specs for perfect fit and function. Highly durable and backed by a 5-Year Limited Warranty.
From $131.49
Free Shipping
Quick View