There are a ton of dashboard covers on the market, and they all do more or less the same thing. They cover a warped, faded, and cracked dashboard, or prevent a new dashboard from cracking, fading, and warping. They also can block dangerous glares from reflecting off of your dashboard surface, not to mention improving the overall style of your interior. With a dashboard cover in place, you can keep the harmful UV rays at bay by stopping them dead in their tracks. But with so many dash covers available, how can you choose the right on for your ride?
This article will be your guide. Dashboard covers come in a wide variety of colors, styles, and fabric options. There are also a wide variety of brand names to choose from. When it comes to dash covers, you've got limitless options.
At Auto Accessories Garage we happen to know a lot about these covers, because we've been working with them for years and years. Not only that but we've heard back from customers over the years and in short we know which dash mats sell, and which don't. So we thought it might be a good idea to pass some of our wisdom of dashboard covers to you. If you're on the search for the perfect dashboard cover, take a look at our Top 10 Best Dashboard Covers of 2022, with real customer reviews.
The Best Dashboard Cover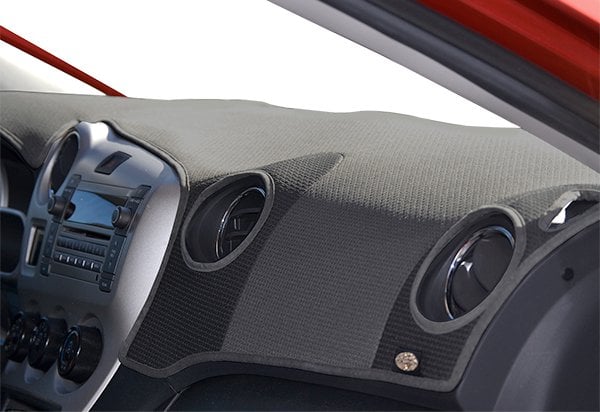 Topping out list, the durable woven poly-fiber construction of the Dash Designs DashTex Dashboard Cover is built not only to last but to look good too. Velcro tabs are included for an easy installation and each of these covers are made with pride right here in the USA. A 5-Year Warranty covers any undue wear and tear.
Very nice material! Classy look and fits perfectly. Very happy with my purchase!

Read More Dash Designs DashTex Dashboard Cover Reviews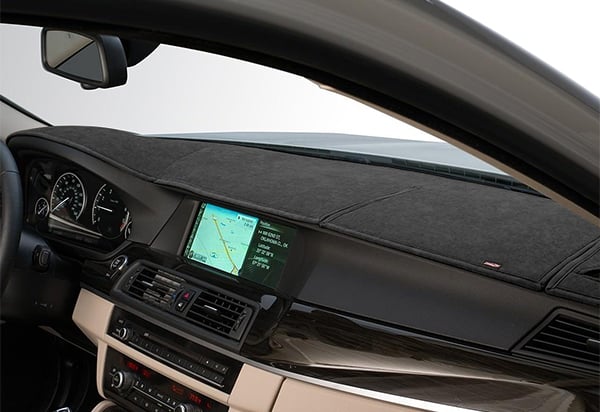 For the style and sophistication that comes along with suede, take a look at the DashMar SuedeMat Dashboard Cover. Custom made to fit the exact curves and contours of your particular dashboard, this mat also offers a luxurious and upper-class feel for your interior. This dash cover is available in a multitude of colors as well.
I got this SuedeMat to go in my Altima, which has suede-like seats. It looks perfect & I'm glad I decided to go with this instead of the velour. It fits well, just takes time to get it perfect!

Read More DashMat SuedeMat Dashboard Cover Reviews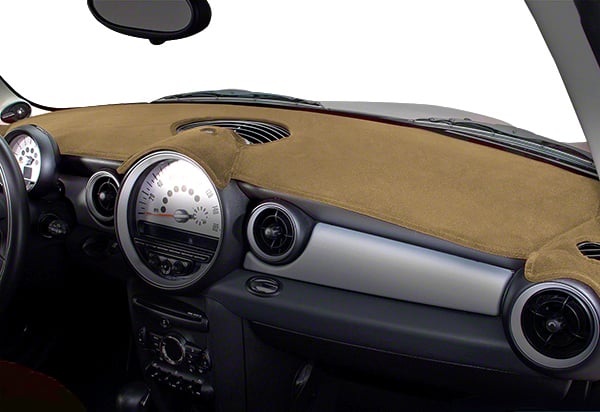 For another classy and stylish dashboard solution, the Velour Dash Cover from Coverking is made with zig-zagged seams which will allow this cover to sit flush against your dashboard – never bunching up or curling in an unpleasant way. This impressive piece is made in the USA and backed by a Lifetime Warranty.
Dash cover looks great and fits well. It is great at eliminating the glare that comes from the shinny vinyl surfaces of all dashboards. I recommend a dark color to get the glare down to zero. Lighter colored dash covers can still reflect off the glass on a sunny day.

Read More Coverking Velour Dash Cover Reviews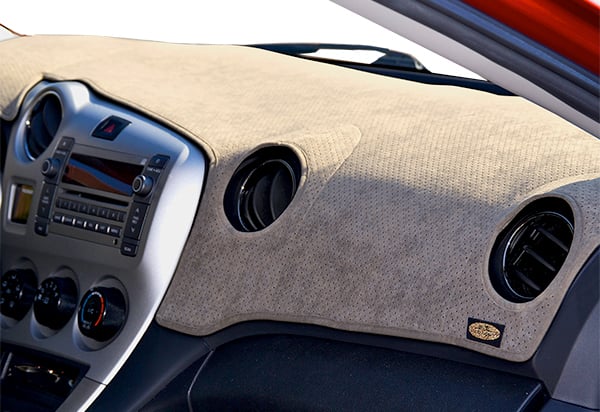 Another suede option in the mix is the Suede Dashboard Cover from Dash Designs. This attractive and textures dash mat is built from a rich, simulated suede texture that offers the same look and feel you expect at a more reasonable price point. This material is built to handle the rigors of UV-rays and high heat.
This is an excellent product for the many people who have nice cards with faded or cracked dashboards. It's not a new dashboard, but it is nice.

Read More Dash Designs Suede Dashboard Cover Reviews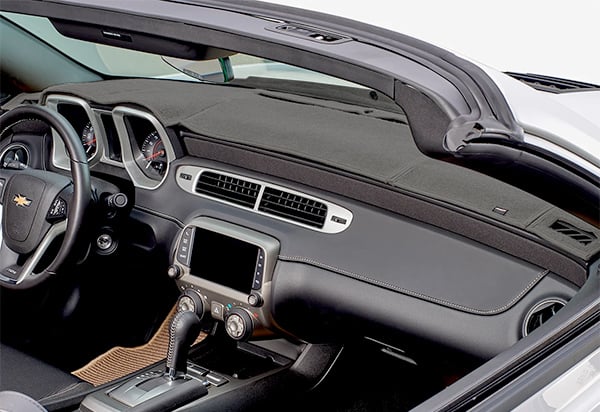 Backed by a lifetime guarantee, the Ultimat Dashboard Cover by Dashmat aims to be the ultimate last word on the subject of dashamts. A perfect fit built from fast needle-punch carpet will never warp, fade, shrink, or curl. Installation is easy and there are a humongous amount of colors to choose from to ensure you match your interior.
A quality product that fit the dash of my car nicely. I think the taupe would have matched a bit better than the caramel that I ordered, but it's still nice.

Read More DashMat Ultimat Dashboard Cover Reviews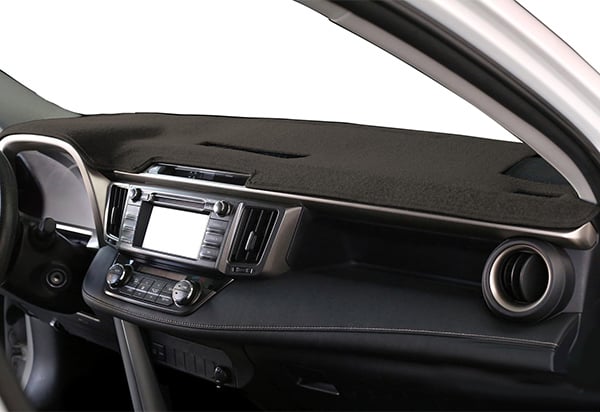 The Coverking Molded Dash Cover not only stylizes the interior of your car, but it will block sun, heat, and UV rays from cracking or fading your dashboard. Additionally, it will eliminate the annoying and dangerous glare that can shine into your eyes when the sun is high above. This product is made in the USA.
I am very pleased with the cover I ordered. It fits perfect and makes my truck look very good. Would recommend for everyone and specially ones that need to cover Dodge's poor construction on their truck dashes.

Read More Coverking Molded Dash Cover Reviews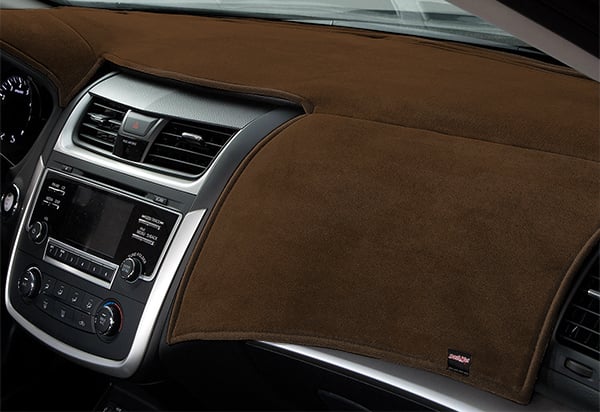 Available in a vast array of colors to match your interior style, the DashMat VelourMat is as soft and rich as it is elegant and luxurious. The material comes custom-tailored and is designed never to shrink or fade even in extreme temperatures. Included hook-and-loop fasteners make this dash cover as easy as could be to install.
Saved my life! Just kidding, it didn't really save my life, but it did save my dash. I know these things look like something your grandpa would have on the old Chevy, but they work and preserve your dash like none other. I think the new dash mats look pretty sleek myself, so you be the judge.

Read More DashMat VelourMat Dashboard Cover Reviews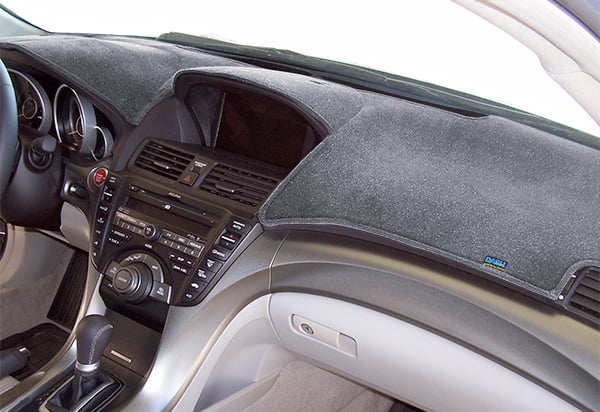 Classic and well respected, the Dash Designs Carpet Dashboard Cover is made in the USA and backed by a Lifetime Warranty. The Foss Fiber Eco-Spun Carpet is made from 100% recycled materials and an easy installation is attained through the use of Velcro tabs which are included with every order.
My Toyota dealer wanted nearly double for this exact cover. I specificly asked them who manufactured the 'Toyota' cover and it IS Dash Designs. It fits almost perfectly. It has a lifetime warranty. FYI - I have the dark interior and ordered the 'charcoal' but the cover is too light grey, black is too dark.

Read More Dash Designs Carpet Dashboard Cover Reviews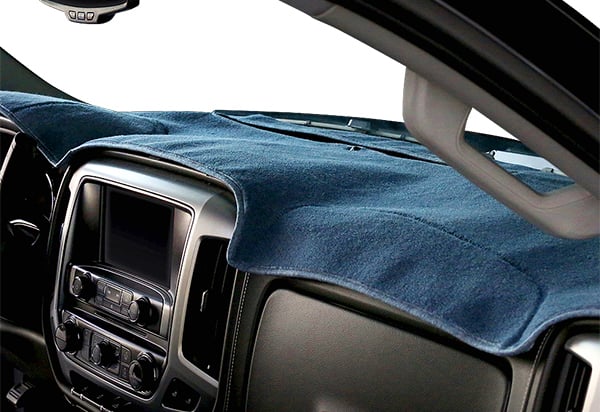 Eliminating sun glare and fighting against cracking, warping, and other damage, the Coverking Poly-Carpet Dash Cover is designed to fit your vehicle exactly. Improving upon the more common blind stitches, this cover employs a zig-zag stich pattern that ensures your cover keeps its shape for years to come.
The carpet, dash cover for our Crown Vic fit perfectly. It arrived quickly and laid out pretty flat out of the box. Let it sit on the dash for a few days and only had to use the provided Velcro in a few places. The color matches great and love the feel of it!!! Have recommended to all my family and friends.

Read More Coverking Poly-Carpet Dash Cover Reviews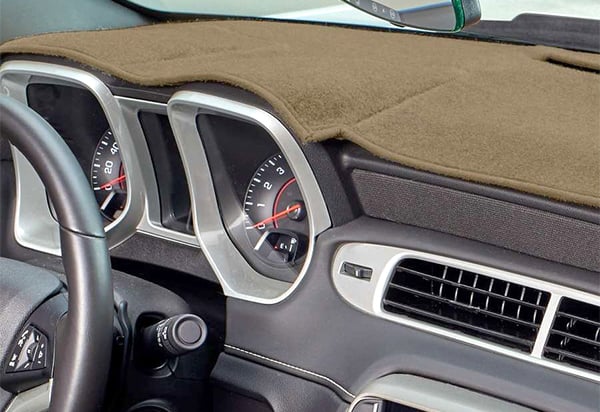 The DashMat Dashboard cover may be what most people have in mind when they envision a dashboard mat. This cover does it all - minimizes glare, protects your dashboard, and improves your interior style. Plus because it comes custom made and in your choice of a variety of colors, you know the end product will look great.
I got my Dashmat and had it out of the box and installed in about 15 minutes. It was very simple to install and wonderfully made. It fits perfectly and has made a drastic improvement in the appearance of the interior of my car. I would recommend this product to anybody. And autoaccessoriesgarage.com's customer service is top-notch!

Read More DashMat Dashboard Cover Reviews
What's the Best Fit for Your Vehicle? Enter Your Info Below to Find Out!
Dash Covers Buying Guide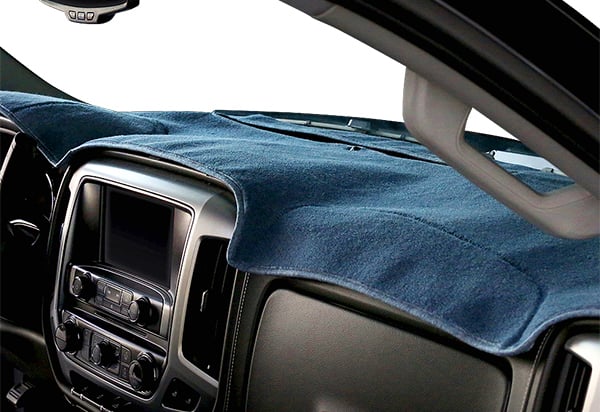 You don't have to spend a fortune to upgrade your vehicle's interior style and give your ride a new lease on looks. By installing an inexpensive Custom Dash Cover you not only protect your dashboard from dirt and sun damage - you add a touch of style and personal expression to your vehicle. We offer a complete line of Dashboard Covers and Rear Deck Covers that come in a variety of materials, colors, and even fashionable prints. Read on and find out how easy a dash mat is to install and how they keep your interior looking great.
What Does A Dashboard Cover Do For My Vehicle?
Even the most cleanliness-obsessed, Armor All-wielding drivers can't protect their dashboards from every hazard that comes their way. Sunlight and heat cause unsightly, irreversible damage to your dash no matter how many cleaners and protective formulas you rub into it. Dashboard damage makes your interior look bland and uninviting, and it can ruin your vehicle's resale value. The best way to keep your dash looking new is by guarding it with a Dash Cover. These mats enhance your interior style and protect your deck from a number of harmful environmental factors.
Provides Sunlight Protection
The sun provides life for just about everything on Earth - except your car's interior. Because your dashboard is located directly under the windshield, it's exposed to a daily onslaught of sunlight and UV rays. These rays can fade your dash, leaving it looking dull and drab. Plus, excessive sunlight can cause your dash to crack, making it look even worse. To put it simply, if you live in the desert or anywhere else that gets a lot of sun, you need to keep your dashboard covered.
With a DashMat or Coverking Dashboard Cover on your deck, your dashboard gets a reliable shield against harsh sunlight. Our Dashboard Covers are specially treated to resist UV rays and delay sun fading and damage. No matter what material you choose, a Dashboard Mat keeps the sun off your interior.
Prevents Heat Damage
Helpful Tip: Don't just take our word for it! When shopping for the best dashboard cover for your vehicle, be sure to read our Dash Mat Reviews, written by drivers and customers just like you.Your dash gets hit with a lot of sunlight and UV rays, and that also means it has to absorb a ton of heat. Without proper coverage your dashboard can get extremely hot, which leads to warping and cracking that ruins your interior looks. Plus, after being parked under the sun your dash can get so hot you could use it to fry an egg - or your fingertips. Luckily, our Dash Board Covers and Rear Deck Covers keep much of that heat and sunlight away from your deck so your interior looks great and you don't run the risk of touching a searing-hot dash.
Extreme interior heat and UV rays also cause another harmful phenomenon known as plasticizer migration. When exposed to high temperatures, certain chemicals in your dashboard slowly start break apart and turn into a gas. The gas rises and coats the inside of your windshield, causing fog and damaging the glass. Dash Covers, however, keep temperatures down to minimize plasticizer migration, and they block rising gases to keep your windshield clean and clear.
Blocks Dirt, Dust, & Scratches
Your dashboard isn't just susceptible to sun and heat damage. It's also vulnerable to damage from dust, grime, and any number of scratches and scuffs. Dust and dirt quickly build up on your dash, and those tiny particles can easily create little scratches that slowly dull your finish. Plus, the vinyl on your dash can only withstand so much when your passengers kick their muddy feet up on long rides or bang along with their favorite drum solos. By adding a Dashboard Cover to your interior, your dash keeps its looks without falling prey to these daily hazards.
Adds Unique Style
Are you bored with the same old black, tan, or grey dash staring back at you every day? Let a Custom Dashboard Mat jazz up your interior looks. Our covers are available in a wide range of bold colors that add some extra style to your bland factory trim. If you're looking to make a big statement, go with a Fashion Print Dashboard Cover and show off a bit of your personality. We also carry Camo Dash Covers that go perfectly with your hunting gear and other outdoor lifestyle accessories.
Covers Pre-Existing Damage
You now know how a dash mat can keep your dashboard looking showroom-new, but what if yours is already faded and beat-up? Great news - a Dash Board Mat is like a time machine for your interior. By simply laying down a mat you can cover up all that unsightly sun damage and make your dash look like new.
Dashboard Cover Styles & Materials
Dash Mats come in a variety of materials, each with their own unique look and feel. With all the different cover styles out there, you're bound to find one that's right for your tastes. Choose from the following Dashboard Cover materials and styles to round out your interior style.
Carpet Dash Mats
Low-pile carpet is the most common dashboard cover material. DashMat Carpet Dash Covers are excellent for driving in sunny areas because they minimize light reflections, preventing dangerous glare. Carpet also adds a warm, welcoming look to your interior, and these mats are usually available in a wide range of colors.
Velour Dashboard Covers
Velour isn't just for 1970's groomsmen outfits - it also adds a groovy look and feel to your dash. Velour is a soft, luxurious material that provides all the sun protection you need for your dash without looking utilitarian. Coverking Velour Dash Mats are also durable enough to stand up to changing temperatures without shrinking or changing shape.
Suede Dash Mats
Suede Dashboard Covers offer a smooth luxury feel that adds high class to any vehicle. These mats are specially treated for a fine sheen and an excellent feel that lasts, even in the face of pelting sunlight. Plus, Suede Dash Mats are easy to clean off. They're available in both real and imitation suede, and they both offer the same great look, feel, and protection.
Molded Dash Covers
If you're looking for a smooth, seamless look, Molded Dash Covers are for you. These mats feature a poly-carpet exterior, but instead of being stitched together they're lined with a thermo-formed backing that's molded to every one of your dashboard's contours. The result is a one-piece, seamless shell that fits your dashboard perfectly and gives it a whole new face.
Fashion Print Dashboard Mats
Dash covers don't just offer protection - they can also make a big statement in your vehicle. Fashion Print Dashboard Covers add some extra personality to your interior and provide a custom look that's all your own. They're made with the same high-quality materials and custom designs as our carpet mats, only they're printed with unique designs including Hawaiian print, animal fur, and even camouflage.
Rear Deck Covers
Just like your dashboard, the rear deck behind your back seat gets pelted with harsh sunlight on a daily basis. With a Rear Deck Cover installed you can avoid fading and cracking, and you can give your already-damaged deck a new look. We offer Carpet Rear Deck Covers and Suede Rear Deck Covers to match your dash mat, and we also carry Fashion Print Rear Deck Covers that let you add some bold style under your rear windshield. Our Rear Deck Mats are fully custom-designed to your vehicle, so they accommodate for your speakers, clips, and third brake lights without doing any cutting or other modifications.
How To Install Your Dash Cover
You don't need a degree in upholstery to install your new Dashboard Cover. In fact, Dash Mats are extremely easy to install. You don't need to do any fabric cutting or stitching, and you don't need any tools. Installing usually only involves a few easy steps:
Clean your dashboard and make sure it's free of dust, dirt and grime
Cut the included double-sided tape into 1-inch strips and place them at the front and back of your dashboard
Apply the mat to your dash, starting with the front end
Check out this video for a more detailed view:
Dash Covers FAQs and Answers
How does a dash cover attach to my dashboard?
Dash covers attach via Velcro fasteners. The fastening system works easily enough: the cloth side connects to your dashboard thanks to strip-backing adhesive, while the opposing half is embedded in the cover itself. Lots of these on each cover interlock at various points across the length of your dash for a tight fit.
Are dash mat fasteners hard to remove?
They use a durable adhesive, but it is something on a par with heavy-duty tape. You may need to wipe down residual glue with soap and water, rubbing alcohol, or an adhesive remover. Be judicious in choosing the right adhesive remover if it gets to that point, but these fasteners should come up easily and in no way damage your dashboard.
What if the dashboard cover fasteners won't stick to my dashboard?
This is usually due to prior use of Armor All protectant. If the adhesive won't hold, wipe your dash clean with a mild detergent or rubbing alcohol, repeating as necessary until the adhesive sticks.
How do I wash a dashboard cover?
Spot cleaning with warm water works pretty well. For crumbs and dust, a car vacuum will do the job. Don't use chemicals, as they can adversely affect certain dash cover materials.
Will the color be an exact match to my existing dashboard/interior colors?
Due to the sheer number of vehicles and interior colors, finding an exact match is nearly impossible. That said, our large selection of dashboard covers in a variety of color combinations ensures that you will be able to find a color that wonderfully accents your vehicle's interior.
Is there any way to prevent a dashboard cover from fading?
There are ways to prevent this from happening, but most dash mats will fade with time. Some are UV-treated, but the best way to defend against fading is to also use a windshield sun shade that will keep sunlight completely off your dashboard when your car is parked.
Will a dash mat interfere with my vehicle's air bags?
Usually dashboard covers have a special window, something along the lines of flaps cut into the material, that allows for airbag deployment. But even if you don't see a flap, there is nothing to worry about. Forceful as they deploy, your airbags will be able to do their job exactly as they should.
Will a dash cover fit around my vehicle's speakers and vents?
The dashboard covers we sell are customized to your particular vehicle. All components are accounted for, and everything will work the way it did before you upgraded your dashboard's appearance.
What dashboard covers fit older, vintage automobiles?
We are here to serve you. A bit of due diligence will allow you to find the perfect dashboard cover for your vehicle from our wide selection of dash mats, many of which will fit sixty years' worth of vehicles. You should be able to find exactly what you're looking for, no matter the vehicle, at Auto Accessories Garage.
Final Thoughts
Whether you want to preserve your pristine interior or add new style to your old ride, a Dashboard Cover is the way to go. By simply adding a Dash Mat to your interior you can keep it looking great for years and customize your looks. If you have any other questions about our Dash Covers, feel free to read our Dash Mat Reviews or give our experienced Customer Service Department a call at 800-663-1570.