Drivers all around the country, from the rainy Northwest to the muggiest corners of Florida, love the comfort and style that comes with a set of Vent Visors. These Deflectors let you get a little fresh air no matter if it's raining outside or if you're doing 80 on the highway. Plus, they really tie your vehicle's exterior look together, whether you drive a sport-compact or a full-size truck. There's one question we get a lot when it comes to Deflectors, however: What is the difference between In-Channel Vent Visors and Tape-On Deflectors, and which style is better? Here we'll show the difference between the two styles and hopefully help you find the best Window Deflectors for your particular needs.
Tape-On Window Deflectors
Classic Tape-On Window Deflectors, like AVS Vent Visors, are designed to lay over the frame of your vehicle's windows. They affix with strips of pre-applied, automotive-grade tape (usually made by 3M). They're also custom designed to fit right in place, without any need for cutting or drilling.
Pros
Easy Installation - The tape liner makes for a relatively quick and pain-free installation. Just clean the window frame (thoroughly!), peel off the tape backing, and stick the Deflectors on.
Better Water Intrusion Protection - Because these Deflectors rest outside of the window, they provide additional shelter around the entire window channel. In-Channel Vent Visors do not have this benefit.
No Window Contact - Also because of their out-of-window design, Tape-On Deflectors don't make any contact with the glass or window mechanics. That means there's no risk of scratching the glass or interfering with window operation.
Cons
Difficult To Remove - In the case that you'd want to remove your Tape-On Deflectors, it's a bit more difficult than with In-Channel ones. The removal of old tape can become a process, compared to In-Channels, which pop out fairly quickly.
Potential For Stains/Gunk - If you do end up removing the Deflectors (or, say one does happen to get damaged or knocked off), there's a chance the leftover adhesive can leave behind a hard-to-remove residue. Some customers have reported stubborn stains or a gunky buildup left behind where the tape was.
Less Low-Profile Look - Tape-On Visors stay completely outside of the window, so they often protrude a bit more than In-Channel Deflectors. If you're looking for a tighter, lower-profile style, a set of In-Channels might be the better choice.
In-Channel Vent Visors
In-Channel Window Deflectors, like EGR In-Channel Vent Visors, mount up and into your vehicle's window channels. There's no adhesive, no drilling, and usually no tools involved. This video shows the basic installation process for WeatherTech In-Channel Vent Visors. In fact, the rear deflectors in this video are tape-on style, so you can see how those install as well:
Pros
Smooth Looks - In-Channel Vent Visors tend to have a more low-profile look, because their mounting flanges are hidden from view.
No Adhesive - These Deflectors are held in place by the tightness of the window channel, so there's no adhesive to worry about.
Easy To Remove - If you decide it's time to change up your style again, In-Channel Window Deflectors are a cinch to remove; they simply pop right out of the channel, with a little bit of force.
Cons
Installation Concerns - In-Channel Deflectors are made for a super snug fit, so that the window channel gets the strongest grip on them. This means you may have to use some extra force to get them in the channel properly. Sometimes a little bending and flexing is needed to install them, and occasionally people have broken a deflector while trying to force it too hard. Be careful!
Rattling/Loosening - Occasionally, drivers report that after a year or two their In-Channel Deflectors begin to loosen up, rattle, or even fall out entirely.
Window Contact - Because of their location, In-Channel Deflectors make contact with the very top of the window. This introduces the possibility of lightly scratching the glass, or of the window damaging the deflector. However, with proper installation and cleaning, this should not be too big of a concern.
Top 5 Best Tape-On Deflectors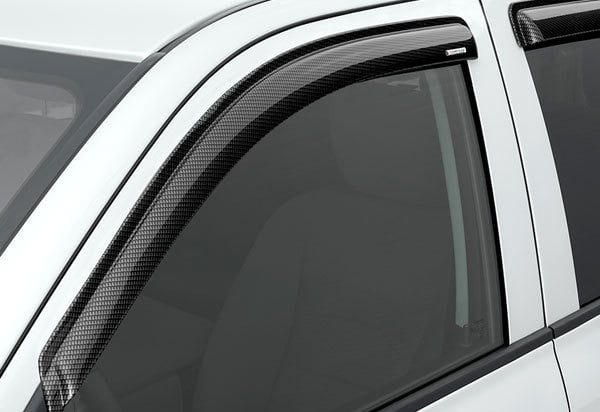 For a simple no-tool, no-hardware installation and great looks, you just can't beat the Stampede Carbon Fiber Sidewind Deflectors. Not only are these made in the USA, but they also come backed by a Limited Lifetime Warranty. The durable and scratch resistant acrylic material is also UV-treated and finished with an eye-catching carbon fiber pattern.
They really do a good job of letting air in and they look great when installed. I've got no complaints at all.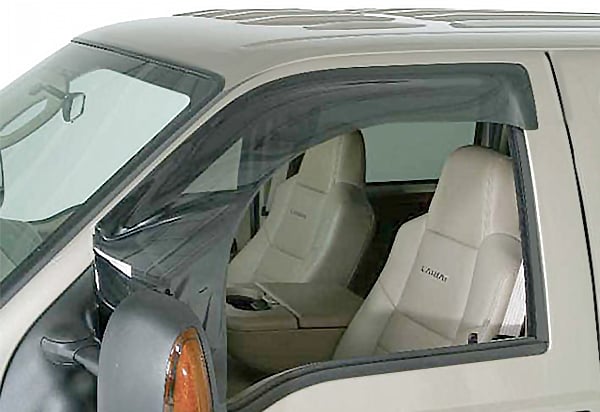 Letting in tons of fresh breeze with none of the annoying drizzle, the Wade Wind Guard Window Deflectors will tape right into place with the included automotive-grade 3M tape. The smoke finish blocks sunlight and looks incredible, and each of these visors comes backed by a Lifetime Warranty
Look great, great fit, easy to install.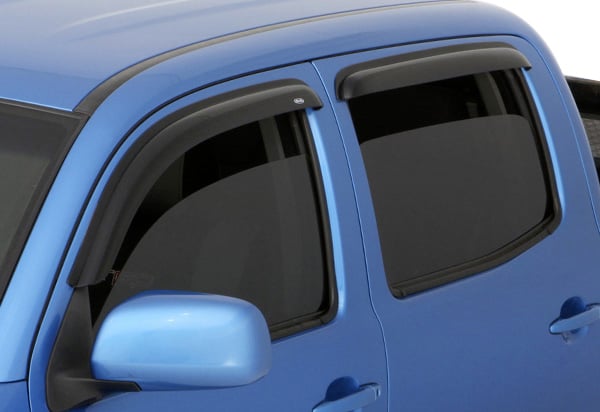 One of the most recognized names in the industry, AVS really knows what their doing when it comes to their Window Deflectors. These ventvisors tape firmly into place on almost any make and model of vehicle, and are available in two piece or four piece sets. Smoke, or chrome-plated finishes are available.
Easy installation. Enhances vehicle appearance.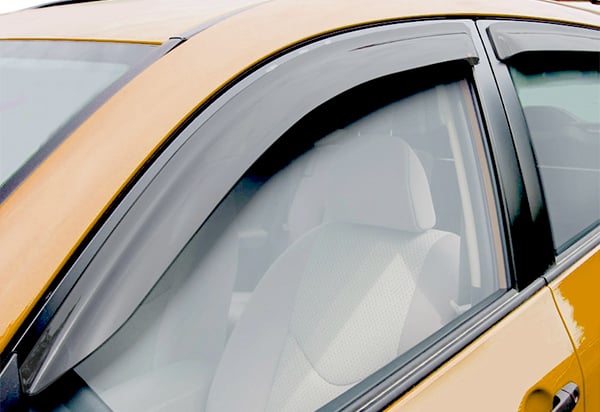 Some of the sleekest visors on the market, the Slim Line Window Deflectors from Wade are crafted from high-gloss, high-impact acrylic which is finished in a smoke color that blocks out annoying sun glares. These visors are backed by a Lifetime Warranty and are exceedingly easy to install. These are built to last all the hazards of the highway.
I am very pleased with the window deflectors. Wish I had heard about this when I first got my car. Really cuts down on the sun glare.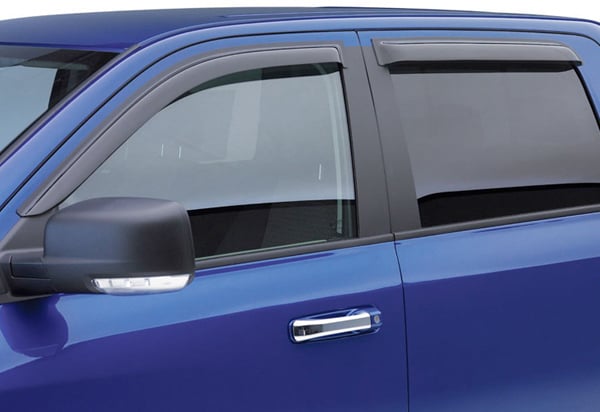 For a slim, contour-hugging look in tape-on visors, you might take a look at the EGR Window Visors. These acrylic window deflectors are computer designed and custom molded to fit your vehicle exactly, and they are finished in a dark smoke color that looks great on any vehicle. These provide truly hassle-free air and a hassle-free installation.
Nice product, excellent shipping time. They look good on my vehicle. Installed in under thirty minutes easily.
Top 5 Best In-Channel Deflectors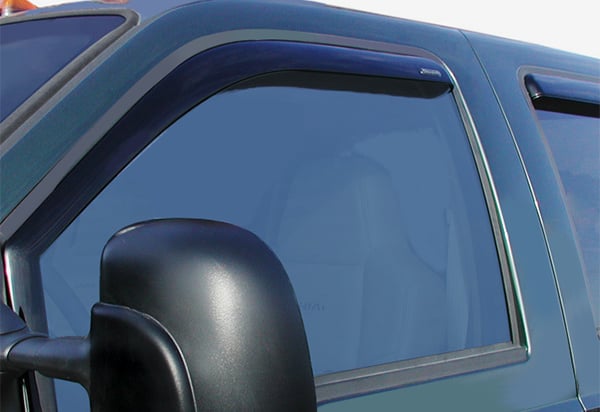 Stampede Snap-Inz are as easy as they sound to install. These Sidewind Deflectors are made from a durable composite acrylic. These in-channel deflectors also feature tape for a sturdier fitment, but in this case all of the tape is inside of the channel, never on any painted surfaces.
As the product description said snap-in, and no tape touches paint. The deflectors do have tape. Good price, fast delivery, work well.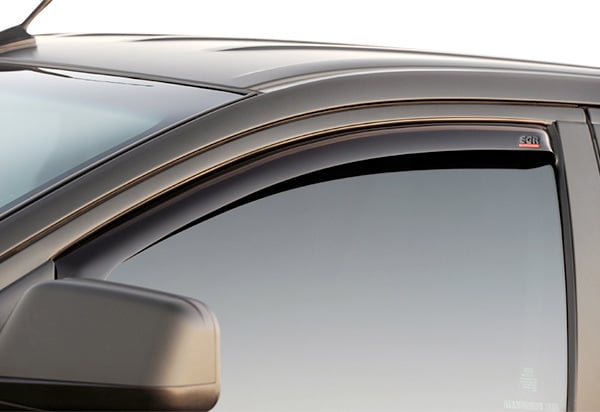 Another option are the EGR In-Channel Matte Black Deflectors. These visors install directly into the channel with no tape used at all. And as the name suggests, they are finished in a sinister matte black which matches any other matte black accessories you already have installed. Plus this set comes backed by a Lifetime Warranty.
EGR are the best buy. Good quality product.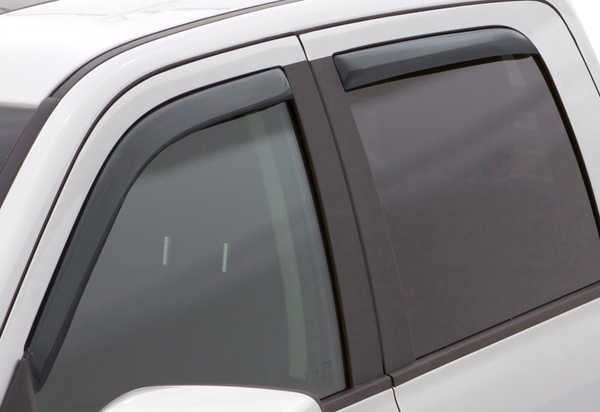 The form fitting, in-channel fit of the Lund Ventvisor Elite Window Deflector is so revolutionary that Lund filed a patent for it. This high-performance construction is thicker, tougher, and more durable than imitators, and completely car wash safe! All of the necessary hardware is included for a simple, no-drill installation.
So far, the Ventvisor Window Deflectors are working just fine. Installation was easily understood and accomplished. Very satisfied with the product and they look great!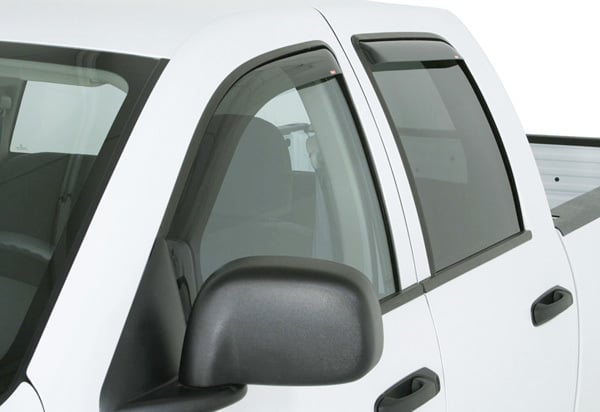 Classic, cool, and offering a perfect fit, the In Channel Window Deflectors from Wade come with all the trimming. Featuring no exterior tape whatsoever, these visors will just pop right into place and stay there for the long haul. Featuring a smoke finish and a Lifetime Warranty, this is a set of deflectors that will always be stylish.
Easy install and arrived on my door 3 days later. Removed tape, snapped them in, rolled up window, done. They look good and allow me to smoke without getting wet.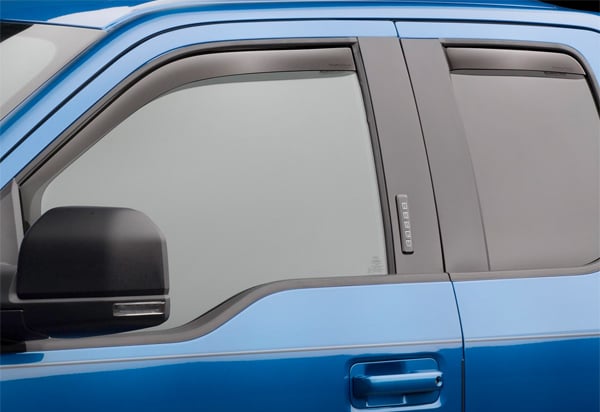 Topping of our list of in-channel deflectors has to be the WeatherTech Window Deflector. WeatherTech is proud of their name and their reputation and you can see why when you have a set of their visors. With these deflectors, you have the choice between a light smoke or dark smoke finish and each set is Made in the USA.
Easy to install took about 10.min. and look great a fit like a tee
In-Channel or Tape-On Vent Visors: Which Deflectors Are Best?
Clearly, both In-Channel and Tape-On Vent Visors have their unique ups and downs. But the good news is, whatever style you choose you're sure to enjoy the benefits of Window Deflectors either way. The best way to find out which are the best Window Deflectors and Vent Visors for you is to read our customer-submitted Deflector Reviews and get a first-hand account. And, our customer service crew is on call at 800-663-1570 if you have any more questions. Good luck!