One of the big reasons drivers like to hook up a performance exhaust system is to give their vehicles a bold, beefy, intimidating exhaust tone. With the right kit or muffler underneath, you can fine-tune your exhaust for a sound that lets everyone in the neighborhood know you mean business. Plus, many of our exhausts and parts are super easy to install and even enhance your vehicle's performance, so what are you waiting for? Take a look at two of our more aggressive exhaust brands, Cherry Bomb and Flowmaster, and find the right exhaust for your needs.
Cherry Bomb Exhausts & Mufflers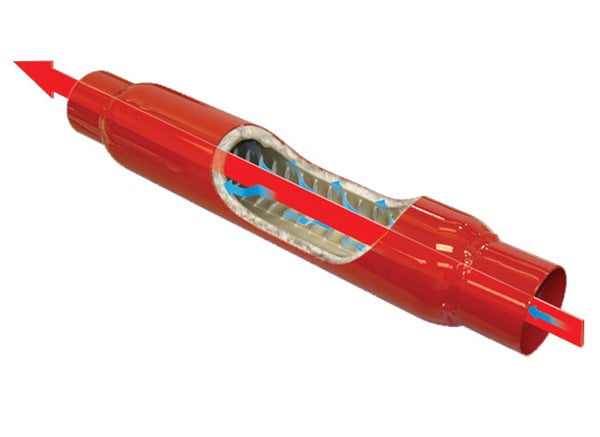 Cherry Bomb's motto is "Disturb the Peace" - and with their mufflers you'll do exactly that. Cherry Bomb got their start back in 1968 by building the first glass-pack muffler, and to this day the straight-through Cherry Bomb Glasspack Muffler is still a favorite among those looking to get a rich, deep, and loud sound out of their engines. Over the years Cherry Bomb has started to offer a range of mufflers suited to different needs, from the quieter and performance-based Cherry Bomb Turbo Muffler and Elite Muffler to the super-high-volume Extreme Muffler.
Cherry Bomb also offers a complete exhaust system. Cherry Bomb Exhaust Kits are crafted from quality aluminized steel, and they come with either a Vortex, Pro, or Extreme muffler to suit your sound and performance needs. They even come with stainless steel exhaust tips to round out your look, and they're all custom-designed to your vehicle for a no-weld installation.
Take a listen to the Cherry Bomb Extreme Muffler, on a 2010 Camaro:
Flowmaster Exhaust Systems & Mufflers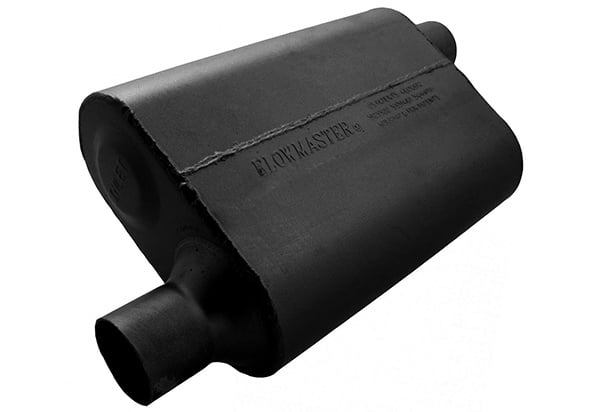 Flowmaster Exhaust is another one of the most popular names in mufflers and exhaust systems, with over 20 years of excellence to their name. They're famous for providing a tough tone that's unmistakably Flowmaster, but that's not all. Fine-tuned and mandrel-bent, Flowmaster Kits like the Force II Exhaust or the Flowmaster American Thunder also provide serious gains in the power and performance department.
Flowmaster also builds a wide variety of mufflers to let you tune in to the exact sound you've been looking for. These mufflers feature highly engineered chambers and baffles that cancel out unwanted drone frequencies while accentuating the beefy, throaty growl that makes Flowmaster famous. For maximum power and tone, check out the sideways-mounted Flowmaster 80 Series Muffler, or for optimized performance go with the 60 Series Muffler. Flowmaster Exhaust Systems and Mufflers are all built from tough Aluminized Steel, and they're backed with a 3-Year Warranty.
Give the Flowmaster Super 40 Muffler a listen here:
Flowmaster or Cherry Bomb - What's The Right Exhaust for Your Vehicle?
Now you see how Flowmaster and Cherry Bomb get the power and sound that makes them famous. So which one is the right exhaust for you? Consider your budget, the materials each brand uses, and what other exhaust accessories you may need. The chart below lays these comparisons out side-by-side. Remember, one way to compare exhaust systems is by reading our Exhaust System Reviews and seeing what real-world drivers and performance enthusiasts have to say.
| | | |
| --- | --- | --- |
| | | |
| Starting From | Systems: $196.89, Mufflers $76.58 | Systems: $202.65, Mufflers: $38.89 |
| Materials | Aluminized Steel | Aluminized Steel |
| Styles | Single or Dual Exit | Single or Dual Exit |
| Designs | Cat-Back, Axle-Back, Header-Back, Turbo-Back | Cat-Back |
| Available Accessories | Mufflers | Catalytic Converters, Mufflers, Exhaust Tips |
| Warranty | 3-Year | 5-Year Warranty on Catalytic Converters |
| Shipping | FREE | FREE |
| | | |