Upgrading your exhaust can be very rewarding when it comes to adding power, efficiency, and tone - but you better make sure you've got the right stuff. There are a lot of exhaust brands out there, but we'll show you in detail two of the leading brands: Cherry Bomb and Magnaflow. Both brands provide real power gains and a range of awe-inspiring sounds, but one might be better for your needs than the other. Take a look below and make a more informed shopping decision about which is the right exhaust system for you.
Cherry Bomb Exhausts & Mufflers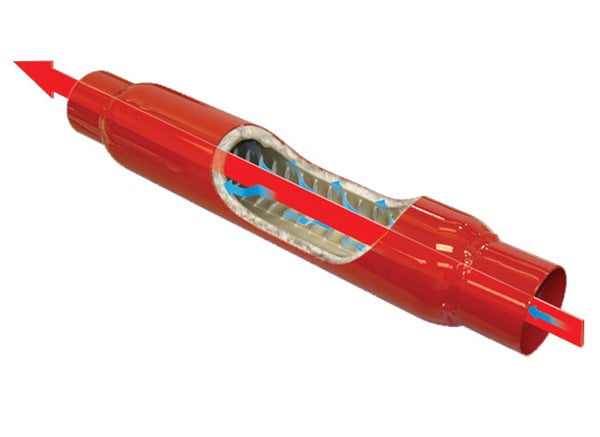 "Disturb the Peace" is Cherry Bomb's motto - and their mufflers are designed to do exactly that. Cherry Bomb started in 1968, crafting the world's first glass-pack muffler, and more than 40 years later the Cherry Bomb Glasspack Muffler is still a favorite among those looking to get a rich, deep, and loud sound out of their engines. The Glasspack's straight-through design also provides awesome exhaust flow, enhancing power and performance. Since their glasspack roots, Cherry Bomb has develped a complete line of mufflers that satisfy a variety of needs, from the mellower and performance-focused Cherry Bomb Turbo Muffler and Elite Muffler to the maxed-out, super-attitude Extreme Muffler.
Cherry Bomb also builds complete exhaust systems for many vehicles. Cherry Bomb Exhaust Kits are built using tough aluminized steel, and depending on your vehicle they include your choice of a Pro, Vortex, or Extreme muffler to suit your performance and tone desires. To round out your exterior look these systems also include polished stainless exhaust tips. That's not all, every Cherry Bomb Exhaust is custom-designed to your vehicle for a perfect fit and weld-free installation.
This video let's you hear, up close and personal, the Cherry Bomb Extreme Muffler on a 2010 Camaro:
Magnaflow Exhausts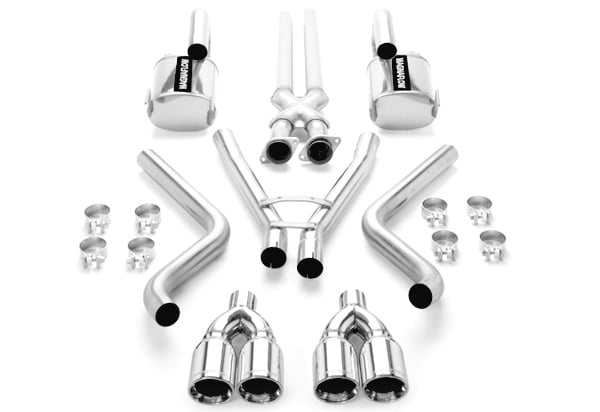 A Magnaflow Exhaust is the way to go when you want a throaty yet smooth exhaust sound. Magnaflow Exhaust Systems also provide up to 10% more horsepower, and they can even boost your MPGs. All Magnaflow Exhaust parts and systems are made from 409 Stainless Steel that fights corrosion and stands up for year after year of demanding driving. Plus, the pipes feature true mandrel bends for superior exhaust flow, which results in maximized performance gains. The mufflers included with Magnaflow Exhausts reduce harsh drones and interior vibrations, smoothing out your sound, and they offer excellent temperature consistency for improved flow. Magnaflow Mufflers are also available in several finishes and styles to suit your budget and your performance needs.
You can also purchase Magnaflow Mufflers on their own, so you don't have to rip out your entire exhaust to get Magnaflow performance. For excellent performance and street-legal emissions handling, use a Magnaflow Catalytic Converter. The catalyst in these cat converters feature a honeycomb design that offers maximum surface area without the restrictions you get in a stock catalytic. This opens up the worst bottleneck in your exhaust system, so you'll greatly enhance your flow and enjoy some serious power gains. Plus, Magnaflow Cat Converters keep your vehicle completely street-legal, so you can tear up the streets and highways without worry.
Magnaflow or Cherry Bomb - Which Exhaust Is Right for Your Vehicle?
Now that you know some more about Magnaflow and Cherry Bomb Exhausts, which one should you choose? The chart below provides a direct comparison between Cherry Bomb and Magnaflow's materials, styles, and prices. If you want even more details, however, check out our exhaust reviews to read what your fellow power enthusiasts have to say.
| | | |
| --- | --- | --- |
| | | |
| Starting From | Systems: $202.65, Mufflers: $38.89 | $288.51 |
| Materials | Aluminized Steel | 409 Stainless Steel |
| Styles | Single or Dual Exit | Single or Dual Exit |
| Designs | Cat-Back | Cat-Back, Axle-Back, Downpipe-Back, Turbo-Back, DPF-Back |
| Available Accessories | Catalytic Converters, Mufflers, Exhaust Tips | Mufflers, Catalytic Converters |
| Warranty | 5-Year Warranty on Catalytic Converters | Lifetime |
| Shipping | FREE | FREE |
| | | |