Tossing your stock exhaust system and hooking up a Performance Exhaust unleashes a ton of power hiding in your engine. The unrestricted exhaust flow our systems provide lets your engine work more efficiently and effectively so you can tow harder, race faster, or simply enjoy driving around town a little more. Flowmaster and Gibson are two very popular brands in the exhaust world, so let's point out some comparisons between the two so you can buy the right exhaust system for your car, truck, or SUV.
Flowmaster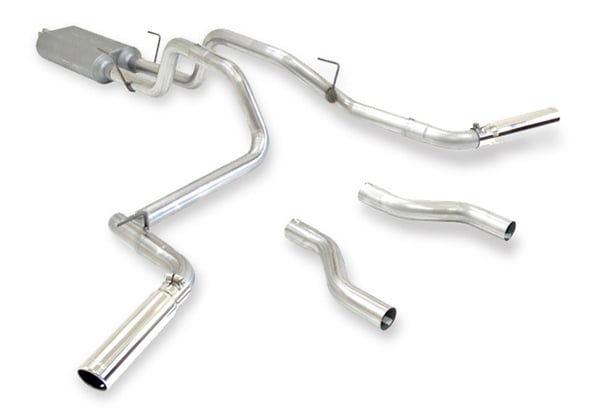 Flowmaster is one of the most popular names in exhaust, having consistently been a go-to for performance enthusiasts since back in the early '80s. Their systems like the Flowmaster Force II and American Thunder continue to inspire drivers to this day, and Flowmaster continues to develop exciting new systems and components. All Flowmaster Exhaust Systems are made in the USA, and that means they're built with unmistakable pride. Plus, Flowmaster's exhaust tone stands above all the rest. Every system is built with tough aluminized steel, and true mandrel bends maintain a consistent pipe diameter through the bend for the smoothest possible flow.
Hook up a full system like the Flowmaster American Thunder, or simply replace your muffler for an improved sound and performance. Flowmaster offers a wide variety of chambered mufflers to suit your needs, from the super-aggressive Flowmaster 40 Series to the power-enhancing Flowmaster 70 Series Muffler. Plus, every Flowmaster exhaust and muffler is backed with a 3-Year Warranty.
Flowmaster Exhausts are also custom-made to your exact vehicle so they're easy to install - Check this video out and see what it takes to mount a Flowmaster Force II Exhaust.
Gibson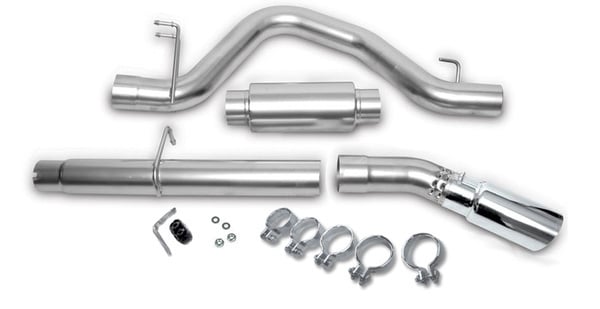 When it comes to trucks and SUVs, Gibson is the way to go. Gibson dyno-tests their exhaust systems for awesome horsepower and torque gains - up to 10-20 HP and 15-20 ft. lbs. of torque. From towing and hauling heavy loads to simply enhancing your off-the-line acceleration, a Gibson Performance Exhaust Kit will do you well. Every Gibson Performance Exhaust is mandrel-bent for consistent, unrestricted exhaust flow, ensuring maximum performance. They also include a baffled, chambered, and welded SuperFlow muffler that also keeps your flow smooth and efficient. That's not all, Gibson products are backed with a Lifetime Warranty, so you can count on this system as long as you own your vehicle.
Gibson also sells a variety of exhaust accessories to enhance your performance. Rather than dropping in a whole new exhaust system you can install a Gibson Muffler or a set of Gibson Headers and increase flow to unleash even more hidden power. Then, when you want to dress up your exterior a bit, bolt on a polished Gibson Round Exhaust Tip or Turndown Exhaust Tip.
Gibson or Flowmaster - Which is The Right One for You?
Now you know a bit more about Gibson and Flowmaster exhausts. So what should you go for? Often choosing the right exhaust system depends on your particular vehicle, the kind of sound you want it to make, and your budget. This chart compares some of the brands' features side-by-side, so you can make some direct comparisons. Plus, you can read our in-depth Exhaust Reviews and get detailed real-world testimonials.
| | | |
| --- | --- | --- |
| | | |
| Starting From | $196.89 | $171.41 |
| Materials | Aluminized Steel | 409 Stainless Steel or Aluminized Steel |
| Styles | Single or Dual Exit | Single or Dual Exit |
| Designs | Cat-Back, Axle-Back, Header-Back, Turbo-Back | Cat-Back, for Gas or Diesel Engines |
| Available Accessories | Mufflers | Mufflers, Exhaust Tips, Headers |
| Warranty | 3-Year | Lifetime |
| Shipping | FREE | FREE |
| | | |