When you have large or offset tires, a propensity to hit the off-road trails, or you've just been looking for a rugged new look, a new set of fender flares is the answer. Fender flares widen your stance making your truck or SUV look much more aggressive, and making room for oversized and offset tires. Plus, aftermarket wheel flares can keep your vehicle clean by catching mud as quickly as you can sling it up off-roading.
If you're shopping for a new set of fender guards, you may have realized that there is no end in sight as far as brand names and styles. But at Auto Accessories Garage, we happen to know which brands are reputable, and we also know which products are customers tend to be the most happy with based on our fender flares reviews. Presenting the Top 10 Best Fender Flares of 2019: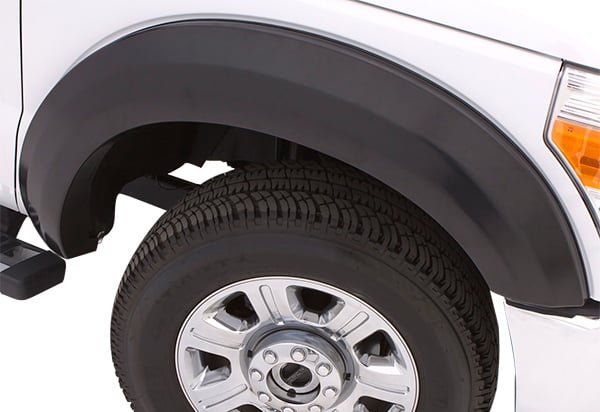 When big and bold are the destinations, Lund EX Extra Wide Fender Flares are the prescription! With an undeniably girthy stance and thermoplastic ABS construction, these flares are just what you've been looking for to get the most out of your truck. They come backed by a Lifetime Warranty and will go on easy with not drilling.
Key Features:
Two finishes available, Smooth or Textured, to ensure you get the exact look you want
Thermoplastic ABS construction, Black color
UV-resistant to avoid fading
Smooth flares can be painted to match factory paint job
They fit great well molded to the body contour. The metal fastener could be better as it won't fit over the edge to pass the bolt through.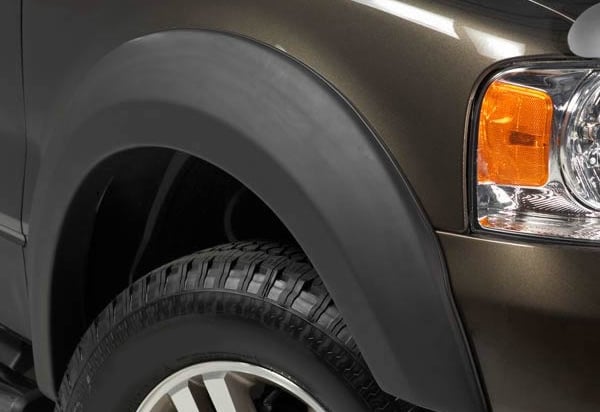 Guaranteed to never fade in the harsh sun, Stampede Trail Riderz Fender Flares are designed to complement and accentuate your OE styling, and they'll install with no tools – just some automotive grade 3M tape. They are tough, high impact, and ship in a complete 4-piece set.
Key Features:
Extra 2 inches of tire coverage
Designed for an OE look
Super tough, high-impact ABS construction
Easy no-drill installation with included automotive-grade 3M adhesive
GREAT looking flares. Much nicer than the fake riveted ones. Look stock - but still hides the 'ol rust on the 2002. Sent Chevy ones first but gladly exchanged for the Ford flares I ordered.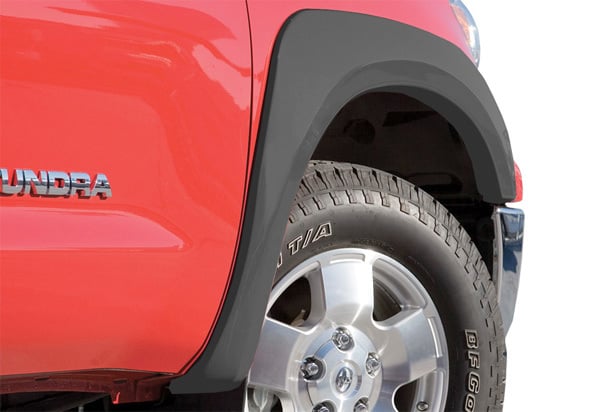 Custom designed to fit your exact make, model, and year, Bushwacker OE Fender Flares are designed to be completely UV resistant in all climates and temperatures. Installing directly into your factory holes, these flares will require no additional drilling. The OEM matte black finish will look great and match any other matte black accessories you have.
Key Features:
Exclusive Dura-Flex thermoplastic is 100% UV-resistant and will not crack or warp in extreme hot and cold
Easily installs to factory holes (drilling required for some models)
OEM matte black finish - can be easily painted to match or complement your vehicle
Minor sanding or filing of flares may be required for a perfect fit
Installation was doable, take your time and follow the instructions. There's really nothing more to it than that and they really look sharp!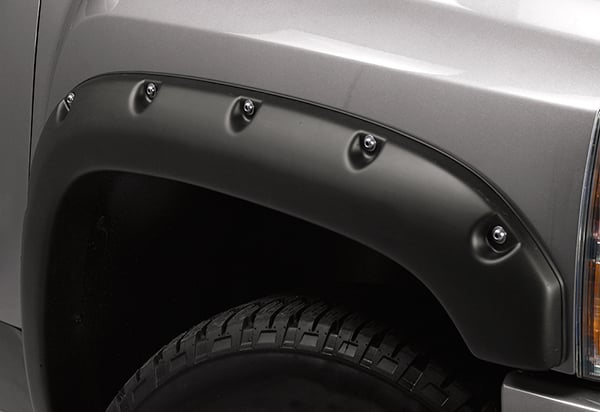 If you ride rough and tough, then you need a set of fender flairs that are as rough and tough as you are – something like the Stampede Ruff Riderz Fender Flares. These ship in a sinister matte black OEM finish, but they can also be painted for a totally custom look. These flares will never fade and never crack or scratch your truck.
Key Features:
Tough "Bolted-On" looks for your truck
Extra-durable, UV-stable Tri-Blend material
OEM black finish - can be easily custom-painted
Easy to install with included 3M adhesive tape
Love these Stampede Ruff Riderz! I started to purchase some much more expensive ones, but these are just as good as and were a snap to install. They make my Tundra look great!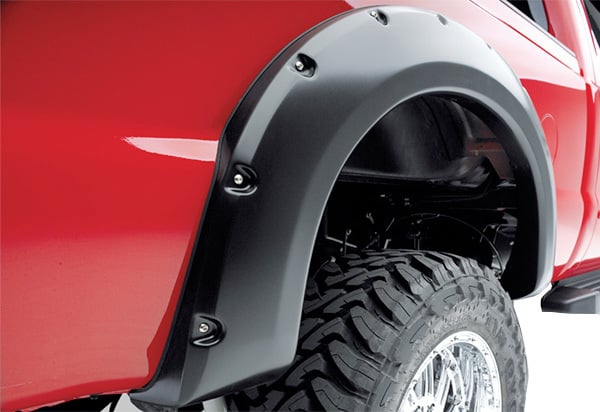 For the heavy-duty look of a bolted on set of fender flares, without the need to really bolt anything, the EGR Bolt-On Look Fender Flares look the part without half of the work. Simply installing with an included double-sided adhesive, these flares are finished in a glossy black and are available in sets of two or four.
Key Features:
"Bolt-on" accents and real Stainless Steel bolts separate your ride's look from the rest
Corrosion-resistant, high-impact acrylic construction
Easy installation via double-sided vehicle adhesive
Glossy Black finish
These EGR fender flares are of great quality and are super easy to install and look real tough on my Chevy Silverado.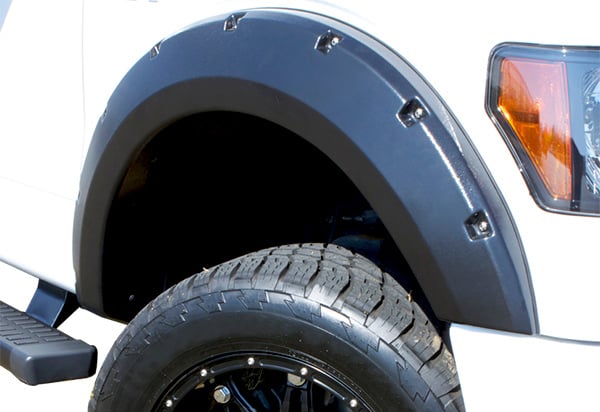 Another bolt-on appearance in a more angular package can be found in the Lund RX Riveted Fender Flares. For a pocket style look that still covers plenty of rust and dents, these flares really can't be beat. They install easily and are totally UV resistant. In fact, Lund backs these with a Lifetime Warranty.
Key Features:
Rugged pocket-style, bolt-on look
Stainless steel rivets
UV-resistant and Thermoplastic ABS construction
Available with Smooth or Textured Black finish; Smooth finish can be painted to match truck's style
So far so good. I had the flares professionally painted (color match) and installed. The shop that did the work had nothing bad to say about them. I'm happy with the fit and finish and have gotten several compliments. Seemed easier to install and cheaper than many others... not sure how you go wrong with that combo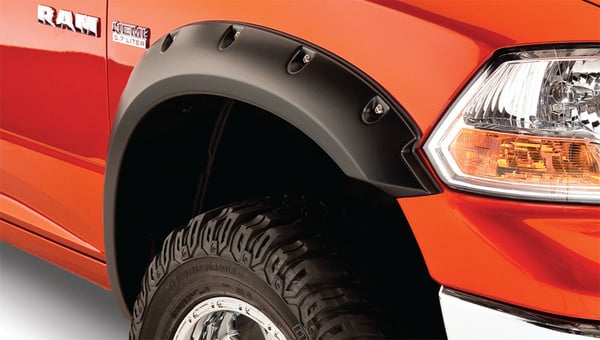 One of the most respected names in the industry, Bushwacker was not messing around when they came out with their Pocket Style Fender Flares. These burly flares are made out of Dura-Flex thermoplastic and finished in a rugged Matte Black. A handful of tire coverage options are available and all necessary mounting hardware is included.
Key Features:
Pocket-style looks great and sets your pickup apart from the crowd
Dura-Flex thermoplastic construction stays tough even in extreme weather conditions
Rugged Matte Black finish – easily paintable for custom styling
Various tire coverage options available
This particular fender flare is of good quality and will no doubt be a long lasting product. When I purchased the flares I had not considered how it would look on a stock truck. Now I want bigger tires and possibly some offset wheels to get out from under the flares for that aggressive look you see on the highway.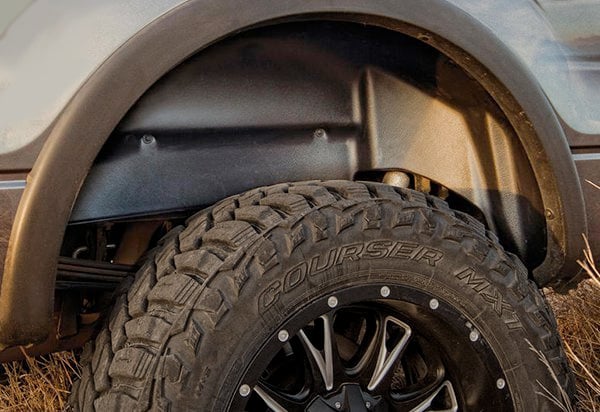 As a titan of floor mats and so many other automotive accessories, when Husky through their hat into the fender flares ring they had everyone's attention. The Husky Liners Rear Wheel Well Liners met everyone's expectation and will keep your truck's wheel wells in perfect working order. These flares are also made right here in the USA.
Key Features:
Crafted from super tough high-density polypropylene
Custom-molded to your truck for a great fit
Adds a finished look to your truck's exposed underbody
Easy to install - no drilling required for many trucks
I did receive the liners took a bit over a hour to install. Really cleaned up the appearance of the truck.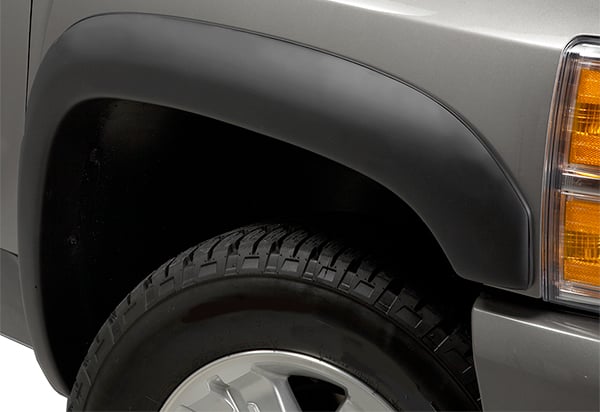 The one that started it all (for Stampede anyway), the Original Riderz Fender Flares add an inch and a half of tire coverage and comes in a four piece set. Finished in an OEM Black, these flares will beef up your stance and look good doing it. Perfect for stock or oversized tires alike, this set is backed by a Lifetime Warranty.
Key Features:
OEM look with enhanced protection and durability
Tough ABS Tri-Blend material withstands impacts, harsh weather, and sunlight
Adds 1.5" of tire coverage
OEM Black finish
This flares are very easy to install, even the rubber seal. I highly recommend these flares.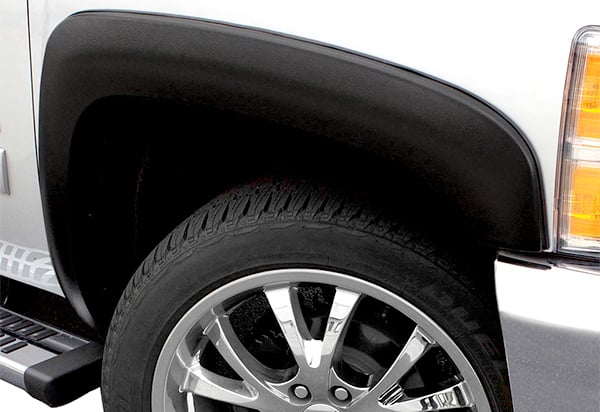 Taking the number one spot on our list, a smoother, thinner styled fender flare made from tough Thermoplastic ABS – the Lund SX Street Fender Flares. Completely UV-resistant and fade free, these flares come backed by a Lifetime Warranty and can be easily painted for a perfect match to your custom style.
Key Features:
Smoother, thinner wheel well coverage
Thermoplastic ABS construction and UV-resistant to protect against fading
Available with Smooth or Textured Black finish
Smooth finish can be painted to match your truck or SUV
The fender flares look great. Easy to install. I should have put them on when I first got the truck.
What's the Best Fit for Your Vehicle? Enter Your Info Below to Find Out!
How to Install Fender Flares
So, you want to toughen up your truck's looks, get a little extra off-road clearance, or give your finish some extra protection from mud and kicked-up rocks? The answer, of course, is putting on a custom set of Fender Flares. There are a few steps to this process, however. First, you have to choose fenders that are right for your vehicle and your driving needs. From there, the installing process is pretty simple.
Installing Your Fender Flares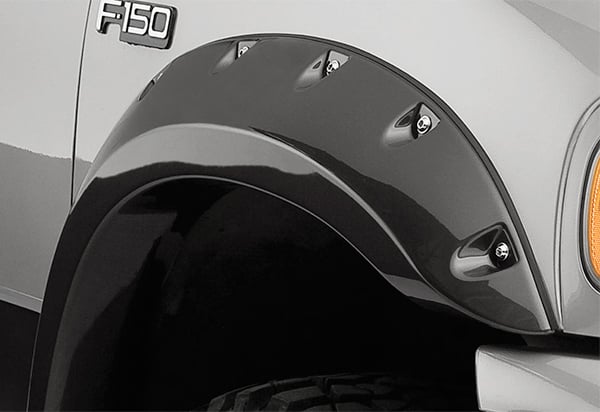 It's relatively quick and pain-free to install your new flares. For all four fenders you'll only need about an hour to put them on. Every model of fender flares may have slightly different requirements, so make sure to thoroughly read through the included instructions. But generally speaking, these are the steps you need to take to mount your new fender flares:
If your truck has factory fender flares, unbolt them from the wheel well and remove them.
Check the fit of your fender flares against your vehicle's body. If they fit right, the bottom edge will line up with the bottom of the fender and the front will fit snug up against the bumper.
Some light drilling may be necessary if your vehicle did not come with fender flares. Most fender flare kits include a template that will show you where to drill new holes.
Many fender flares include double-sided automotive tape for additional mounting security. Apply the tape to the fender first, then peel off the other side of the backing and apply the flare to the body, making sure to line the holes up properly.
Insert bolts through the holes and tighten them on.
The following video will give you a good idea of how the typical fender flare installation goes down: