Fuel Pumps
Get more gas into your engine, faster. Our high-flow fuel pumps boost your fuel flow, far outperforming your choked-up stock system. When your fuel flows better, you'll enjoy extra torque, additional horses under the hood, and a pepped-up gas pedal response. Plus, our fuel pumps are custom-designed to your exact year, make, and model for fine-tuned performance gains.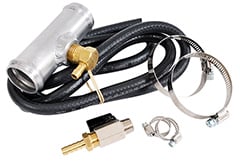 During long runs and extended drives, nothing talks time onto your journey like stopping for fuel. And with a diesel truck, it can be hard to find a diesel station sometimes. But noe you can turn your Dee Zee Auxiliary tank into a functional refueling station with the Dee Zee Auxiliary Fuel Connection Kit.
From $125.49
Free Shipping
Quick View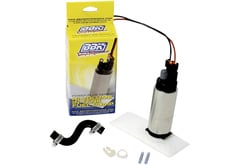 Get the proper fuel injection you need for the supercharged performance you desire when you install a BBK Fuel Pump Kit. All necessary hardware is included in each package for a direct, in-tank replacement. This system is a great value, and an easy DIY install.
From $139.99
Free Shipping
Quick View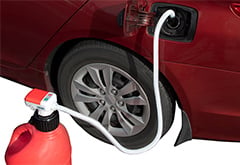 Refuel gas or diesel easily and cleanly with the Tera Pump Battery Powered Fuel Transfer Pump.
From $73.99
Free Shipping
Quick View
About Fuel Pumps
No doubt there are a ton of modifications you can make to your car – and we should know! And while it can be fun to give your ride a nice paint job, throw some flame decals on there, heck, maybe even a nice little hula girl for the dash – the problem is none of those things will actually hold any weight on how your car performs. If you're ready to step up your game behind the wheel, and actually see some results, it's time to get yourself a fuel pump from Auto Accessories Garage.
At AAG, all of our fuel delivery systems ship directly to your door absolutely free. And you can rest assured, we have the best prices on every fuel pump we carry - in fact, we guarantee it. See a better price? We'll beat it by a dollar. Not just today but for a full year after your purchase. All of our real world customer reviews and high-definition imagery will help guide you in your decision, and if you have any burning questions, just pick up the phone and talk to one of our product specialists.
At AAG, customer satisfaction is of the utmost importance. That's why when you pick the perfect fuel pump for you and your ride, you can rest assured that we won't rest until you're completely satisfied. Fast, free shipping and no-hassle returns are just a few of the perks you'll receive from our award-winning customer service team. If you know it's time for the extra horsepower and improved ride that a fuel pump will bring, AutoAccessoriesGarage.com is the place to be.