Specialty Billet Grilles
Get ready for some wild style with our Specialty Billet Grilles. You'll immediately stand out in the crowd with any of our Specialty designs. Looks include several Inferno style, Spiderweb, and even one that resembles a tough tribal tatoo. All our Specialty Billet Grilles bolt right on in minutes without any cutting, drilling, or mods, and are made from durable and attractive aluminum or stainless steel. Take your looks to a whole new level with our Specialty Billet Grilles!
Hook your ride up with lights and style in equal measure with the T-Rex Torch Series LED Light Grille. With this one product, you get a slick new look for your front end as well as combined flood/spot pattern LEDs. Made of 304 steel and with a sweet "X-Metal" logo, they're perfect for your trail-riding behemoth.
From $359.50
Free Shipping
Quick View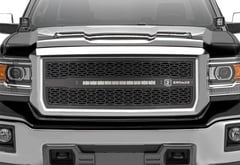 Give your truck or Jeep a bold, biting, and bright new look with the T-Rex ZROADZ Series LED Grille. A proprietary laser-cut pattern looks great and brings a unique look to your front end plus a compact single row LED light bar is included for a dazzling blast of illumination. Made in the USA.
From $694.50
Free Shipping
Quick View
About Specialty Billet Grilles
Some people like to meld into the crowd, while others need to stand out. For the latter group, specialty billet grilles are the ticket. You'll find Cadillac CTS grills with flame and skull designs that wrap around your vehicle manufacturer's emblem, not to mention stars and stripes and various other designs for people unafraid of showing a little personality. A slightly different way to add style, Specialty Nissan Maxima grills make your truck's front end look totally unique.
It's never been easier to shop for Specialty Toyota Tundra grills than it is at AutoAccessoriesGarage.com. Choose your specific vehicle and we'll show you every grille made just for it. View color photos and read in-depth product descriptions, and then make your choice, knowing full well that shipping will be free. Shopping is never simple, but it doesn't have to be difficult. It won't be if you use AAG.
More Popular Specialty Grilles Vehicles: