Cousins within the General Motors manufacturing stable, the Chevy Silverado and the GMC Sierra share many of the same stylistic hallmarks, but two different brands sell them and two different customer bases swear by them. Pull up alongside one or the other on the highway, though, and it can be tough to tell them apart.
This got us to thinking, and to researching: what exactly differentiates these two pickup trucks?
What is the difference between a Chevy Silverado and a GMC Sierra?
When it comes to their individual mechanical capabilities, there's no difference at all. In fact, prior to 1999, GMC and Chevrolet referred to both of these trucks with the name "C/K", a designation in which the "C" stood for rear-wheel drive and the "K" stood for four-wheel drive. Subsequent to these codes, the names "Silverado" and "Sierra" were classifications used to describe various trim packages customers could purchase.
Since 1999, the Chevy Silverado has become the "standard" model GM full-size pickup truck, while the GMC Sierra offers more luxurious interior options (like leather seats and a more intricate dash) along with a boxier trim, particularly in the wheel weels. As far as torque and horsepower are concerned, they feature the same exact capabilities. So then, to answer the initial question, from a purely power-focused perspective, there is no difference between the GMC Sierra and the Chevy Silverado. 
Which truck does GM sell more of?
In a given year, GM sells about three times as many of the Chevy Silverado as the GMC Sierra. Furthermore, this ratio holds up in both good times and bad. For example, in 2001, GM sold approximately 716,000 Silveradoes and just over 210,000 Sierras; in 2005, almost 706,000 Silveradoes and 229,500 Sierras; and in 2012, over 418,000 Silveradoes and over 157,000 Sierras (vehicle sales across the industry went way down following the 2008 financial crisis, but those numbers rebounded nicely starting in 2011).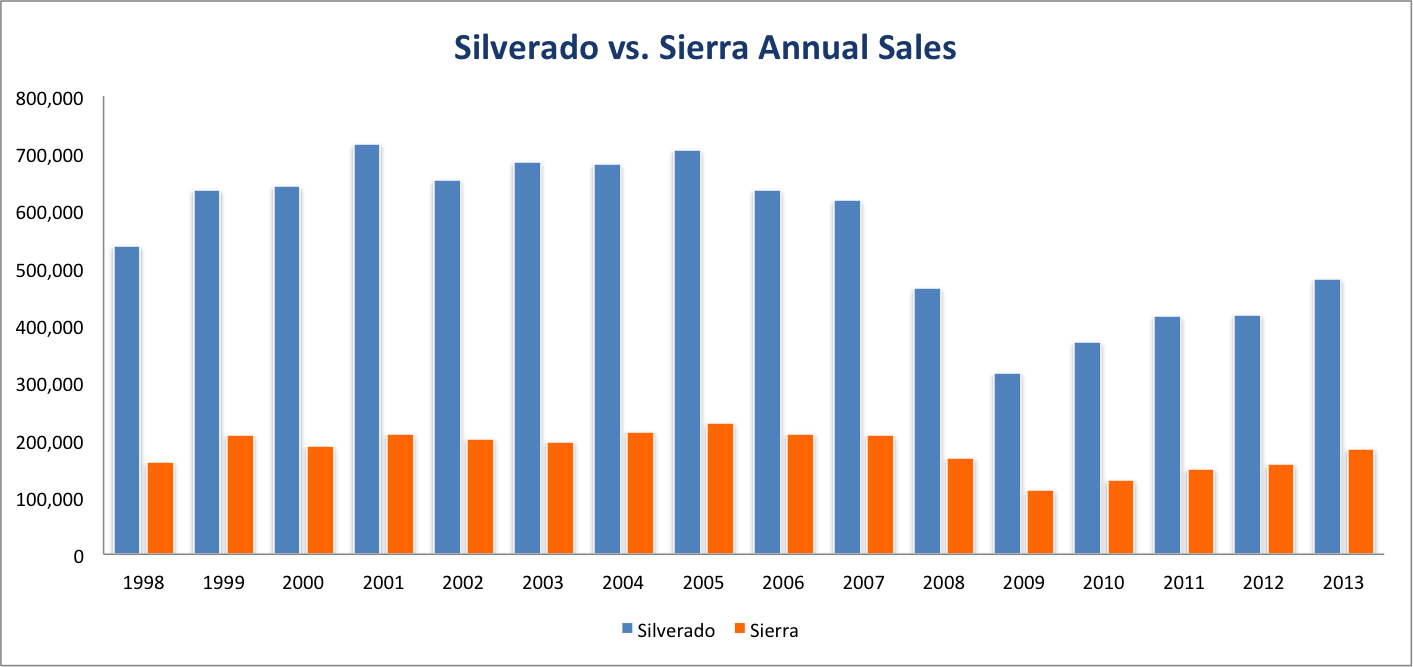 Source: https://en.wikipedia.org/wiki/Chevrolet_Silverado
Good news for GM: since the trucks run on the same platform, they can combine these numbers to form one total number sold in a given year. That combined number compares favorably with the Ford F-Series and routinely bests sales of every other truck sold in America, including the Dodge Ram.
What kind of power can I expect from a Silverado or Sierra?
That all depends on the model year and option package you choose. For our purposes we'll stick to the 1999 model year through to the present day, as that's the moment these trucks came into their own as individual models. GM's patented Vortec engines are available on both, of course, with the basic 1500 models toting a range from the 4.3 L V6 option, capable of 195 hp and 260 lb-ft torque, all the way up to a 6.2 L V8 capable of 403 hp and 417 lb-ft of torque.
A wide variety of trim options are available, as well, to ensure that customers get the exact truck they prefer. Silverado trim packages tend to be a little more basic, and so a little more rugged, whereas the Sierra gives truck owners a more comfortable, luxurious option. Put another way: the Silverado is a perfect work truck, whereas the Sierra caters to a more discriminating truck owner.
How do these trucks stack up against other popular American trucks?
The base models of the Chevy Silverado and GMC Sierra do fairly well when matched up with their American rivals, the Ford F-Series and Dodge Ram. A basic comparison on a basic model from the same year helps us see how these pickups compare to each other.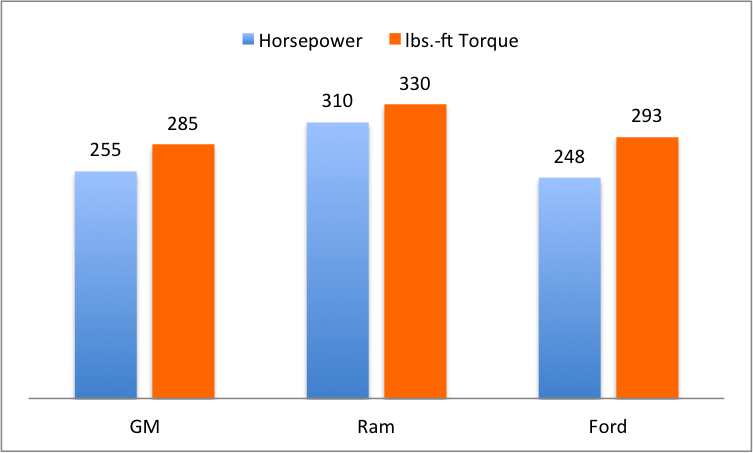 In 2008, each company released a full-size 1500-class pickup with a similar V8 engine: GM trucks with a 4.8 L, Rams a 4.7 L, and Fords a 4.6 L. The GM trucks are capable of 255 hp and 285 lbs.-ft of torque; the Dodge Ram 310 hp and 330 lbs.-ft torque; and the Fords 248 hp and 293 lbs.-ft torque. Many different engines are available across many different optional strengths, from these standard 1500 models on up to 3500 or even 5500, and the parameters change from class to class, so do your own thorough research based on how you intend to use the truck.
One thing we will say: ratios similar to these tend to hold up across the various product lines of each manufacturer.
So where does that leave me? 
As stated above, the Chevy Silverado would be a great choice if you plan to put your rig through the ringer as a work truck, while the GMC Sierra seems better suited to a daily driving situation that occasionally necessitates hauling or towing. The larger point is that whatever you need out of your new truck, you can find a GM pickup to do it. Go take a look at some yourself, ask pointed questions, and find the one that looks and feels most right.
Once you've got your truck, check out AutoAccessoriesGarage.com. We offer everything your new truck needs, including custom Chevy Silverado Accessories and GMC Sierra Parts. You tell us what you drive, we'll tell you what's available for it. Pick something up, and it ships to you for FREE! Best of luck to you, and be sure to come see us when you've found your perfect pickup.