Grab Handles, Arm Rests & Door Hardware
For those topsy-turvy moments on the trails, or just for an extra hand to get in and out of your Jeep, look no further than Rugged Ridge for all your handle needs. Many styles of grab handles are available in a number of materials. Once you're in the vehicle, count on Rugged Ridge Arm Rests and other Door Accessories to make your ride comfortable and convenient.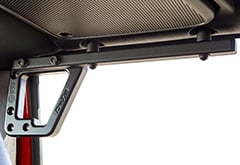 Climbing into a Jeep Wrangler can be a chore at times when your Jeep is big and tall. But when you mount a grab handle to you're A-pillar or B-pillar, climbing in is easy for you and your passengers. Upgrade your Wrangler right with Dee Zee Grab Handles.
From $80.99
Free Shipping
Quick View