Rampage Lights
Give your truck extra lighting style and visibility with Rampage. Whether you want to toughen up your front end with a Rampage Light Bar or add some sleek LEDs to your tailgate, we've got everything you need. Rampage Lights are made from tough stuff, and they'll install easily on your truck or SUV. Shop at AutoAccessoriesGarage.com for the best brands at the best prices.
From $69.49
Free Shipping
Quick View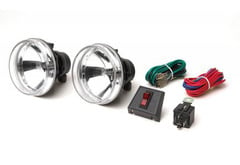 From $122.99
Free Shipping
Quick View
About Rampage Lighting
Enhance your vehicle's unique style with a set of Rampage Lights, and save cash at AAG. We offer Rampage Light Bars and Off-Road Lights at the best prices around, and you even get free shipping on your entire order. Plus, our customer service crew is on call to answer any questions you may have about our products. It's simple: you can instantly upgrade your looks and visibility with Rampage, and you can instantly save at AutoAccessoriesGarage.com.
Rampage Lighting Reviews
Jon P
from Bandera, TX says:
I was a little surprise that the light bar was so compact. My truck is a 2010 and the installation was a little different than what the YouTube video showed. On my truck there was a lip that curled up so I just placed the light bar on that and after removing the tape I just pressed the light bar so it would stick to the truck. In my opinion, the lights don't seem to be as bright as what the You tube reveals. I had no trouble installing the wire for the reverse light as I have been there with another item I installed on my truck that required a connection to the reverse situation. I am not sure about the vehicle that are behind me at night if they are able to see the lights or not because the lights are recessed back under the tailgate. I put down the time between 1-2 hours as I was taking my time plus reviewing You tube videos. The presenters of the videos like to hard wire all the wires, but I chose not to at this time. The reverse lights on the bar alternate white and red lights. I am using the product at this time, but I will be looking for other brands to see what they have to offer. I will give the rating the middle of the road and I will keep my truck between the mustard and mayonnaise when I'm driving and y'all do the same.
Scott T
from Lake Worth, FL wrote:
I would and have recommended to my friends. Product is well made and installs very easily. My only suggestions is that it give you the option to direct wires also with squeeze connectors.
Ron G
from Dublin, CA says:
So far it is way better than the one I bought a year ago. Time will tell. One note: it is not a bendable strip, it's on a solid backing so the surface needs to be pretty flat.
Judd D
from Des Moines, IA says:
I purchased this lightbar to replace the same one already insalled on my truck which was also made by Rampage. Looks to me like they made wholsale improvments to this new version. My previous one some of the L.E.D.S stopped working. This one looks to be much better constructed. Time will tell
Teddy
from Elkmont, AL wrote:
Product works well, but it took a little longer than expected to receive.