Pet Barriers & Restraints
A curious, excited dog makes for a fun playmate, but not when you're driving. Keep your pet confined for a safer ride with Pet Restraints & Barriers. Our Pet Barriers act like a fence, limiting your dog's riding area to the back seat or cargo area and keeping it from jumping into your lap while driving. You can also strap him in with a Dog Harness, which straps to the seat belt for extra safety. By comfortably confining your pet with Pet Restraints & Barriers, you can enjoy a safer ride for yourself and your passengers.
If your dogs are the rambunctious type, they can become quite a distraction when driving. That's no longer a problem with the WeatherTech Pet Barrier. This car pet gate keeps your dogs safely at bay in the back of your vehicle, no matter the size or breed.
From $109.95
Free Shipping
Quick View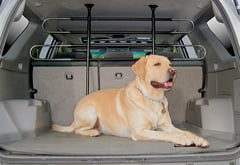 Partition off your SUV's rear cargo area and keep your pet contained in one space with a PortablePET Pet Partition. This easy-to-install, easy-to-remove partition features both a fully adjustable height and weight to fit your exact vehicle dimensions. It is free-standing and fully-portable, a space barrier that will keep everbody, both human and canine, happy while you drive.
From $59.99
Free Shipping
Quick View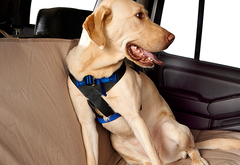 Keep your pooch protected on the road with the Canine Covers Travel Safe Dog Harness. This patented product meets and exceeds all SAE standards for automotive seat belts.
From $49.44
Free Shipping
Quick View