Auto-Dimming Rear View Mirrors
One of the biggest hassles of driving at night is the bright, blinding headlights that hit your mirrors. Sure, you may have that little flipper that changes the angle of the mirror, but that also compromises your visibility. With these Auto-Dimming Rear View Mirrors, however, you can drive comfortably night or day without making any adjustments. The self-dimming glass instantly reacts when bright light hits it, adding a tint that helps you see clearly and without distraction. You'll wonder how you ever drove at night without it.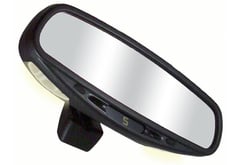 Protect your eyes when driving at night with a CIPA Auto-Dimming Rear View Mirror. These innovative devises sense ambient light and automatically adjust their tint to save your eyes from temporary blinding. They work for both foreign and domestic cars, trucks, and SUVs and are available with a wide variety of options.
From $274.92
Free Shipping
Quick View