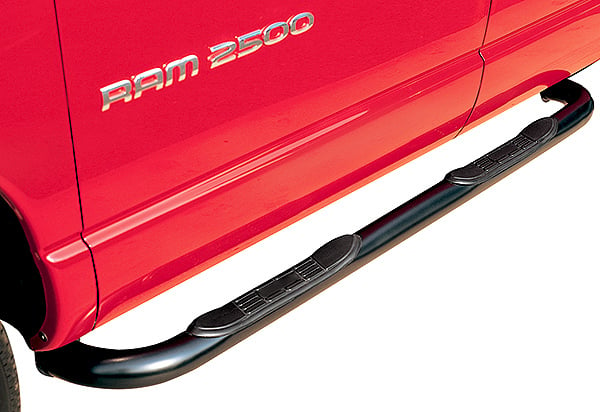 As SUVs and trucks grow taller and taller, you really need a lift to get in and out of the cab. Luckily, Nerf Bars let you easily climb into your vehicle, saving you from awkward struggling or, worse yet, injury. Plus, step bars help you out in high style, offering a nice touch of sparkling chrome or subtle powder-coated black to your truck's bottom end.
For all the ways they enhance your vehicle, nerf bars installation is in fact a pretty straightforward process. Arm yourself with some hand tools, clear the driveway, and crank up the boombox - by simply following these instructions, you'll have a handy and great-looking set of the best nerf bars installed in no time.
Nerf Bars Installation Instructions
Helpful Tip:Don't bolt anything in place too tightly until you're ready to finish the installation. This will help you make little adjustments as you bolt put everything together. Read the enclosed installation instructions (no, really?). Inspect the package your nerf bars came in and make sure you have all the listed pieces and hardware.
Many vehicles have factory-drilled mounting holes in the frame to fit nerf bars and other steps. If you already have these holes, bolt the mounting brackets to these holes. If there aren't holes in your frame, you'll have to drill them according to the manufacturer's instructions.
Center the bars along your cockpit and bolt them to the mounting brackets.
Give each bar a once-over, tighten every bolt, and get steppin'.
The following video shows how to install a set of Spyder Nerf Bars:
Conclusion
Installing a set of truck nerf bars is pretty simple, especially when you go for quality custom side steps from AutoAccessoriesGarage.com. If you have any other questions about how to install nerf bars, please give our experienced Customer Service team a call at 800-663-1570.