Nerf bars are one of the most popular modifications to make to any truck or SUV and the reasons for that are simple. First of all, they help you and your passengers climb in and out of your vehicle. This is essential if your job demands you climb in and out of your truck many times throughout the day, or if your passengers are young, elderly, or simply vertically challenged. Yes, nerf bars are very practical, but let's not forget - they also make your truck look cool!
Built with heavy-duty materials, you can find nerf bars made from lightweight aluminum or sturdy stainless steel. Popular finish options include textured black powder coats or polished chrome. With securely gripping polyethylene step pads placed at each door, climbing into a large truck or SUV has never been easier than it'll be with a set of nerf bars securely installed. In short, they're an absolute must for any rig.
Every truck or SUV on the market looks more rugged and stylish with a set of nerf bars installed, but with so many styles on the market, how can you find the right set for your rig? At AAG we realized we have quite a bit of data on our hands that could be very helpful. We took a look at our top selling nerf bars, our most durable nerf bars, and our highest rated nerf bars according to our customer reviews. Presenting the Top Ten Best Nerf Bars of 2022:
The Best Nerf Bar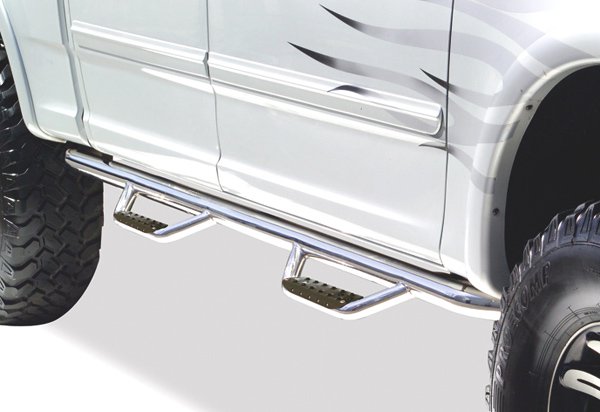 Available in polished stainless steel or black powder coat finishes, the Dominator II Nerf Bars from Go Rhino have a mean look and a manageable price point. The drop down steps feature textured step pads which are paintable if you want to further customize your rig. These steps are custom made-to-order for a wheel-to-wheel fit on your make and model, and they'll also bolt onto your factory frame.
Great nerf bars, with a unique look. These are the only bars I found in my price range to have the drop down design which I think looks pretty slick on my Ram. Material and finish are top notch and I'm happy with my purchase.

Read More Go Rhino Dominator II Wheel-to-Wheel Nerf Bars Reviews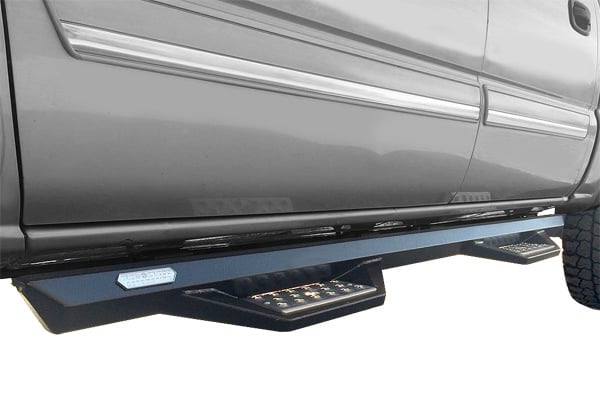 When it comes to Iron Cross's Heavy Duty Nerf Bars, Heavy Duty is right! The stamped and treaded aluminum stepping surfaces and sharp, angular design of these bars will add an aggressive look to your ride. A textured gloss powder coat finish brings it all together and these steps are wholly made and manufactured right here in the United States.
I really like the how they fit my Tundra I'm sure they will protect from stone chipping, they are solid, with no give as you step on them as well, plus look mean. Thanks for a great product!

Read More Iron Cross Heavy Duty Nerf Bars Reviews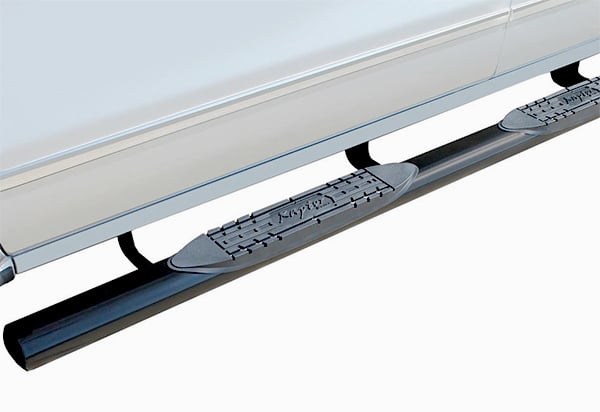 For bold and brawny looks to suit your wheels, Oval Magnum Step Bars from Raptor are available in your choice of 4", 5", or 6" diameters. Custom made to fit your make and model from front wheels to back wheels, each of these bars boasts an extra-large stepping surface in front of each door. Plus these oval nerf bars are so tough Raptor confidently backs them with a 10-Year Limited Warranty.
Nerf Bars look great and fit great also. Product was well protected by the packaging and it arrived on time. Instructions were great and they installed very easily.

Read More Raptor Oval Magnum Step Bar Reviews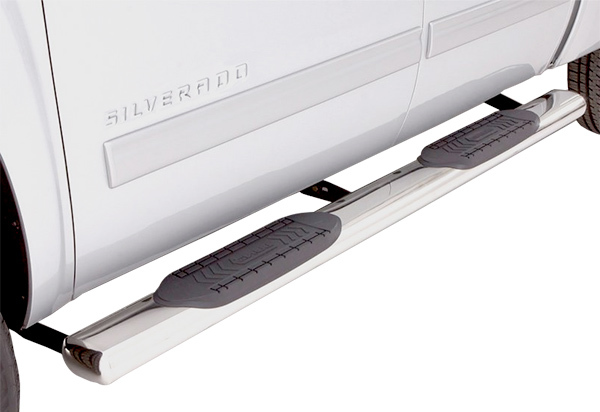 Available in 4", 5", or 6" diameters, the 304 Stainless steel Lund Oval Nerf Bars couldn't be easier to install, and come backed by a Limited Lifetime Warranty. Non-slip UV-resistant step pads help you and your passengers get in and out of your vehicle, and black or polished stainless steel finishes are available. Depending on your vehicle, you can choose from straight, curved, or wheel-to-wheel designs.
These Bars were packed very well. Arrived in excellent condition. Very easy to install. Just remove the factory bolts in three locations on each side. Great looking side steps. I have no regrets and would recommend these to anyone.

Read More Lund Oval Nerf Bars Reviews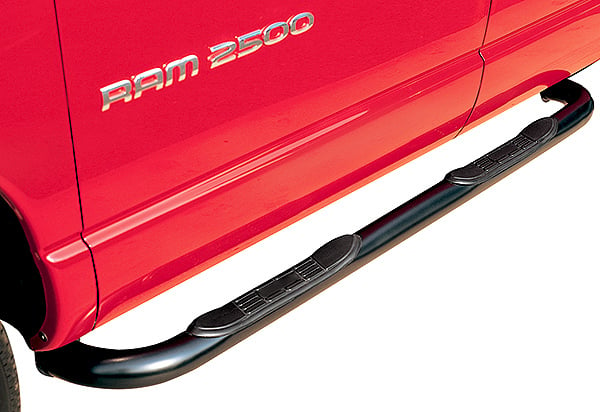 When many people think 'nerf bars' they think of something very much like Go Rhino's 4000 Series. Rounded tubes, steel construction, thermo-plastic step pads - like a good old fashioned cheeseburger, the simplicity is the genius of this design. Go Rhino produces each pair to fit your truck exactly, and they even back them up with a Lifetime Warranty.
It took 25-30 minutes to install the first bar, then only about 5 minutes for the second. I recommend loosely attaching the bars to the brackets first, then holding it up against the truck so you can see which holes to use. The bars feel very sturdy and look great. My wife washing a little trouble getting into my truck, which has a lift kit, but now she has no trouble at all, even when she wears a dress.

Read More Go Rhino 4000 Series Nerf Bars Reviews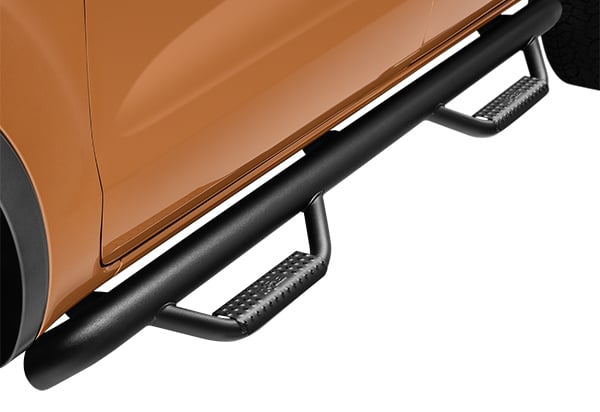 Made in the USA and backed by a Lifetime Warranty, N-Fab's Nerf Bars are a product you can really stand behind! For diesel trucks, you can protect your DEF tank from dirt dents and debris, and these steps come in your choice of finishes – glossy black, textured black, or polished stainless steel. So if you drive a diesel (or simply like the look of them) N-Fab Nerf Bars could being the perfect amount of attitude to your truck.
These are some heavy duty step bars. I have no doubt they will last as long as I own the truck. Fit and finish was excellent and they were easy to install. Finding the right bars for the [Dodge pickup truck] regular cab long bed was not easy.

Read More N-Fab Nerf Bars Reviews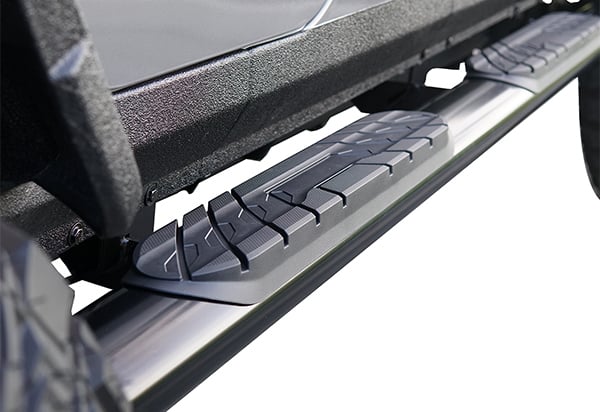 Stepping into your cab never looked so good. Trident's ToughTred 4" Oval Nerf Bars are a classic done right. Steel construction, polyethylene step pads, a vehicle specific fit – TroughTreds exemplify what comes to mind when most people think of the term "nerf bar", but they succeed in every category where so many others fail. Not only will these give you a sturdy step, they'll also protect your ride from road debris and parking lot door dings.
The shipping was very fast. Installation was a cinch, I glanced at the instructions checked the parts, slid under the truck and the instructions became clear, really a snap, and I am not particularly handy. The step bars look great and work well.

Read More Trident ToughTred 4" Oval Nerf Bars Reviews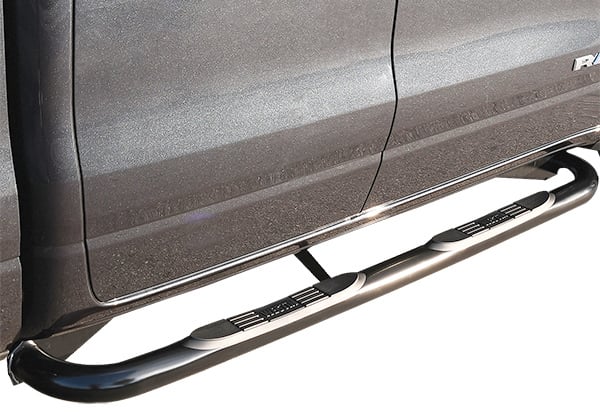 Built for functionality and longevity, E-Series Step Bars from Westin are eye-catching and hard-working. Black or polished stainless steel finishes are available and either finish sports step pads that actually mount to the tube recess – a stronger design than the more traditional cut-out style. This is one of many touches Westin makes to ensure their E-Series Step Bars are the toughest nerf bars on the market.
I bought these for a black 07 [Honda SUV]. I have nothing but great things to say about the product and the service. The bars arrived in about three days. You don't get that kind of service these days very often. Especially on a web purchase. The instructions were simple. It took about 30min to install. I didn't have to drill anything. They fit perfectly on the frame as advertised. They look sweet! I highly recommend the black on black and highly recommend Auto Accessories Garage.

Read More Westin E Series Step Bars Reviews
If you want to dial the toughness up to 11, ICI's Magnum RT steps will never steel you wrong. Matte black and powder coated, these steps are made from 10-gauge cold-rolled Steel. The sharp, angular design is as rough and tumble as they come and all of the necessary hardware is included for a simple, no-drill installation. These steps are made in the USA and backed by a Lifetime Warranty.
I am very pleased with the quality of this product and most of all the appearance of my vehicle once it was installed. I highly recommend the Magnum RT step bars to all truck owners!

Read More ICI Magnum RT Step Bars Reviews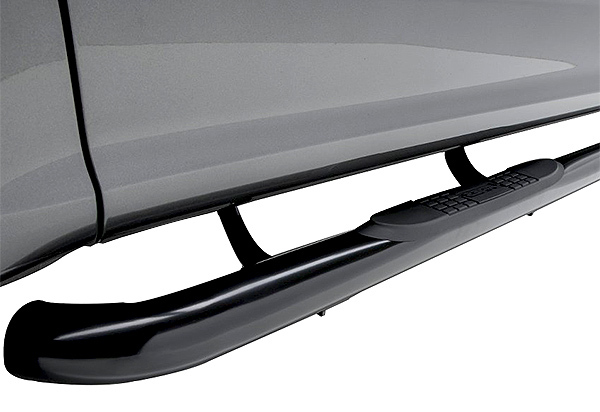 Topping the list is our top seller and highest rated nerf bar, the Aries Step Bar. This set of nerf bars delivers it all and doesn't skimp on a thing. Easy installation, heavy-duty steel construction, custom on-skid step pad – if it's a feature you want in a set of nerf bars, chances are Aries has perfected it here. Thick-walled stainless steel tubing will stand up to just about anything you throw at it, and these bars are available in a 3" diameter or extra beefy 4" diameter.
When I opened the package revealing a onesided page for installation instructions I thought I was in trouble. I'M 71 yr's old and I had my new Aries step bars installed in less than an hour. The instructions and fit were perfect.

Read More Aries Step Bars Reviews
What's the Best Fit for Your Vehicle? Enter Your Info Below to Find Out!
Nerf Bar Styles
Whether you're looking to beef up your Jeep's off-road style or add a convenient step to your Colorado, running boards and nerf bars come in a variety of designs and lengths. Let's take a look at the different nerf bar styles out there:
Cab Length Step Bars
Cab length step bars including bars from Raptor and Nasta are the most common style. They usually have a pair of step pads on each tube, providing footing for front and rear passengers.
Wheel-To-Wheel Nerf Bars
When it comes to full-size pickup trucks, nothing beats the convenience of wheel-to-wheel nerf bars. Say farewell to climbing into your bed - These tubes run back to your rear wheels, giving you easy access to your gear. They're available in different styles, from long tubes like those from Go Rhino to off-road style bars from N Fab.
Oval Tube Steps
Oval nerf bars offer a wider stepping surface than typical round tubes due to their slightly flattened design. Oval step bars are usually 4-5" in diameter, giving your vehicle a beefy design upgrade and offering sure footing for your fellow riders.
Sport Tubes
Sport tubes mount snug under your vehicle for a dressed-up look. Sport tubes come in bright polished or chrome finishes. These small-diameter tube bars aren't made to support weight, so they're intended for decoration only.