Updated for Fall on 2022-09-14.

With our Fall 2022 update, we set our sights on running boards that will offer a trustworthy step through all the muck and mess of the rainy and colder Fall months. Even muddy work boots can still find a sturdy step on these durable, tractioned, Fall-ready running boards.
Running boards serve a number of purposes. First and foremost, they help you and your passengers climb up into your beefy rig, and climb out with minimal knee strain. They also tend to catch and deflect all kinds mud, muck, and debris, keeping your truck, van, or SUV's finish free and clear of dings and scratches. Finally, they make your ride look tougher and trendier than ever before.
Running boards are available in a wide variety of finishes and materials. Sturdy stainless-steel running boards can be ordered with a mirror-polished shine on each side. Lightweight Aluminum running boards may arrive with a rugged black powder coat finish that will stave of rust and corrosion and match any other black powder coated accessories your rig may already be sporting.
With so many sets of running boards on the market it's hard to know which are the best for your set-up. That's why we here at Auto Accessories Garage would like to lend our expertise. By taking a look at our top selling, and top rated running boards, we've narrowed the wide variety of available products down to what we consider to be the Top Ten Best Running Boards of 2022, complete with customer reviews. Take a look.
The Best Running Boards
Perfect for beefy trucks and SUVs, Romik RAL Running Boards brings the thunder and good! These textured boards are designed to offer a reliable grip all year in any climate. Plus, the curved design will look great next to the natural curves of your truck or SUV. Best of all they come backed by a Limited Lifetime Warranty.
Pros: Wide variety of fitments for less common vehicles
Cons: Installation process can be difficult
The Truck Shop located Corvallis OR did the excellent installation. The black ROMIK running boards are awesome on my black Land Rover Sport HSE. I appreciate the technical support helping me choose the correct model of ROMIK Boards. Thank You!! 1 hour 45 minutes installation

Read More Romik RAL Running Boards Reviews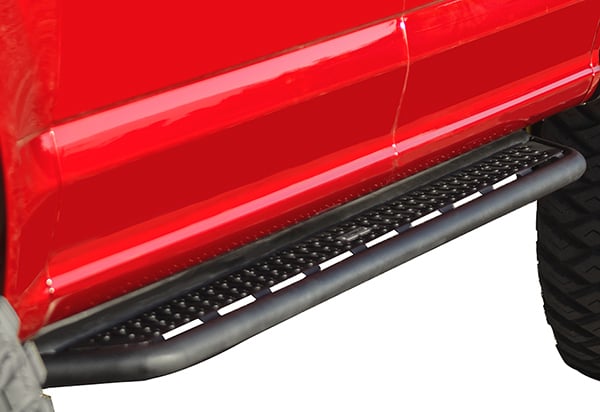 The Go Rhino Dominator D6 Running Boards were designed for the truck driver who is tough on his rig. Their durable steel construction provides a sturdy step up into your vehicle and also offers slider protection along the rocker panel. Durability and protection aren't the only benefits of these boards. They also sport an immensely wide 6" stepping surface, styled with a raised hexagonal pattern that ensures your boots do not slip upon entry or exit.
Pros: Larger width than many boards
Cons: A little more expensive than other stationary boards
Checks all the boxes. Great design. 6" width is awesome. Great finish and compliments my [Toyota truck].

Read More Go Rhino Dominator D6 Running Boards Reviews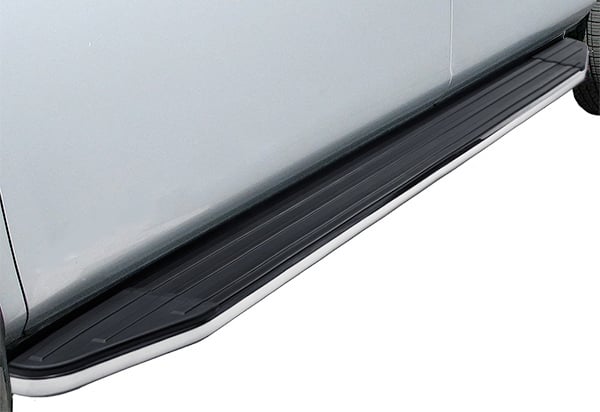 As the top selling item in Steelcraft's arsenal, you can expect the STX100 Series Running Boards to pack some serious punch - and they certainly do. Combining sleek style and rugged strength, these boards are forged from uncompromising T304 Stainless Steel. Each set is specifically designed to fit your make and model, and the Lifetime Warranty ensures that these bad boys will outlast your truck itself.
Pros: OEM-style look built from aircraft-grade Aluminum
Cons: Limited amount of fitments, SUV only
These running boards were the perfect quality and exact fit. I should have made this purchase years ago. Very glad I have them now.

Read More Steelcraft STX100 Series Running Boards Reviews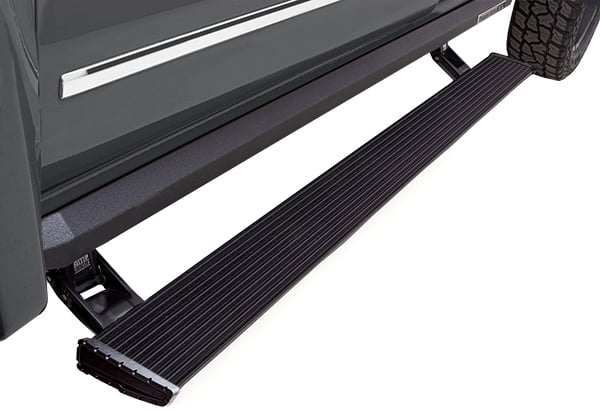 When you are in need of automated running boards that can also stand firm against extreme weather conditions, AMP Research PowerStep Xtreme Running Boards are it. These boards are designed specifically to withstand harsh summer rays and frigid winter temperatures. The electric motor allows these boards to extend and withdraw automatically when you open and close your doors. When withdrawn, they are completely concealed. In the extended position, integrated LED lights illuminate each board to provide ease of use even in the dark of night.
Pros: Automated; specifically designed to stand up to extreme weather conditions
Cons: Price point well above that of stationary boards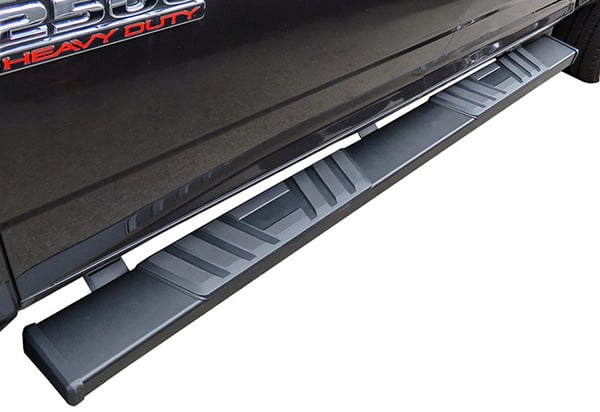 One of the key elements of the Trident BruteBoard Running Boards is the width. When you need additional room for your feet when entering and exiting your vehicle, these boards are an excellent option. Coming in at a whopping 6" across, your Trident BruteBoard Running Boards are constructed from strong 1.2mm Stainless or Mild Steel (depending on finish). The step pad is textured and offers a solid step up into your vehicle.
Pros: Larger width than many boards
Cons: Not as much grip as some other boards
The Trident Running Boards look great! My wife is also pleased, because it makes it a lot easier for her to get up in the truck. I had someone else install them for me, and he said they were no problem at all.

Read More Trident BruteBoard Running Boards Reviews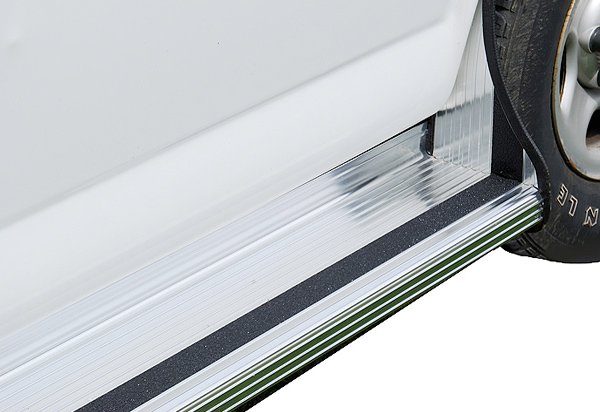 ClassicPro Running Boards from Owens really take protection to the next level. The nice wide stepping surface will stop rocks, pebbles, and other road debris dead in their tracks. Plus, it also offers a firm and comfortable step with anti-slip traction that will help you and your passengers into your cab all year around. And thankfully, the lightweight Aluminum construction won't weigh you down too much either.
Pros: Durable and available in a variety of finishes
Cons: Lightweight construction with limited capacity
I recently purchased a 2016 Ford [...] cutaway van with a Knaphiede KUV utility body and after searching the internet for some mud flaps for the front wheels (because everything I ran over was splashing up on the fenders, doors and utility body from the front wheels) I found under images on Google a picture of a truck like mine that had running boards and I thought "Wow! What a great idea!" Well it's not that easy. it seems nobody makes running boards or mud flaps for a 2016 E350 until I found Owens brand and that's what brought me to your site. Now after a great price and lightning fast delivery I received the high quality boards and they look and work great not only for the mud and dirt but make it so much easier to get in and out of my van!

Read More Owens ClassicPro Aluminum Running Boards Reviews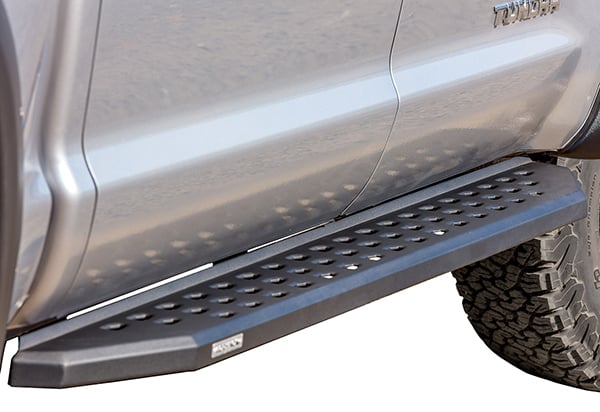 Great looks and great performance can be found at one place with the Owens Premier Series Running Boards. Available in your choice of wheel-to-wheel or cab-length, these ABS boards feature injection-molded steps and bring a sleek, custom look to your truck or SUV. Plus, these boards can be painted all over for a truly custom look.
Pros: Vehicle specific design for a perfect fit
Cons: Low-grade mounting brackets
Love these sideboards! Super easy to install in under thirty minutes! Awesome styling, put them on my Jeep Gladiator ! AAG got them to me in two days from ordering! UNBELIEVABLE SERVICE!

Read More Go Rhino RB20 Running Boards Reviews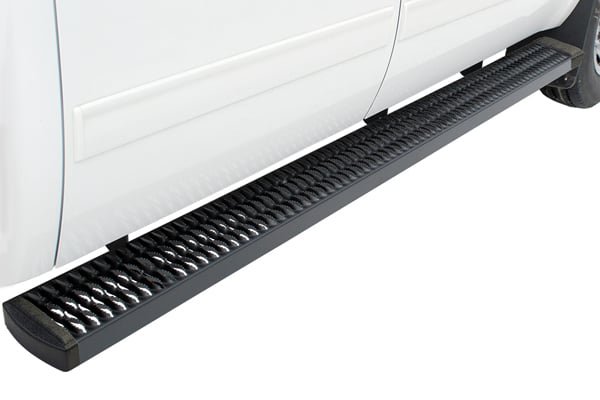 The Luverne Grip Step Running Boards are your answer when you need a running board with an unbeatable grip. The traction pattern keeps you from slipping, but can also serve as a handy boot scraper to keep you from tracking snow, dirt, and mud into your vehicle. The boards are made from strong 5052-H32 Aluminum and are finished in a rust-resistant textured black powder coat.
Pros: Unbeatable grip to keep you from slipping
Cons: Not as versatile as automated boards
Quick delivery. The rear step looks very nice and is heavy duty. It was very easy to install on my Sprinter van. I would recommend this to anyone.

Read More Luverne Grip Step Running Boards Reviews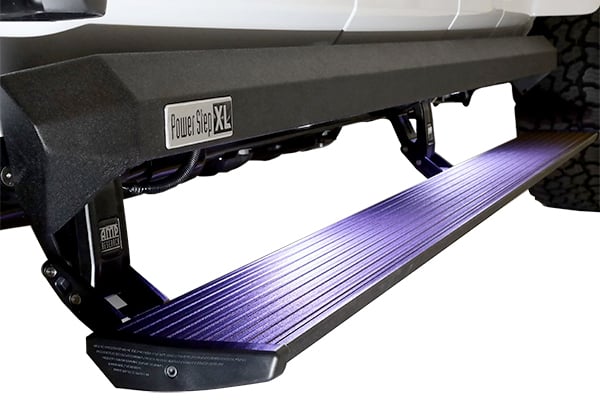 Another set of automated boards that extend when your cab door is opened and tuck away when the door is shut, the AMP Research PowerStep XL Running Boards are made of tough, die-cast aluminum and support up to 600 pounds of weight. In contrast to the base AMP PowerStep model, these running boards are designed to hang three inches lower, which makes them a perfect option for lifted trucks.
Pros: Extend even lower than the base PowerStep model; great for lifted truck
Cons: The price point is higher than most running boards
Great product but did not take in consideration fender flares on certain model trucks as my Ram 2500 came from factory with them and I had a tough time getting over them. Also Amp Research has a great tech team.

Read More AMP Research PowerStep XL Running Boards Reviews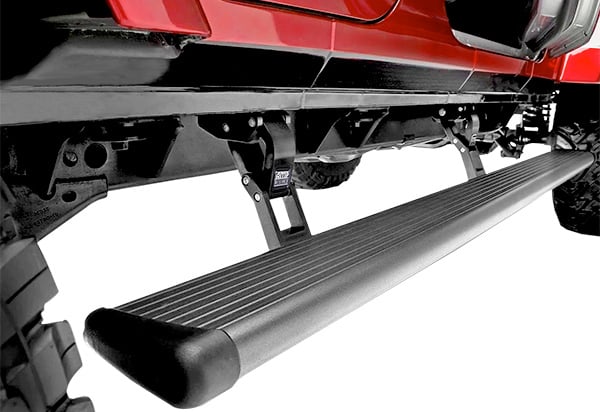 You'll really impress colleagues, coworkers, friends, and family when you're rocking a set of PowerSteps. These automated steps from AMP Research extend when you open your doors, and retract when you close them. This sleek and futuristic movement is sure to turn heads and offers a practical step, supporting up to 600 lbs without issue. You can easily wire them directly to your OBD-II port, so no wire splitting or door removal is necessary.
Pros: High-quality, seamless design and functionality
Cons: Price point well above most stationary boards
Purchased them as a Xmas gift for myself for my 2016 [Dodge pickup truck] EcoDiesel 4x4. I had them installed by a local truck shop. They look GREAT and function as described. I like the clean look of the truck with the steps. I would purchase again.

Read More AMP Research PowerStep Reviews
What's the Best Fit for Your Vehicle? Enter Your Info Below to Find Out!
Running Boards Buying Guide
There are many different varieties of running boards out there, so how do you find the best running boardsfor your needs? Read on to learn about all of our styles, discover their many benefits, and find out what you need to consider when choosing the best running boards for your truck.
Running Board Types
Running boards offer a wider stepping surface than most nerf bars, and most also have a higher weight capacity. You can choose from a variety of designs and options and achieve the perfect style you're looking for.
Standard Running Boards
The most common running boards span the length of your front and rear doors, or come in wheel-to-wheel designs. They're available in a variety of materials and many models can be custom-painted or accessorized with lights.
Molded Steps
Many of our running boards are molded from tough UV-resistant polymers, with a rugged aluminum base board for high strength. Molded steps are a great choice if you want to custom-paint the steps to match your finish. Most feature a dark grey or black textured finish that's ready for primer and paint.
Aluminum & Stainless Steel Running Boards
If it's a more rugged and reflective look you're after, go with stainless steel or aluminum running boards. Manufactures like Dee Zee and Lund craft their boards from industrial-strength materials for excellent weight capacity and most include treaded step pads for sure footing in any weather.
Lighted Running Boards

Lighted running boards have the knockout combo of style and function. They're equipped with lights on either end that make the stepping area more visible at night and give your vehicle a stylish glow when you open the doors. Bak has options available in standard and lighted models, and Westin offers light kit upgrades.
Retracting Running Boards
Maybe you want the convenience of a running board but prefer the smooth looks and side clearance of going without side steps. Luckily, there's a solution for your needs - and it's a really cool solution!
High-tech running boards like the Amp Research Powerstep swing out from under your vehicle when you open your doors, and retract when you shut them so they're completely hidden while you drive. Plus, these steps extend much farther out than other permanently-mounted options, making it more comfortable and natural to step into your vehicle.
Frequently Asked Questions about Running Boards
Running boards give you and your passengers a boost up into your vehicle while also upgrading its exterior style. As with any automobile accessory, certain questions arise prior to purchasing. Below, you'll find a collection of common questions, and their answers, to aid you in your decision-making process.
Running Board FAQs Answers
What is a running board?
A running board stretches the length of your vehicle to provide a single, full, continuous step shared by both front and back seat passengers.
How much weight can a running board support?
The average running board can usually support up to 500 lbs. It is important to thoroughly read the manufacturer's instructions to find out exactly how much weight a particular running board can support.
Will installing running boards void any part of my vehicle's warranty?
Auto manufacturers include bracket mounting areas for bolting their own running boards and lights to a vehicle's frame. Nearly running board attaches to this area without any modification necessary. As such, since you are not altering anything, your vehicle's warranty will remain intact. (Note: While most of these products attach easily to the bracket mounting area, some do not. Please pay attention when purchasing and installing one of these implements.)
Is it difficult to install a running board?
They install via brackets to pre-approved mounting positions. The entire process is relatively painless. While it may require some time to do it exactly right, installing running boards yourself will save you money and bring untold satisfaction with every use because, hey, you did that. Good job.
Is it difficult to wire running board lights?
If you know your way around your vehicle's electrical circuitry, you shouldn't have any difficulty. However, even if you don't, adhering strictly to the manufacturer's directions will make the process as painless as possible. Further helping your cause, any running board light kit will come with all the equipment necessary for installation.
Will my running boards scrape the ground as I drive?
Nerf bar and running board clearance is going to depend on your vehicle's ground clearance. If your vehicle has been lowered, you may run into some difficulty with your running boards scraping the ground in certain situations (such as going over a speed bump). Make sure to take exact measurements and know your vehicle's dimensions and alterations before purchasing a running board to avoid an unfortunate surprise.
Running Boards Installation Instructions
Open the box (naturally) and lay out all hardware and components, to make sure all necessary parts have been included.Helpful Tip: When the time comes to attach your mounting brackets, attach them loosely at first so you can make sure they fit before tightening them all the way down.
Determine if your truck has a pre-drilled mounting holes. If not, you'll need to drill the requisite mounting holes in your truck's frame. Be VERY careful when drilling into your vehicle's frame, and make sure you are absolutely certain the maneuver is warranted before doing so, as drilling into your vehicle's frame can be dangerous and may void your warranty.
Upon discovery or creation of mounting holes, locate the included mounting brackets. Attach these brackets to the mounting positions with the proper number of requisite fasteners, usually some sort of large bolt-and-spacer combination.
Prior to attaching the running board, hold it up to the mounting brackets to make sure the mounting positions are exactly where they need to be. If movement is required, delicately set the running board aside and make the necessary adjustments. When the positions are determined to be correct, lock your mounting brackets into place as tight as possible.
Hold the running board up to the mounting brackets one last time. Rest it on the mounting brackets, and move it as necessary to properly line up every last connection. When everything is in place, install all hardware (nuts, bolts, washers, etc.) up and down the running board. Tighten everything one final time.
Enjoy the benefits a running board brings to your truck.