Running boards serve a number of purposes. First and foremost, they help you and your passengers climb up into your beefy rig, and climb out with minimal knee strain. They also tend to catch and deflect all kinds mud, muck, and debris, keeping your truck, van, or SUV's finish free and clear of dings and scratches. Finally, they make your ride look tougher and trendier than ever before.
With so many sets of running boards on the market it's hard to know which are the best for your set-up. That's why we here at Auto Accessories Garage would like to lend our expertise. By taking a look at our top selling, and top rated running boards, we've narrowed the wide variety of available products down to what we consider to be the Top Ten Best Running Boards of 2019, complete with customer reviews. Take a look.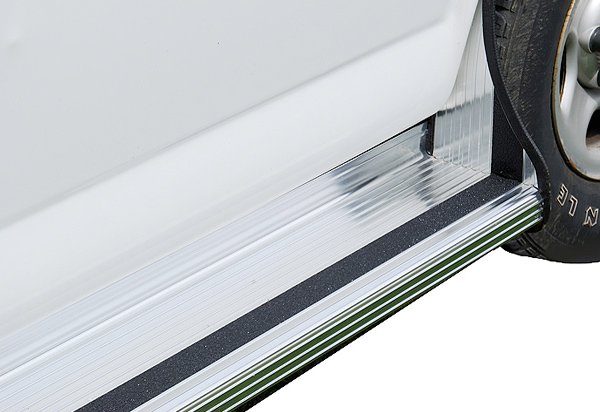 ClassicPro Running Boards from Owens really take protection to the next level. The nice wide stepping surface will stop rocks, pebbles, and other road debris dead in their tracks. Plus, it also offers a firm and comfortable step with anti-slip traction that will help you and your passengers into your cab all year around. And thankfully, the lightweight Aluminum construction won't weigh you down too much either.
I recently purchased a 2016 Ford Econoline 350 cutaway van with a Knaphiede KUV utility body and after searching the internet for some mud flaps for the front wheels (because everything I ran over was splashing up on the fenders, doors and utility body from the front wheels) I found under images on Google a picture of a truck like mine that had running boards and I thought "Wow! What a great idea!" Well it's not that easy. it seems nobody makes running boards or mud flaps for a 2016 E350 until I found Owens brand and that's what brought me to your site. Now after a great price and lightning fast delivery I received the high quality boards and they look and work great not only for the mud and dirt but make it so much easier to get in and out of my van!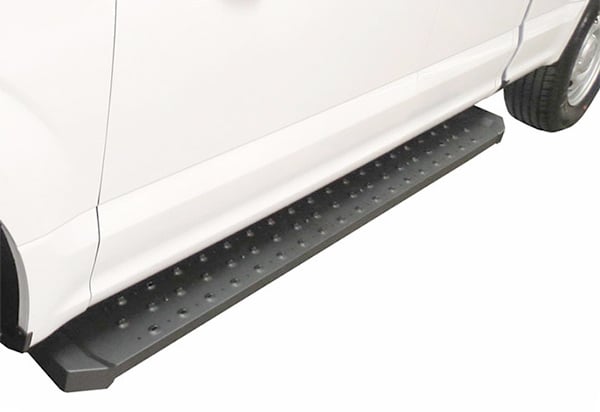 With a 6.5" stepping surface and a 14-guage carbon steel deck, the Toughboards from Trident almost feel like overkill. But when sturdiness, structure, and style are all on your want list, these running boards will deliver in spades. Forged to fit your vehicle, these stainless steel steps are finished in a black powder coat for corrosion resistance.
I'm really into the industrial look of these running boards on my F150. These are solid boards and they make my truck look like a utility vehicle. I'm 6'5" and 350 lbs., these boards don't flex and inch when I climb them. Great!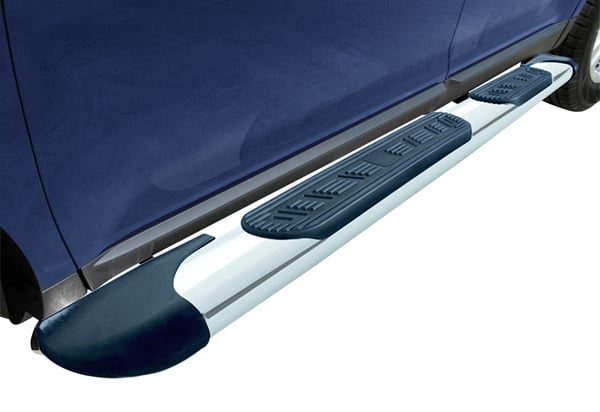 Perfect for beefy trucks and SUVs, the Flowmaster American Thunder Exhaust System brings the thunder and good! Bringing your rig a 5-10% power boost and huge gains in your MPG department. Trust us, there's nothing better than rolling down the street in a truck with an American Thunder System installed. With a sound that's both classic and aggressive, this system is sure to turn heads.
One of the great things about Iron Cross Endeavor boards is that they are totally UV-resistant and treated to stand up to the elements of any climate year after year. With the aesthetic of a luxury OEM component, the Endeavor Running Boards complement and enhance your vehicle's existing curvature. Plus, a 5" stepping pad gives you a reliable step in any weather. These running boards are made in the USA.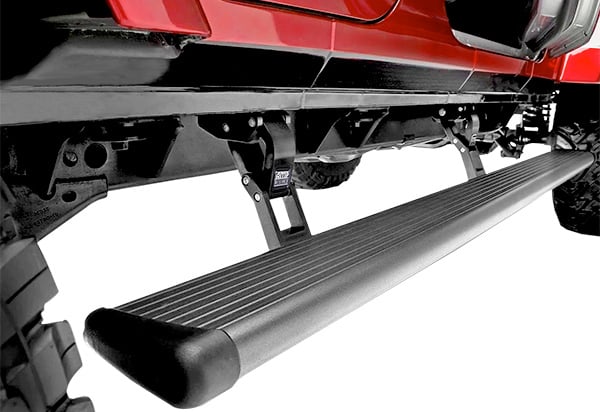 You'll really impress colleagues, coworkers, friends, and family when you're rocking a set of PowerSteps. These automated steps from AMP Research extend when you open your doors, and retract when you close them. This sleek and futuristic movement is sure to turn heads and offers a practical step, supporting up to 600 lbs without issue. You can easily wire them directly to your OBD-II port, so no wire splitting or door removal is necessary.
Purchased them as a Xmas gift for myself for my 2016 Ram 1500 EcoDiesel 4x4. I had them installed by a local truck shop. They look GREAT and function as described. I like the clean look of the truck with the steps. I would purchase again.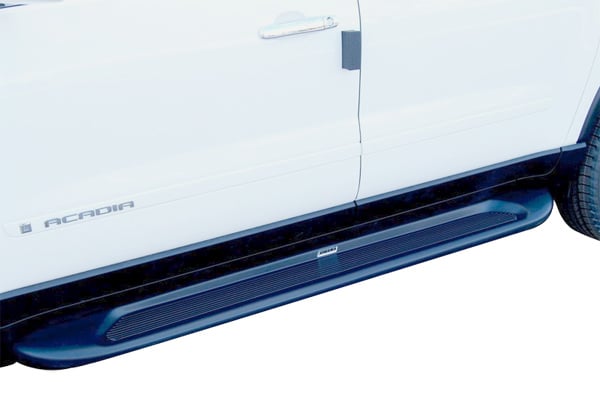 Great looks and great performance can be found at one place with the Owens Premier Series Running Boards. Available in your choice of wheel-to-wheel or cab-length, these ABS boards feature injection-molded steps and bring a sleek, custom look to your truck or SUV. Plus, these boards can be painted all over for a truly custom look.
I got these for my Traverse so the little ones and grandparents could safetly get in. They look great and installed pretty easy (I am told, as I had a mechanic friend install them). A 250 lbs. mechanic stood on them to fix our cargo rack and they boards did not even move.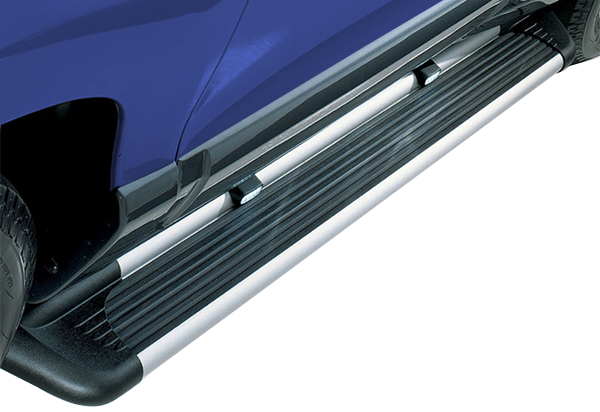 A surefire addition to any truck or SUV, Westin Sure Grip Running Boards span the length of your cab and offer a weather-proof step all along the way. The molded end caps complete each end of each board for a complete and finished look that will elevate the style of your entire rig. And installation is so easy, you can put these on in your own driveway in less than an hour.
The running boards went on smoothly, and look great. Now my wife can get into her SUV with no problems. We are happy that we ordered this product!! Also, the people that we spoke with before buying were very helpful!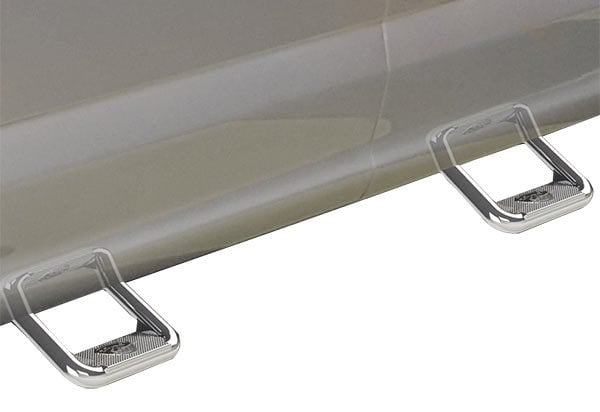 Another solution in the neighborhood of running boards: simple side steps. The Hoop II Truck Steps from Carr offer a simple and sporty solution that looks great and is exceedingly functional. Simply install these steps at the base of each door for a tough, diamond-treaded step that comes backed by a Lifetime Warranty.
My husband wanted these for his 2003 Silverado since it is too high for me to comfortably get into. We bought 2 sets since it is an extended cab with 4 doors. He was able to install them without any problems. They look great on the truck and work very nicely. We are very pleased with their appearance and functionality.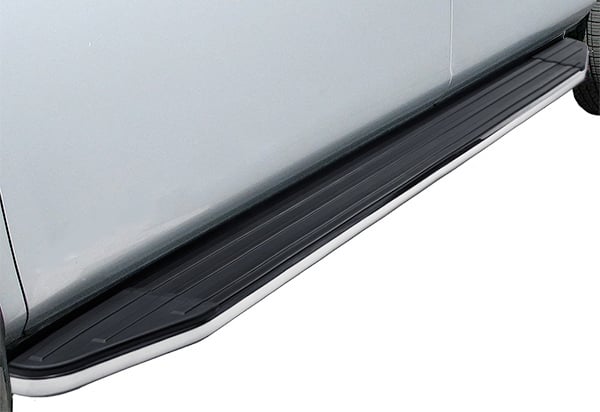 As the top selling item in Steelcraft's arsenal, you can expect the STX100 Series Running Boards to pack some serious punch - and they certainly do. Combining sleek style and rugged strength, these boards are forged from uncompromising T304 Stainless Steel. Each set is specifically designed to fit your make and model, and the Lifetime Warranty ensures that these bad boys will outlast your truck itself.
These running boards were the perfect quality and exact fit. I should have made this purchase years ago. Very glad I have them now.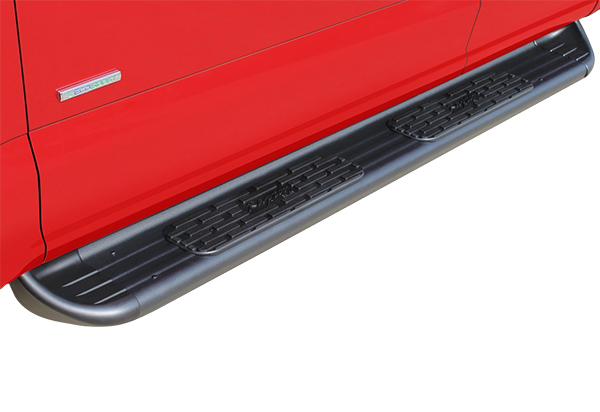 7" wide and weight rated to up to 400 lbs., Raptor SSR Running Boards are seriously sturdy. The 304 Stainless Steel construction doesn't hurt either and mounting brackets come preinstalled for a superiorly simple installation. Non-slip pads give you a sturdy step in any weather and the deep grooves not only look good, but trap dirt, grime, and debris before it ever enters your vehicle.
Love them!!!!! I am only 4'9" and my hubby bought a 2013 chevy silverado 2500HD which is high off of the ground. I had to crawl in on my knees, but he installed these running boards and now its so easy to get into the truck!! Love them.
For truck and SUV drivers that like to put safety first, the NX Series Running Boards from Dee Zee simple can't be beat. Custom designed for your vehicle, these wide steps not only stop rock and pebbles from scraping your vehicle, but they also feature raised rubber grommets to give you an uncompromisingly sure step in any climate or weather.
The running boards look great. We received the running boards in a few days and they were very easy to install. The included instructions were very detailed and included different models. I was able to install them by myself with no help. I would definitely buy them again.
What's the Best Fit for Your Vehicle? Enter Your Info Below to Find Out!