Owens Running Boards & Side Steps
Add a hot visual effect to your truck with a set of Owens running boards. These truck steps are crafted from a variety of materials, from molded ABS to polished aluminum, so you're sure to find the look you're after. Owens side steps also come in custom lengths to perfectly match your truck. Get your truck gear at AutoAccessoriesGarage.com and enjoy great prices and free shipping, guaranteed.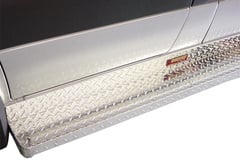 From $452.00
Free Shipping
Quick View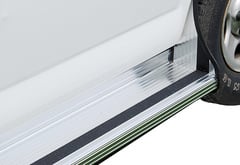 From $307.00
Free Shipping
Quick View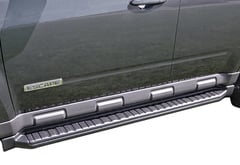 From $535.00
Free Shipping
Quick View
About Owens Running Boards & Side Steps
If you shop around a bit, you'll find that not all running boards are created equal. Certain products, like Owens running boards, take things to a new level of design excellence. They've got a range of styles and looks to suit any customer seeking any particular feel for their vehicle. In many ways it seems they may have written the book on the subject, but instead they've simply made the best parts. You'll find great products no matter what you need.
Even better, they'll be simple to install and durable as all get-out. Put simply, they won't let you down, not if the folks at Owens running boards have anything to say about it. They put their name on the line every day to ensure that you get parts and accessories you can trust, and they always follow through. You're in the right place, in other words, to get a great new addition to your truck and SUV, one guaranteed to last, and available at a price that won't put you out.
Owens running boards were among the first in the industry, and their innovative spirit still carries on to this day. These steps give your vehicle enhanced looks as well as extra convenience for you and your passengers. A family-owned and operated business, Owens builds their side steps and running boards with pride. And at AutoAccessoriesGarage.com, you'll get simply the best one-on-one shopping experience.
Owens Running Boards & Side Steps Reviews
Daniel C
from Toledo, IL says:
The truck bed running boards were exactly what I was looking for. They match the running boards already on my cab other than being more shiny because they are brand new. Only thing I wished could be different is I wish the brackets for the truck bed running boards would've been heavier gauge steel like the the ones on the cab running boards. They seem a little weak when I step on them. But then again I weigh just shy of 300 pounds. Other than that they look great. Read more Owens ClassicPro Aluminum Running Board customer reviews.
Mark F
from Englewood, TN says:
Great company. I screwed up and they covered it. Great people. The running boards work perfectly. I am 210 lbs. and needed another brace for the boards on the bed. Very happy, thanks for all the extra help!
Thomas P
from Clearwater, FL says:
I recently purchased a 2016 Ford Econoline 350 cutaway van with a Knaphiede KUV utility body and after searching the internet for some mud flaps for the front wheels (because everything I ran over was splashing up on the fenders, doors and utility body from the front wheels) I found under images on Google a picture of a truck like mine that had running boards and I thought wow what a great idea. Well it's not that easy. it seams nobody makes running boards or mud flaps for a 2016 E350 till I found Owens brand and that's what brought me to you're site and now after a great price and lightning fast delivery I received the high quality boards and they look and work great not only for the mud and dirt but make it so much easier to get in and out of my Truck. Thank-you for the Great Service!!!
Johnny B
from Angier, NC wrote:
Came in timeframe promised. Fit is as good as factory equipment. The dark gray looks pretty good on my silver Durango but it would be nice if there were some color options. As a previous reviewer said, they are a little flimsy on the ends but other than that very sturdy. Had mechanic friend install them for me and he said they were just a little complicated to start but pretty easy after he figured them out. A lot of little parts make up the hangers. All in all very satisfied.
Andrew H
from Arlington, TX wrote:
This was a very good buying experience. I received the running boards quickly and the customer service was very good and responsive. Installation was straight forward and they look awesome on my Pilot. I did have to adjust the bends in the Z-bracket a little to match the holes and everything fit fine. It is a very sturdy product and feels solid to stand on.
Charles S
from South Thomaston, ME wrote:
Very well made. Instructions were easy to understand and follow.