About Magnum
A subsidiary of Raptor Series, Magnum puts the pedal to the metal in more ways than one. Every truck, Jeep, and SUV accessory sold through Magnum is designed and engineered right here in the USA. Built from cold-rolled Carbon Steel, you know that Magnum products are built to last, and to make your rig look great in the process. When you shop for Magnum accessories on AAG, we always offer free shipping and guarantee the lowest prices with a 12-Month Price Match Guarantee.
Magnum Customer Reviews
Dodge Ram 1500
who drives a
2023-03-30
Directions could be little more clear but over all not bad. Luckily I can read a picture and turn a wrench so wasn't to difficult. Put them on 2014 ram quad cab and there were 2 or 3 different ways for brackets to set up. It said one way for for 2015-2019 but my 2014 had the same hole as 2015-2019 so ended up suing brackets that wouldn't really need but since the holes were there I figured might as well use em. Overall 8/10 only because the bracket configurations could be little confusing but they also did say read entire setups before even starting so you know what to use and that definitely helps. Very sturdy and seems like great quality.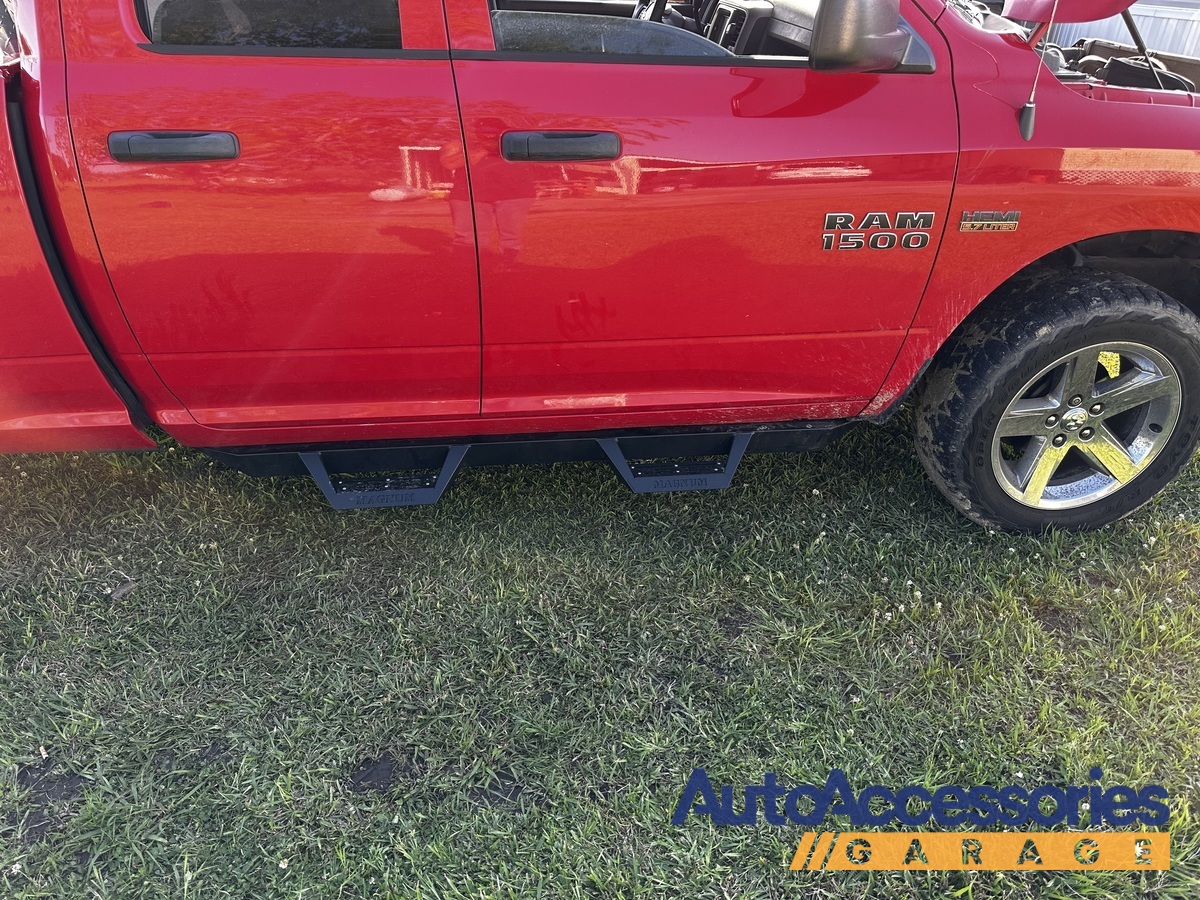 Install Time: 1 - 2 hours
Toyota Tundra
who drives a
2022-10-16
Received the order the next day. Packed very well. Easy install. Looks great.
Install Time: 30 - 60 minutes
This is a great step accessory. They hug the rocker panel so if you choose not to use the step they won't hit you in the calf muscle. They look great as well.
Install Time: 30 - 60 minutes
Toyota Tacoma
who drives a
2022-07-09
Little bit harder to install then just the one running board… but having all the parts and instructions reread a few times… can't believe the little plastic squares came in so handy…. great job everybody…
Install Time: 1 - 2 hours
Toyota Tacoma
who drives a
2022-02-06
The step bars that I buy were bents for drivers side.
Install Time: 30 - 60 minutes
Toyota 4Runner
who drives a
2021-09-12
The fit was perfect!
Install Time: 1 - 2 hours