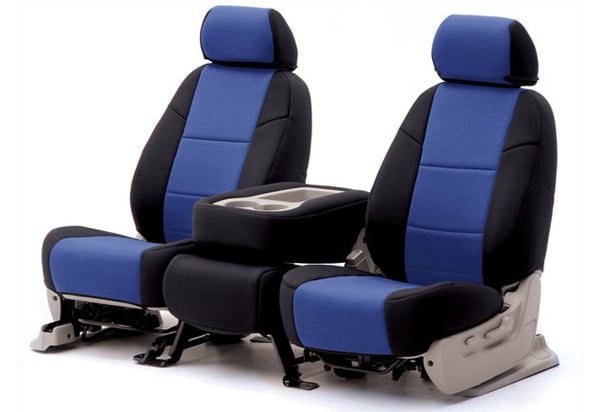 If your seats are stained from years of spilled coffee and muddy pet paws, you may want to revamp your interior with a set of our stylish seat covers. Seat protectors breathe new life into your interior, covering up old stains and tears while adding unique style you won't find in factory seats. They also protect your seats against wear and block future stains. Whether you're into classic, luxury, or modern racing style, you can let your personality take center stage with these fancy and functional interior accents.
What do seat covers do?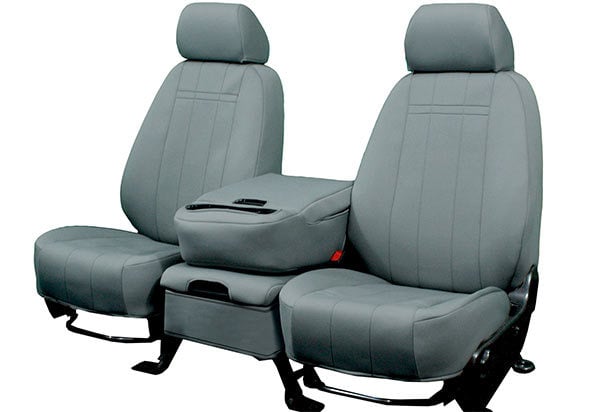 Spilled drinks and fast food are just a few of the unavoidable messes your seats endure every day. While there's no way to truly accident-proof your car, you can prevent these unfortunate occurrences from damaging your Tahoe's interior with a pair of RealTree Seat Covers. On the surface they may seem like a wholly cosmetic auto accessory, but seat covers offer a level protection that can potentially save you hundreds of dollars in repair and reupholstery costs.
Pet Wear
He might be your best friend, but Fido is no ally of your car seats. Between muddy pet paws, sharp claws, and dog hair, the damage your pets can wreak on your interior is immeasurable. Equip your interior with a set of foam-lined pet seat protectors, and your dog can ride shotgun without ruining the front seat.
Stains, Spills, and Water Damage
Those wet bathing suits in the back seat may seem like a minor inconvenience now, but over time they can leave a permanent mark on your interior. Moisture is especially destructive on leather seats. Water damage produces unsightly mold that can stink up your car and ruin your interior's looks. If swim meets and trips to the beach are a part of your everyday life, pick up some Waterproof seat covers and prevent leftover moisture from tarnishing your seats.
UV Rays
Little rays of sunshine do wonders for one's mood and complexion, but suntans do the opposite to your car's interior. Prolonged exposure to sunlight can cause fading and make your Dakota's seats more susceptible to wear. Our Dodge Dakota seat covers block sunlight, and many are specially treated to resist UV rays for long-lasting looks.
Every Day Wear
Even the most delicate backsides do, in some way, cause damage to the seat surface through friction. Every time your jeans nuzzle against the surface of your seats they file away your seat's finish, causing it to fade and crack. The more you drive, the more vulnerable your seats become to wear and tear. Protect your Prius, then, with Toyota Prius seat covers.
Compare Our Most Popular Car Seat Covers
Price
from $249.99
from $169.99
from $129.99
from $169.99
from $84.83
Shipping
Free Shipping
Free Shipping
Free Shipping
Free Shipping
Free Shipping
Special Offers

Free Gift

Free Gift

Free Gift

Free Gift

Rating

Overall:
Performance:
Quality:
Appearance:

Install Time
30-60 minutes
30-60 minutes
30-60 minutes
30-60 minutes
30-60 minutes
Fit
Vehicle-Specific Fit
Vehicle-Specific Fit
Vehicle-Specific Fit
Vehicle-Specific Fit
Vehicle-Specific Fit
Colors
Colors
Various
Various
Various
Various
Various
Material
Genuine CR-Grade Neoprene
Triple-Thick Cordura
Nylon
Neosupreme
Nylon-Bonded Waterproof Neoprene
Spill Resistant?
Yes
Yes
No
Yes
Yes
Warranty
2-Year Warranty
2-Year Warranty
2-Year Warranty
2-Year Warranty
2-Year Warranty
More Details
More Details
More Details
More Details
More Details
Types of seat covers
Helpful Tip: Having a hard time picking out a seat cover? Take a look at our customer reviews to find the best car seat cover for your vehicle.

Before you can pick out the best seat cover for your car, get to know the materials. There are a ton of seat cover materials out there, and each, such as Caltrend Seat Covers, have their own unique set of attributes. We've picked out a few of the most popular seat cover fabrics to help you make a more informed purchase.
The Materials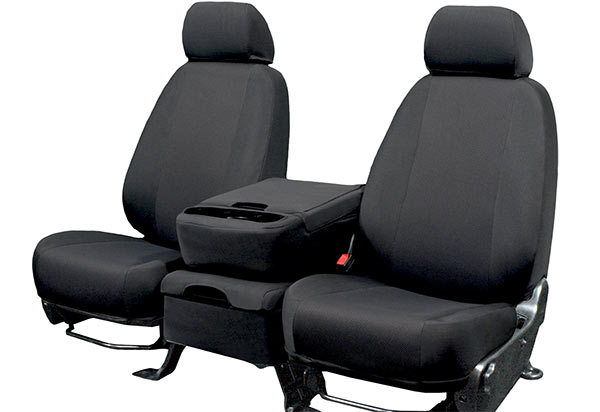 Neoprene: From CalTrend to Coverking seat covers, manufacturers across the world have lauded neoprene for its waterproofing abilities. Constructed from the same material used to make scuba suits, Neoprene seat covers offer total protection against against water damage. Neoprene is an especially good material for off-road enthusiasts who like to get messy; that's why many Jeep Seat Covers are made from it.
Ballistic Nylon: It isn't the most comfortable fabric in the world, but Ballistic covers provide your seats with a heavy-duty shield against water and UV damage. Ballistic seat covers are among the most durable covers on the market, and they can take on attacks from spilled drinks, muddy pet paws, and other messes without breaking a sweat. In fact, this material was originally used to make flak jackets for WWII fighter pilots.
Velour: Velour is a plush knitted fabric usually made from cotton or polyester. Similar to velvet, this material features an extra-soft finish and offers unmatched comfort for you and your passengers. It doesn't offer much in the form of water resistance, but for clean drivers looking for added comfort and style, velour is the best bang for your buck. For the luxurious look and feel of velour, check out Saddleman Seat Covers.
Leather: Leather seat covers offer more protection than you may think. Unlike cloth, leather doesn't absorb spills. Instead, most liquids sit on top of the surface, making them easy to clean. However, leather Hyundai Elantra seat covers, for instance, can get sticky on hot days and are more vulnerable to wear than other materials.
Suede: A cost-effective alternative to leather, suede seat covers are tougher and less susceptible to wear. But like leather, suede isn't naturally resistant to UV rays or water damage. When looking at suede seat covers, make sure you select a cover that's treated with weather resistant materials.
Tweed: Tweed provides you with a similar level of comfort as velour, but it's significantly more resistant to wear and won't stain as easily. Plus, if you're looking for a textured pattern for your seats, tweed is the only way to go.
Saddle Blanket: If you're looking for a durable seat cover with a rugged "western" look, check out Saddle Blanket Seat Covers. These covers feature a tightly-woven fabric that stands up to heavy-duty use and is easy to clean. With Saddle Blanket Car Seat Covers you can enjoy a comfortable ride, a stylish interior, and reliable protection from stains and tears.
The Fit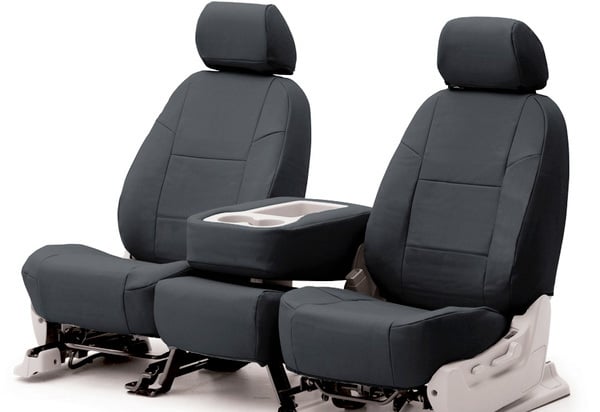 Custom Seat Covers: As any tailor worth their salt will tell you: in the end, it's all about the fit. Custom car seat covers are ideal for a true, seamless look and fit. Formed to fit the exact dimensions of your Scion's car seats, Scion tC seat covers protect every nook and cranny of the seating area, from the headrests and arm-restss to the center console.

Semi-Custom Seat Covers: Sure, custom seat protectors are great, but if you're on a budget, you may want a set of semi-custom car seat covers instead. Semi-custom covers offer the same level of protection as custom seat covers, and they do it without the hefty price tag. You may lose some style points, but they're just fine for the daily driver.
How To Install Car Seat Covers
Installing your new Car Seat Covers is usually a fairly simple task. Because most covers are custom-fit to your seats, they'll fit flawlessly without having to do any cutting or modifications. Take a look at the video below and see what it takes to install a CalTrend Car Seat Cover:
What seat cover is best for my vehicle?
Helpful Tip: Stains and spills don't have to set the tone for your vehicle's interior. Our washable seat covers can help protect your interior and keep it looking off-the-lot new for years to come.
Beyond simply picking out the materials and fit, there are a number of factors to consider as you shop for a new set of Mossy Tree seat covers. With the right car seat cover, you can transform your automobile from a simple mode of transportation to a bold statement that reflects your lifestyle and personality, and we've come up with just a few helpful hints to make your decision a little easier.
Choose a Seat Cover that Meshes with your Lifestyle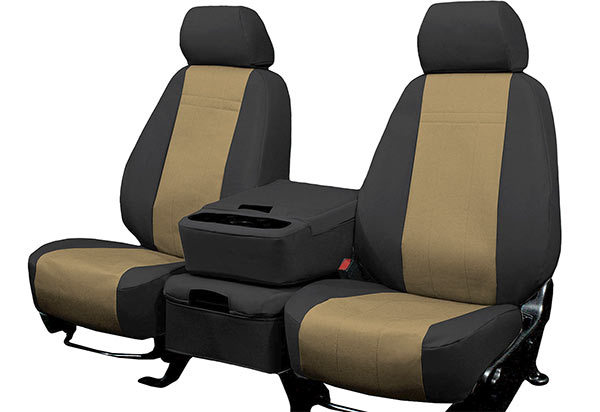 Before you pick out the color, you need to find a seat cover that gels with your lifestyle. For road warriors whose car doubles as a home office, strike a balance between comfort and durability with the CalTrend Tweed Seat Cover. Ideal for drivers who face long commutes each morning, these tweed seat covers feature a soft foam backing that forms to the shape of your body, providing you with additional comfort and support. Plus, they're also treated to resist UV rays and can be easily cleaned with a damp cloth. If stain protection is your main priority, you may want to get a neoprene seat cover. In this situation, we suggest Coverking Seat Covers. Made from heavy duty CR grade neoprene, these Coverking Covers are completely waterproof and are custom cut to fit snug on your seats like a wetsuit.
Add Style to your Interior with a Car Seat Cover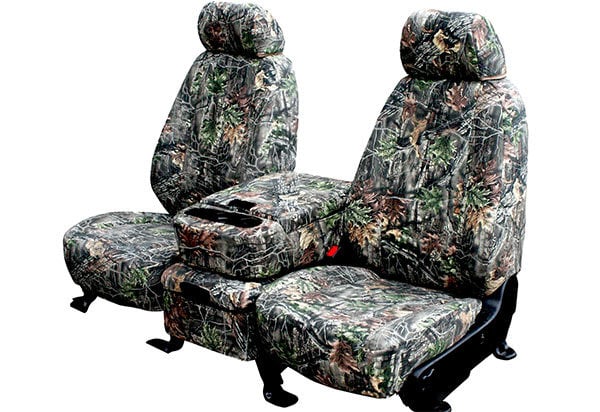 If you're considering an interior makeover for your Ford F-350, then Ford F-350 seat covers are a great place to start. With a set of custom seat covers, you can transform your drab interior into a bold centerpiece that reflects your personality. From camo seat covers to leatherette car seat covers, the variety of looks and styles is limited only by your own imagination. If you're at a loss or overwhelmed, start by picking a theme for your interior and go from there. Car owners pining for a look that'll never go out of style can't go wrong with a set of leather seat covers. Leather is the gold standard of auto luxury, and these seat covers can give your cloth interior a luxury upgrade at a fraction of the cost it takes to reupholster your seats. If you want some seats with more swagger, consider picking up a pair of seats with a cool pattern or screen print on the front, or add some continental style with CalTrend European Seat Covers. These CalTrend Covers are built tough to handle all of life's messes, but feature a sleek European design that looks great in any vehicle.
Final Thoughts
Hopefully this Car Seat Cover Research Guide provided you with some worthwhile tips and advice on how to pick the best seat cover for your vehicle, be it a Ford Escape, Toyota 4Runner, or Chevy Colorado. From CalTrend to Covercraft, we offer all the top brand seat covers at our site. If you have any additional questions about our catalog of car seat covers, please contact our highly trained Customer Service Department at 800-663-1570.