Neoprene Seat Covers Reviews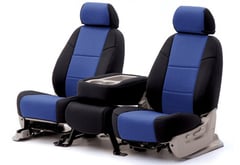 Neoprene is the fabric used to make scuba suits. It is form-fitting and water-resistant, offering maximum seat protection. Neosupreme is a neoprene-like fabric that is not as moisture-resistant but does have a similar look and feel, without the hefty price tag. Neosupreme, naturally, is not as high-quality a material as neoprene, and some customers notice that difference. Others don't seem to mind.
These are the best fitting seat covers I have ever seen. They fit very tight. You have to actually work them onto the seats unlike the ones you buy off the shelf in a store that can just be thrown on from the store parking lot. My only complaint is that the center console is pretty loose around the drink holes. There was extra fabric with no way of fastening it down so i had to fold it over and sew it to give it a finished look. There was another part in the same area that just had to be removed and sewn, it served no purpose and got in the way of latching the console shut. I would recommend this product to anyone. I am saving my money to get the covers for the back bench seats. Scott G. from Auburn, AL

Delivered fast, and with everything promised. However they had a HORRIBLE smell for the first week and a half, but it is starting to go away two weeks out. Other than that everything else was as promised, nice fit, nice looks, and the quality is what you would expect for how much I paid. PickyGuy from Amarillo, TX

Leather Seat Covers Reviews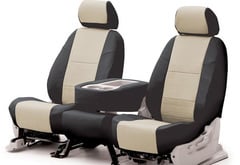 Everyone knows what to expect with leather: the look, the feel, the pleasant scent. That said, some people simply cannot afford leather seat covers. Enter leatherette, a less expensive vinyl alternative very similar to leather in every way except the bottom line. While the price of leatherette is close to half as much as that of leather, there is a general quality drop-off reflective of that difference.
After putting these on over my Accord's regular seats you would not beleive the difference! You can't tell they weren't factory leather seats. This is the best improvement I could have ever done for the value of my car. Well worth the custom-fabrication wait! Thomas U. from Charlotte, NC

These seat covers are very durable and look like the real thing. The installation was a bit tricky and two of the straps were torn off, but customer service was exceptional and replacements were sent right out. Ginger Garner from Minneapolis, MN

Canvas Seat Covers Reviews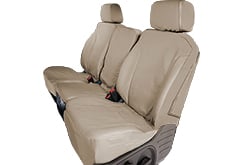 Canvas seat covers, along with those made from other similar synthetic fabrics, offer a host of benefits that leather and neoprene do not. Breathability, machine-washability, and overall comfort stand out in most customer's minds. Spacer mesh seat cover owners, for instance, enjoy that their new seat covers don't get as hot as leather ones do in the summertime. Some customers have had issues with getting the covers onto their seats, but once installed few people have had any issues.
I bought these seat covers to combat the Florida heat. I put them over my leather seats because it was unbearable to sit on the seats while running errands or going to the beach. They work perfectly, look good, and protect the leather from dirt and regular wear and tear. Very happy. Todd S. from Fort Lauderdale, FL
I purchased the charcoal Ballistic seat covers. The material is great- it will hide both spills and dog fur. The covers went on easily. The only issue is that the Honda fit have back seats that fold every which way- when folded up, the seat belt latch slips thru the hole in in the cover . You have to pull it back thru. This isn't a cover problem, but an issue with the design of the seats. Still, the seat covers look great and were easy to install. Took less than 1 hour, start to finish with 2 people. Fit owner from Appleton, WI

Velour Seat Covers Reviews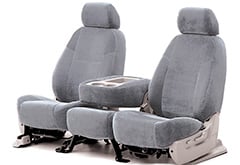 Anyone who has spent some time with velour knows exactly how great the fabric feels. A luxurious addition to any vehicle interior, velour seat covers also help keep the temperature down inside your vehicle and nicely upgrade worn-out seats. Some people had trouble with the fit of their new velour seat covers, particularly in needing to make new holes in what is supposed to be a custom-fit seat cover.
Good covers, they'll definitely keep my seats safe from my two dogs, looks very similar to what my factory seats look like. Just what I wanted, it was a very easy buying experience. Thanks guys! C.R. from Portland, OR
The appearance is quite nice, but a few details were disappointing. The covers are cut a little bit large and are somewhat baggy in place. I'm going to try dusting the very worn original leather lightly with a spray adhesive and re-installing the covers. There was no hole for the seatbelt latches, but cutting one was straightforward. Also, the velcro-closed slit to accommodate the armrest mount didn't line up. Overall, however, the covers are a vast improvement over our worn-out leather (neglected before we bought the vehicle) and are much more comfortable to sit on. Dan C. from Toluca Lake, CA