We don't expect you to simply take our word for it when discussing the quality of Extang tonneau covers. Below, you'll find a list of Extang tonneau cover reviews, featuring their five most popular tonneaus. After all, the customer is always right, and these folks have made their voices heard. We hope these Extang reviews help you in your purchasing process.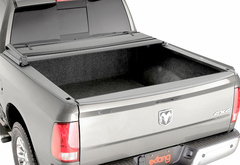 One of the easiest to install and easiest to use tonneau covers on the market today, the Extang Trifecta features three folding aluminum frame sections that mount in less than 3 minutes. All-vinyl or vinyl-backed canvas surfaces keep the elements out of your truck bed, away from your cargo. The Trifecta arrives fully-assembled, with thick buckle straps to hold the cover open for an oversized load.
I received my Extang truck cover on Thursday and installed it the following Saturday morning. It only took me 20 minutes from the time I opened the box and had it completely installed. The temperature was 20 degrees in my driveway.
Bertrand J. from Topeka, KS - Ford F-150
Pretty great little cover here. Simple installation, though a little cumbersome on delivery. got that sucker on and bingo, no problems. Real nice product, highly recommend it.
Isiah from Clearwater, FL - Nissan Titan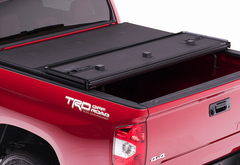 Aircraft-grade aluminum and a honeycomb core make the Extang Solid Fold one of the company's standard-bearers. Easy to install, this tonneau cover attaches in minutes and provides durable hard-top protection for your precious cargo. Three folds make for easy bed access when it's needed, and, should you have any problems, the Extang warranties are the greatest in the business.
Solid Fold is a good deal. Haven't seen much in the way of improved gas mileage, but I drive a truck, so whatever. Does what I need it to, happy with the purchase.
Jim T from Laredo, TX - Ford F-150
This tonneau is light, yet very solid. The folding design allows for easy access plus, it can be removed quickly when you need the whole bed. It literally takes longer to unpack the product than to install it. The product has provided a slight increase in mileage. The one problem is that it does not completely cover the rear stake pockets on my short bed. I'll get some insulating tape to cover them.
Brian from Omaha, NE - Dodge Ram 1500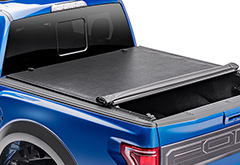 The Extang Revolution features a roll-up design that opens and closes in seconds without the use of snaps or velcro. Its low-profile design helps with gas mileage, and the multi-directional tarp system allows you to adjust it to the ideal tightness for your needs. A weather-tight seal keeps rain from your cargo and truck bed, and each Extang Revolution is custom-made for your specific truck bed.
I had a snap tonneau on my old truck and I don't know how I dealt with it now that I have the Revolution. It rolls up like in a jiff! and looks great.
Paul Harris from Elizabethtown, KY - Ford F-150
Sits flat, installs easy, and makes my life a lot easier. think it was a bit bold of them to give it that name, not sure what's so revolutionary, but it's a nice product.
ToughHombre from Little Rock, AR - Honda Ridgeline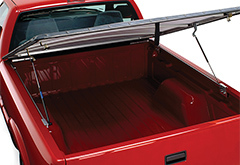 The Extang FullTilt, hinged at the cab and supported with gas shocks, features design benefits that most roll-up tonneau covers simply do not have. Easy to install and made of heavy-grade black vinyl, this tonneau's aluminum frame and sturdy construction can handle any situation. As if that durability and versatility weren't enough, the FullTilt also lends a sleek look to your truck.
They say that it only takes one person to install this bad boy. Not true. But it was easy enough with my son helping, and then once on it's easy enough to use. My old lady has no problem with it, and in my household that's important.
Chester A from Cairo, IL - Dodge Ram 1500
Like the rolling and hinged-lid aspects. Keeps prying eyes and sticky fingers out of my truck bed when I'm not working, gets out of the way when I am. Had it to do over, I'd do it again.
Dale E from Richmond, IN - Toyota Sienna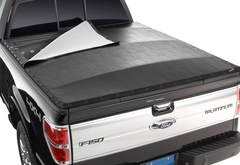 An economical solution to your tonneau needs, the Extang BlackMax offers vinyl tarp protection with an aluminum frame and spring-loaded bows. Adjustable fiberglass snaps allow you to keep your cover tight through any season, and each cover is custom-fit to your particular year, make, and model truck. It is convenient and good-looking, but you won't have to shatter the piggy bank to get one.
Makes my truck look pretty sweet, and the cost wasn't prohibitive. I'll probably upgrade when I can afford to, because this is a pretty basic cover, but for what it is, it gets the job done, definitely.
Darrell from Rochester, NY - Toyota Tundra
You a millionaire? I'm not. But I do love this thing. Not as easy to install as these folks claim, but I kept at it and now I got a good cover at a decent price. win win.
John M from Dayton, OH - GMC Sierra