Flywheels
Our Flywheels are designed with one thing in mind: maintaining horsepower. These Flywheels and inserts are light and efficient, minimizing power loss and putting less stress on the crankshsaft. They work with all clutch materials and provide a tight grip for maximum power transfer. Drop in a Fidanza Flywheel and buckle up!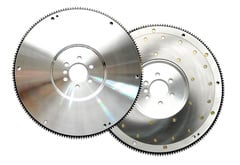 The Centerforce Flywheel is guaranteed to be the perfect-fitting flywheel for your engine. CNC machined to a CAD/CAM design, these flywheels are made of either billet steel or lightweight, low-inertia aluminum, depending on your vehicle. Best of all, installation is easy to any factory or OEM spec configuration.
From $163.95
Free Shipping
Quick View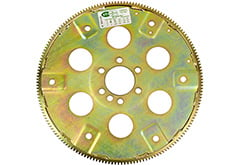 Bring your street racer up to the task with the B&M Automatic Transmission Flexplate. This stronger flexplate utilizes Radial Tension Technology making it perfect for street driving and extreme ricing applications.
From $120.95
Free Shipping
Quick View
About Flywheels
Maintain a smooth ride while your pistons safely and efficiently rotate when you choose from among our high-performing flywheels. Resting on the edge of your crankshaft, a Ford Mustang flywheel, for example, ensures that your pistons continue firing at steady intervals while simultaneously dissipating ambient energy that could make your ride shaky or unstable. A flywheel is an essential part of your vehicle's drivetrain, and without a great working one your engine won't hold up for long.
You're in the right place to find the perfect flywheel for your car's needs. Every part we offer has been tested and researched to be the perfect fit to your specific vehicle. Whether you need a Honda Civic flywheel or a Volkswagen Jetta flywheel, we can help you out with our vehicle-centric search capacity. Once you find the right flywheel for your ride, it will then ship to your front door free of charge. Shopping won't always be easy, but it doesn't have to be difficult, not when you choose AAG!
More Popular Flywheel Vehicles: