At AutoAccessoriesGarage.com we offer a wide variety of Truck Accessories that help you organize your cargo, keep your equipment protected, and shield your truck bed from damage. Many of these products, from Truck Bed Covers to Pickup Truck Toolboxes, are designed to fit particular bed lengths and sizes, so it's essential that you provide us with the correct dimensions to ensure a perfect fit. Follow the simple steps below on how to measure truck beds, and make sure you're getting the right part for your truck.
Know Your Truck Bed Style
The first thing to consider when shopping for truck accessories is what truck style you're driving. Depending on the products you're looking for, this may be an extremely important piece of information. There are four main styles of truck beds and cabs out there:

Once you know what kind of truck you have, the next step is to measure the bed length.
Measure Your Truck Bed Length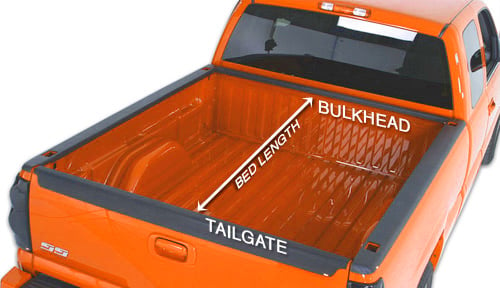 Your truck bed length is determined by the distance between the inside of your tailgate and the inside of the bulkhead. When you measure truck bed length you may find that the exact number does not match any lengths listed on our product pages. That's because most truck and accessory companies round off their measurements to the nearest half-foot. So, if your truck bed measures 76", you can go with the product listed for a 6.5-foot bed.
Video Instructions:
Start Shopping!
Now that you're properly equipped with the right measurements and details about your truck, it's easy to order anything you find at AutoAccessoriesGarage.com. From Truck Bedliners to Truck Camping Tents, we make the whole process simple. Just choose your vehicle, select your bed style and length on our product pages, and we'll make sure to send the right custom-fit parts to you. Plus, if you have any other questions, you can always call our knowledgeable customer service crew at 800-663-1570.
This page was written by Packy AutoAccessoriesGarage