SnowBear Snow Plow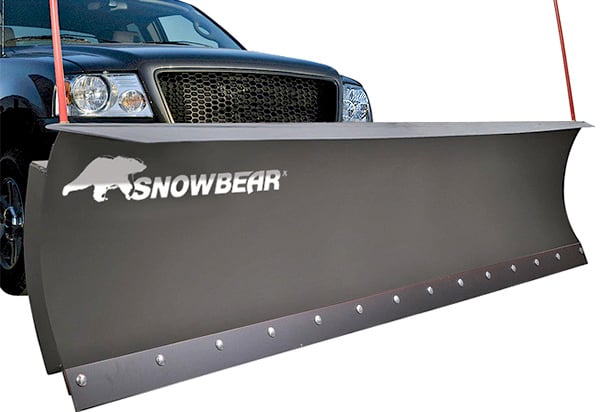 Sale Price: $

1,468.79

-

1,607.03

Shipping:

FREE SHIPPING
10% Price Drop - Prices Already Reduced, Limited Time!
The SnowBear Snow Plow is a tough, easy-to-use personal utility snowplow
82", 84", or 88" Steel blade easily cuts through huge snow piles
Raise and lower the snow plow blade while driving with the included electric winch
Heavy-duty tension springs let the plow blade tip forward when it hits objects, reducing equipment damage
Adjusts to five different angles for versatility
Snow deflector blocks snow from spraying onto your windshield, improving visibility
Reinforced steel scraper
Easy wiring - connects to directly to your battery
Durable Black powder-coat finish looks great and prevents rust and corrosion
Includes wireless remote, deflectors, plow marker kit, and skid shoes
Be sure to outfit your plow with extra SnowBear Accessories like halogen lights and casters
Requires 2" front mount hitch for mounting (SOLD SEPARATELY)
1-Year Warranty
Much to your kids' disappointment, the SnowBear Snow Plow doesn't know the phrase "Snow Day." This hefty snowplow easily cuts through dense, heavy snow piles and clears a safe path for all who follow in its wake. It's specially designed for personal use, making it the perfect weight and strength for the daily driver - not to mention the right price.
Say farewell to aching backs, expensive snow removal contracts, and oversize professional plows that require suspension overhauls just to install them. The Snowear Snow Plow costs virtually the same as a snow blower and gives you the freedom to plow whenever you need to, wherever you want to go.
The Snow Bear Snow Plow is built tough enough to tackle huge snow blankets. Choose an 82", 84", or 88" reinforced steel blade bolted to a strong tubular steel frame. The blade's powder-coated finish resists rust, looks great, and makes snow slide off instantly. SnowBear Snow Plows install to your vehicle via any 2" front mounting hitch (sold separately), and it includes the deflector, skid shoes, and a plow marker kit for extra safety. When it's time to to plow, simply align the plow receivers with the posts on the mounting system and insert the locking pins.
Your SnowBear Plow is electrically controlled by an electric winch. It's easy to hook up - simply wire the winch and switch to your battery and you're ready to go. The SnowBear Snow Plow's impact-absorbing tension springs protect the blade from snow-covered objects, preventing damage to your equipment. Plus, the blade's built-in snow deflector directs snow down and away from your windshield for better visibility and safer plowing.
Keep your roads, paths, and lots clear and free of snow with the tough, easy-to-use, and affordable SnowBear Snow Plow. Backed with a 1-Year Warranty.
SnowBear Snow Plow

Customer Reviews
Overall:
Performance:
Quality:
Appearance:
Average Install Time: 2+ Hours
Showing 10 of 61 reviews. See All Reviews.
It is a piece of trash. Too many bolts, too much can go wrong. I didn't send all of the hardware for it had to go to the hardware store and buy my own all in all it took about 16 hours to assemble. I would not advise anyone to buy this product.
I am assembling the plow by myself. I have run into a few problems while assembling, the first problem was missing washers. I found replacements, other than lost time, everything went together. The most annoying and time consuming problem was a misaligned hole on the blade itself. I could not finish mounting the Aframe to the blade because the center mount of the Aframe could not lineup with the designated hole on the blade as it was more than a half inch to far forward. I had to drill a new hole so I could insert the Clevis pin. I would expect a better quality control from a product of this type.
Great product so far. Comes with extra nuts n bolts just in case. Only issue I had was the wireless box cable is way too short to reach from battery to cab. Had to use the included manual 'in/out' switched cable, which is almost twice as long. No big deal. I highly recommend this product over similarly priced ones as it includes choice of controls, skid plates and plenty of extras.
Vance O

who drives a

GMC 2500 Series



2016-02-06
It took a while to do but mostly satisfied, plow sits too much at an angle for my GMC 2500 diesel so I may need to get a drop down kit but all in all I'm still very happy. I still was able to plow with it.
John D

who drives a

Jeep Any UNIVERSAL



2016-02-03
OK. First, short version: I have the plow installed on my wife's 2000 Jeep Wrangler. Two days after I completed the install, we got a 6' snowfall, so I had a great opportunity to test it out. It works great! Delivery was prompt, and on the dates promised. The Curt Receiver was shipped first, allowing me to have it installed by the time the plow arrived. Great job, Auto Accessories Garage. Because our Jeep has a 4" lift kit, and oversize tires, I did run into some problems with the install. LET ME EMPHASIZE: The problems are not related to the plow kit, but to my vehicle! One of the nice features of the Curt Front-mount Hitch Receiver is that the 2" receiver socket is open at the back end, and I was able to make a slight modification (drilled a 2nd 5/8" hole for the hitch pin, you can see Hole #2 in some of the photos) and mounted it "backwards" plugging the adapter into the rear of the receiver instead of the front. This moved the entire plow back about 10" closer to the vehicle than if it were mounted "Normally" (i.e.-extending forward) All in all a great product.
Christopher B

who drives a

Chevrolet Silverado Pickup



2016-01-25
I have a 2004 Chevy Silverado Extended Cab 2 wheel drive. It took quite a while to assemble the Plow, like a full day. Once assembled it was quick to attach. After I installed the Receiver Hitch on the front I decided I should flip it and have the Receiver above the crossbar instead of below. This required some cutting of the Plastic Valiance under Metal bumper, but was no problem a Recip Saw couldn't handle. I did get to use it to remove snow. It worked just how I hoped, AMAZINGLY WELL. But beware of Man Hole covers. They could cause a bend in the replace blade, but it still worked just fine.
KAY F

who drives a

Dodge Ram 1500



2016-01-03
I bought this plow for my husband and he is very happy. Some of his friends gave him a hard time about buying a plow on line but now they want the info to buy one also. A little bit of work to set up but goes on and off the truck very easily. We haven't had any real snow, just a couple of inches of slush but the plow moved it very well. So he said to say he is still waiting to get some real snow to plow.
Have not used it yet, still no snow in Cincinnati. This was very frustrating to assemble for me by myself, I needed a helper. It took me much more time the the suggested two hours to complete. Holes had to be drilled out, a fork had to be re-welded on the A-frame after the original weld cracked. The instructions are not the best, a video would better explain each step. Earlier steps have to be undone to complete a later step. The casters have no way to lock them in place and they fail when the assembled unit is rolled on them. The remote control feature works very well and installation was easy.
Well built. It took 5 hours to install by myself, but all of the parts fit. Would recommend it.
Showing 10 of 61 reviews. See All Reviews.