SnowSport HD Snow Plow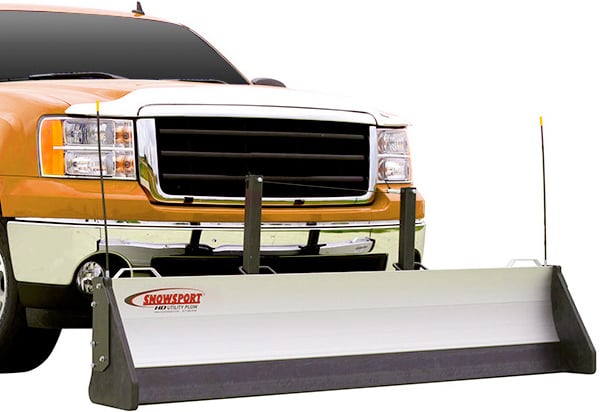 Regular Price:

$2,430.45-2,916.55

Our Price: $

1,650.00

-

1,980.00

Shipping:

FREE SHIPPING
Same Day Shipping if ordered by 2pm CST
Mounts easily to front or rear 2" receiver hitches for forward or back-up plowing action
The SnowSport Snow Plow boasts excellent plow performance on black top, concrete, grass, or gravel
Self-adjusting - does not require control from the cab
No complicated wiring or hydraulics to install or repair
Blade automatically disengages when in reverse, and re-engages in drive
Heavy-Duty rubber box ends add to the SnowSport's plowing capacity
Low-profile design for full headlight view
Kit includes:

Blade
2" Front Receiver Hitch
Push Frame with Hardware Kit
Three-Point Angle Interceptor
Vehicle-Specific Plow Mount
Let Jack Frost do his worst. With the SnowSport HD Snow Plow on your truck's front end, you'll be clearing the way in no time. The SnowSport Snow Plow is affordable and easy to install on any 2" front or rear receiver hitch, and can haul away powder with the best of them.
The SnowSport HD Snow Plow is both lightweight and easy to deploy and use. Simply lift each end over the frame guide to lower it, and drive! The SnowSport Snow Plow automatically accommodates changing terrain surfaces. Put your vehicle in reverse and the SnowSport HD automatically goes into a neutral position that re-engages when you move forward. When finished plowing, simply lift the blade back into the holders and secure it with hitch pins for transport.
The HD SnowSport Snow Plow features heavy-duty rubber box ends for a larger capacity, letting you push more snow at once. Its low-profile design allows full use of your headlights while plowing and transporting, an especially important safety feature on winter nights. Each SnowSport Snow Plow kit includes the blade, frame, three-point angle interceptor, custom vehicle-specific plow mount, and a 2" front receiver hitch.
SnowSport HD Snow Plow

Customer Reviews
Overall:
Performance:
Quality:
Appearance:
Average Install Time: 2+ Hours
Showing 10 of 54 reviews. See All Reviews.
Duke Armleder

who drives a

Ford F150



2017-11-22
I installed the 96 inch HD plow on my 2007 GMC 3500 dually. Its width works well since the dual wheels stick out the same distance as the plow, making for a nice edge in the snow. The light weight is very essential so that I don't wreck my front end since I'll travel long distances on the highway to do my friends' driveways. The box construction on the aluminum is structurally rigid and strong by design albeit light weight. The rubber blade and rubber side lobes have the right amount of "give" so that I don't tear the blade apart if I hit an object. (The other metal blades I have had in the past eventually became unuseable because of that) It is highly efficient when going back and forth on a short push since no time is wasted winching the plow up or down. The side-lobe design is simple and ingenious in how it works. Even though my truck is quite tall it worked well that the push-plate can be mounted up-side down to get an effective blade height. It looks great on the truck too!
Dwight K

who drives a

Jeep Wrangler



2017-02-09
Just installed the plow on my 2012 Wrangler last weekend in time for the 6" of snow that arrived last night. It worked great and I was able to plow my 300 ft. driveway in my slippers! Install took a bit longer as I did not have an impact driver - So, you will need to drill larger holes than specified in order to get the small bolts secured that hold the slide hinges. I selected this for my Wrangler as the weight is less than other options and I like the aluminum material as opposed to steel blades that will rust over time. Plus, rubber blade will not scar my driveway.
Len D

who drives a

Chevy Silverado



2017-01-13
Much heavier construction than expected. No snow yet so haven't used it yet. Appears it should do the job. Instructions very clear and correct on installation procedures.
William H

who drives a

Chevy Silverado



2017-01-01
The shop installed the receiver on the front of my truck. It took them two hours. I needed 3 hours to build the plow and bolt on the rest of the hardware to actually mount the plow. I've only used it to plow some areas that weren't plowed after the last storm. It works pretty well. Until our next storm when I have a larger area to plow, I won't really know how well it works.
Noah S

who drives a

Toyota 4Runner



2016-12-15
Great product!! Built stronger and heavier than I thought!!
Michael W

who drives a

Chevy C/K Pickup



2016-02-15
The SnowSport HD plow kit arrived in good shape and missing nothing. It took me about 1 ¾ hours to install and adjust but I have a good selection of tools. If there were torque specs on the nuts/bolts for the frame mount or the push frame, I missed them. But I don't think they were mentioned anywhere. Other than that the instructions were clear and concise. After installing the front box hitch I noticed a new brake or bearing like noise when traveling over 40 mph down the road. After a while I decided it was just the wind over the holes in the box hitch whistling, like when we blew on a coke bottle as kids, so I bought a $5 rubber box hitch plug at the auto parts store and the noise went away. As luck would have it I got about 4 or 5 inches of snow this morning and all worked fine for me. I have a long driveway and about a half mile of unmaintained street to the main road.
Jeffrey R

who drives a

Dodge Ram 1500



2016-01-27
In Kentucky, we don't get the snow levels of our northern neighbors. But with a 50 yard driveway, I was really tired of shoveling. I wanted a plow with no hydraulics that was easy to install on the front of my lifted '87 Dodge Ram Charger. After making some modifications due to the 4" lift, the Snowsport HD performed flawlessly. It removed a recent 6" snow down to asphalt. I could not be happier! It will not remove ice, but it is wonderful pushing snow! I am totally satisfied, great product. Putting the plow together was a snap; the modifications took longer.
Raymond S

who drives a

Chevy Silverado



2016-01-23
Delivered when promised. The installation instructions were very clear and the installation was very straight forward.
Corey S. Chocolay, MI

who drives a

Ford F150



2016-01-20
The customer service department at both Auto Accessories and the hitch company were excellent. I think that installing the hitch was the most time consuming portion of the process. However, we were able to complete it and use it immediately. The Snow Sport Plow arrived the day before we started getting slammed with over two feet of snow. I'm able to easily plow our driveway and ice hockey rink in minutes. Furthermore, the cost savings compared to a Western or Boss keeps the wife happy. However, I have one concern with the rubber sides that begin to tilt in after plowing. I merely pull them out into place every so often but I will contact AAG concerning this soon.
Mike A

who drives a

Toyota 4Runner



2016-01-18
This plow has met my all my expectations. Easy to install and use. I bought this plow to clear a 1 mile gravel private drive. Unfortunately I didn't have the plow when all the snow fell recently, so I have used this to clean up some very heavy and wet packed snow. I bought the "Hold Down Strap" to add extra downward pressure, as this is necessary to cut into the heavy snow, without it the blade will float on top of it. It has taken multiple passes to clear it, but that is to be expected of the packed snow. Doesn't tear up the road. Excellent product!
Showing 10 of 54 reviews. See All Reviews.