Snowmobile Covers
Snowmobile Covers keep your snow machine in great shape year after year. If you're storing your snowmobile for the summer, our covers block dust, grime, and UV rays that can ruin your looks and performance. Snowmobile Covers are also essential to prevent damage from roadside hazards when hauling it in your truck. Our durable Snowmobile Covers are made to stand up to the harshest weather, and are designed for a snug fit.
Protect your snowmobile while you travel with the Classic Accessories Deluxe Snowmobile Travel Cover. This snowmobile cover is made of water-resistant fabric to shield against tough weather and roadside debris. These snowmobile covers have tension panels and an integrated strap system to keep your cover secure on the road.Backed by a 3-Year Warranty.
From $128.49
Free Shipping
Quick View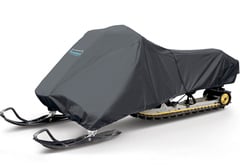 Protect your snowmobile year-round with the Classic Accessories Snowmobile Cover. These snowmobile covers are made from a tough water-repellent fabric that shields your vehicle from rain, snow, sun and dirt. Each cover is equipped with a dual vent system and adjustable straps. Backed by a 2-Year Warranty.
From $103.99
Free Shipping
Quick View