Forced Induction
Time to seriously supercharge your turbo racer. Our Forced Induction components are made for huge performance gains across the board. We've got all the custom components you need, from up pipes and down pipes to intercoolers and more. These parts are custom tuned to your engine and mandrel bent for optimal flow and Dyno-proven gains.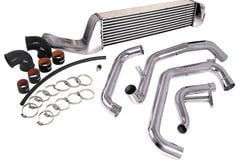 Ensure your high-performance machine is operating at maximum capacity with Injen Forced Induction. While not all parts are made for every vehicle, the right part to get the most out of your particular racing vehicle is included with this system. By maximizing airflow and recycling exhaust to make it work to your engine's benefit, this system puts the "power" in horsepower and guarantees your vehicle will be ready when race time comes.
From $208.95
Free Shipping
Quick View
Want to learn more? Read our:
About Forced Induction
It's one thing to install a new air filter or a new cold air intake, but it's a completely different story to overhaul your engine with Forced Induction! Whether you need an air intake for a Mini Cooper, or any other vehicle, intercoolers make sure your engine is operating at optimum power levels and temperature. By cooling things off while ramping them up, these allow your engine to run freely and easily, the way it was meant to.
A new forced induction, such as GMC Sierra Air Intakes, increases horsepower and acceleration while lowering thermal stress and airflow restrictions. When you need scintillating performance as soon as the green light blasts, you need forced induction. Best of all, when you shop for Ford F250 Air Intakes, or whatever your vehicle at AutoAccessoriesGarage.com, you have access to industry-leading brands at the best possible prices.