Mass Air Flow Sensors (MAF)
A mass air flow sensor (or MAF) is a simple 15-minute install that instantly gives you awesome performance gains. Our replacement MAF is in fact a stock unit, flashed with advanced programming to give your engine up to 45% more air flow. That translates to improved low-end torque and horsepower, and especially significant performance gains when used with a performance intake, exhaust, or programmer.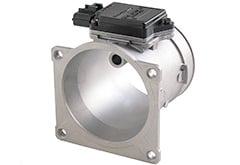 Increase your engine's total airflow with a Jet Power Flow Mass Air Flow Sensor. Built to OEM specifications, this system features specialized programming custom-designed for your engine. Easy to install, with no drilling or cutting required, you can expect major torque and horsepower enhancements.
From $168.94
Free Shipping
Quick View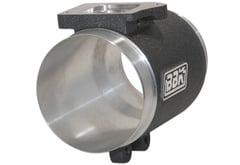 Add a dose of power to your ride by installing a BBK Mass Air Meter. Available in polished and Powder Coat versions, these airflow meters feature all-new electronics that add as much 12 horsepower to your engine. They are made to work with both factory and performance air intake systems, and are fabricated from aircraft-grade aluminum.
From $269.99
Free Shipping
Quick View
Want to learn more? Read our:
About Mass Air Flow Sensors (MAF)
It won't take long to update your Volkswagen Jetta air intake system with a mass air flow sensor. Once you do, get ready to cruise! Pair a replacement MAF with your Toyota Celica air intake and you will notice modest performance gains thanks to massively increased airflow. When more air gets into your combustion chamber, higher performance results!
It's all about ensuring the most air possible passes through your Honda Prelude air intake on its way to your engine. When that happens, a greater spark is produced and everything runs more efficiently. Shop at AutoAccessoriesGarage.com and enjoy industry-leading customer service and an in-depth learning center designed specifically to help you make the right choice for your vehicle.