Towels & Chamois Cloths
When it comes to cleaning your pride and joy, you need to make sure you've got the right tools for the job. Your old beach towel may look like it'll do, but nothing gives you the consistent drying and scratch-free shine of our high quality Chamois and Towels. Made from high-quality fibers and compounds, these towels give you the softest touch and the most efficient drying, so you'll be back on the road in style and in no time.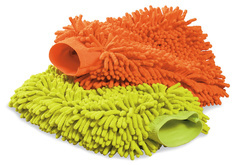 Griot's Garage Micro Fiber Wash Mitts are as effective as they are fun. Hundreds of super soft micro fiber tendrils make these towels soft and absorbent and with no thumb compartment, it's easy to spin them around and use both sides. An elastic band around the wrist makes this easy to wear and they come in sets of two, in two different colors. Backed by a Lifetime Warranty against defects.
From $29.89
Free Shipping
Quick View