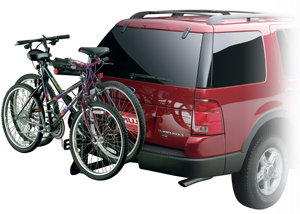 Your car, truck, or SUV can take you just about anywhere your wanderlust leads. Of course, you can't use it to traverse all the winding paths and off-road trails this country has to offer - that's why you long to take your bike with you. You need a secure, convenient way to haul your 2-wheelers without taking up all your interior space. The best way to do that is with a Bike Rack or Bike Carrier.
Read on to learn about the different types of Bike Racks out there and see what kind of accessories you can use to maximize your experience. Also, find out how to pick the right Bike Carrier for your vehicle and your needs.
Bike Rack Styles
There are many different ways to haul bicycles on your vehicle. Let's take a look at the different styles of Bike Racks out there.
Hitch Bike Racks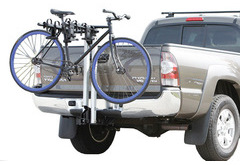 One of the easiest ways to carry your bikes is with a Hitch Bike Rack. These bike carriers attach to your 1 1/4" or 2" hitch receiver for simple installation, and they can carry up to 5 bikes. Some even mount onto the trailer ball mount or around the receiver, leaving the hitch free to pull a trailer or mount other accessories. Many Hitch Bike Racks, like the Thule Parkway and Yakima Ridgeback, tilt down or swing away to provide full access to your trunk, hatchback, or SUV cargo area.
Roof Mount Bike Racks
If your vehicle is equipped with a roof rack, you're already equipped for a Roof Mount Bike Rack. These racks let you mount a bike overhead, so you still have full use of your receiver hitch. Many bike roof racks, including the Echelon Bike Rack, secure your bike by the front fork, while others like the Yakima Raptor Bike Carrier grab the bike by the frame or tires so you don't have to remove the front wheel. Roof Bike Racks only carry one bicycle at a time, but you can mount multiple carriers onto your roof rack if you need to haul more bikes. An excellent accessory for roof mount racks is the Yakima Roof Rack Wind Fairing which reduces annoying wind noise from your roof rack.
Trunk Mount Bike Racks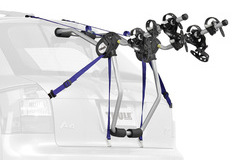 Not every car has a hitch or a roof rack. That's where Trunk Mount Bike Racks come in. These versatile bike carriers mount to just about any vehicle, from sedans and compacts to SUVs and minivans. They're easy to install and mount to the rear of your vehicle in just minutes using adjustable straps and padded brackets. Whether you need a simple economic design like the Yakima LittleJoe Bike Rack or need one of the top end Thule Bike Carriers, these racks do the job well. Plus, despite their universal design and ease of use, these rear bike racks still have an impressive capacity of up to 3 bikes.
Spare Tire Bike Racks
If your SUV has a spare tire mounted on the back, make the most of it with a Spare Tire Bike Rack. These racks, including the Thule Spare Me Bike Rack and the Surco Spare Tire Bike Carrier, attach by bolting through your spare wheel and carry up to 2 bikes. Spare Tire Bike Carriers offer a snug and secure installation and keep your hitch free for trailers or accessories.
Truck Bed Bike Racks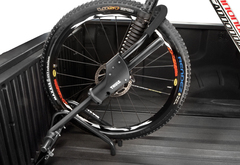 Forget about piling bikes in your truck bed and getting pedals and handlebars tangled up in their spokes. For secure and easy bike hauling in your pickup, choose a Truck Bed Bike Rack. With a Thule Bed Rider Bike Rack or BeddyJo Bike Rack you can turn your bed into a reliable bike hauler. If your truck already has a ProRac Bike Rack, you can mount bikes above the bed with the ProRac Sport Bike Rack. This carrier sits over your truck bed, so you can still use a tonneau cover to secure your other cargo.
Compare Our Most Popular Bike Racks
Price
from $199.95
from $129.45
from $170.10
from $145.84
from $259.00
Shipping
Free Shipping
Free Shipping
Free Shipping
Free Shipping
Free Shipping
Special Offers

Same Day Shipping

Rating

Overall:
Performance:
Quality:
Appearance:

Install Time
Under 30 minutes
Under 30 minutes
Instant
Under 30 minutes
Instant
Fit
Universal Fit
Universal Fit
Universal Fit
Universal Fit
Universal Fit
Number of Bikes
Four

---

Two
Four

---

Three
One
Four

---

Three

---

Two
Five

---

Four

---

Two
Mounting Style
Hitch Mount
Hitch Mount
Roof Mount
Hitch Mount
Hitch Mount
Warranty
Lifetime Warranty
90-Day Warranty
Lifetime Warranty
1-Year Warranty
Limited Lifetime Warranty
More Details
More Details
More Details
More Details
More Details
Bike Rack Accessories
Most of our Bike Racks and Bike Carriers are ready to go right out of the box, but you may find yourself needing a couple of accessories to make them work even better. Here are a few pieces you may want to add to your bike-hauling rig.
Conversion Bars

Most hitch-mount and trunk-mount bike carriers are designed to grab your bike frame by the top bar. That works great for standard road bike frames, but what about female bikes and full-suspension bikes with Y-frames? Conversion Bars are the answer. These bars, which you'll find with Surco Bike Rack Accessories, bolt to the seat post and gooseneck, forming a temporary top tube for the bike carrier to grab. These bars adjust to fit a variety of bikes, from rock hoppers to kids' bikes. The Thule Frame Adapter is another excellent choice for hooking bicycles of any size or shape to your hanging rear-mount rack. It installs cleanly between your bike's handlebars and seat.

Bike Locks
Every time you hop off your bike, the first thing you do is find a rack or other place to lock it up. When you come in from a biking excursion and mount your 2-wheeler to your carrier, you should lock it up there, too. Many car bike racks come with built-in lock systems, but if yours doesn't you can add your own Bike Locks for extra security.
Your bike isn't the only valuable piece of equipment attached to your vehicle - thieves may be eyeing your rack as well! Even if your bike is locked to the rack, if the rack itself isn't secured to your vehicle it can be easily removed. That's why the Yakima DeadLock Bike Rack Lock kit includes both an upper lock for the bikes and a lower lock that goes in place of the hitch pin, keeping the rack secure. The Yakima SKS Lock Cores are another great option for keeping your Yakima gear safe from theft. These lock cores work perfectly with all lockable Yakima accessories, including rooftop cargo carriers and bike racks.
How To Pick The Right Bike Rack
With all the different types of Bike Racks out there, how do you pick the right one for your needs? Here are some factors to consider when shopping for the best Bike Rack.
Your Vehicle
What kind of vehicle do you drive? If you ride in an SUV with a hitch, you have plenty of options, from Surco Bike Racks to Thule Bike Carriers. If you drive a Jeep, make the most of your hardware with a Spare Tire Bike Rack like the Yakima SpareJoe Bike Carrier. Hatchback, compact, and sedan drivers may not be equipped with hitches or roof racks, so consider a Trunk Bike Rack.
Your Driving & Bike Hauling Needs
How many bikes do you need to take on the road? If you're going it alone, you'll probably be fine with a single-bike roof rack like the Thule Big Mouth Bike Carrier. If you're taking the whole family on a biking trip, however, you may need a Thule Bike Carrier, which can hold up to 5 bicycles.
Where and how you drive is an important consideration. You need maximum upper and rear clearance when driving in parking garages or parallel parking in the city. In those instances, consider an easy-to-remove trunk carrier like the Yakima SuperJoe Bike Rack. You can also maintain rear clearance with a bike rack that folds up against the rear of your vehicle, like the Yakima StickUp Bike Rack.
Cargo Access
Helpful Tip: Spare Tire Bike Racks don't block your cargo door, but they may make it heavier. Take care when opening or closing your rear door, especially if it opens vertically.You may be taking some coolers, cargo, and other luggage on your next biking-heavy road trip, and you shouldn't have to climb over your rear seats to get to it. Don't worry about having your hatch back or SUV rear door obstructed by your bike rack. Many hitch-mounted carriers, like the Yakima SwingDaddy Bike Rack, swing away from the cargo door, giving you full access to your gear. Other racks like the fold-down Lund Bike Rack tilt down and away to let you open the hatch.
Final Thoughts
Hauling your bikes anywhere you need to go is simple when you're equipped with the right gear. We hope this Bike Carriers & Bike Racks Research Guide helps you make a more informed decision when shopping for bicycle hauling gear. If you have any questions about the information in this guide please contact our knowledgeable Customer Service Department at 800-663-1570.
This page was written by Packy AutoAccessoriesGarage