Golf Cart Accessories & Covers
You hit the links with simple goals: a relaxing outing, a good time with friends, and ideally a few birdies here and there. With our Golf Cart Accessories you can focus on the game at hand and do it in style. Our Golf Cart Covers and Enclosures keep your cart looking great for years and provide crucial protection against wind and rain, even when you drive in it. Our Golf Cart Seat Covers protect your seats against the elements, while organizers and canopies keep your clubs clean and easy to handle. Next time you take your golf cart out, make sure you're doing it right with Golf Cart Covers & Accessories.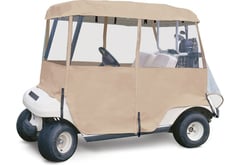 The Classic Accessories Deluxe 4-Sided Golf Cart Enclosure keeps you and your passengers safe from rain and wind. This golf cart enclosure is made from heavy-duty vinyl to stand up to bad weather. Plus, it's equipped with clear PVC windows for unmatched visibility. Available in 2 sizes for 2-person golf carts or 4-person golf carts. Backed by a 3-Year Warranty.
From $159.49
Free Shipping
Quick View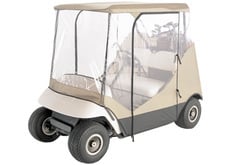 Protect yourself from wind and rain while you golf with the Classic Accessories 4-Sided Golf Cart Enclosure. These golf car enclosures feature zippered doors and a separate rear panel for instant club access. The Classic Accessories Travel Golf Car Enclosure is made to fit most 2-Person golf carts.
From $111.99
Free Shipping
Quick View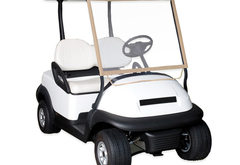 The Classic Accessories Golf Cart Windshield keeps your cab bug free and your passengers safe from the wind and rain. This golf car windshield comes in 2 styles and is made to fit any roofed golf cart.
From $34.49
Free Shipping
Quick View