RV Covers
Your RV may be the centerpiece of your road-borne vacations, but when you aren't crossing the country you need to make sure it's parked safely. Keep your motorhome protected from harsh weather and sun damage with an RV Cover. Our RV Covers are made from top-quality fabrics and designed for easy installation, use, and storage. With an RV Cover, your home on wheels will stay pristine through every season.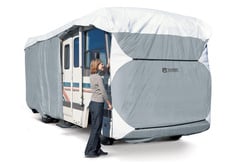 Shield your RV from harsh weather and debris with the Classic Accessories Deluxe PolyPro III RV Cover. The Classic Accessories RV Cover is water and wind resistant and protects your motorhome from rain and snow as well as harmful UV rays. Backed by a 3-Year Warranty.
From $406.99
Free Shipping
Quick View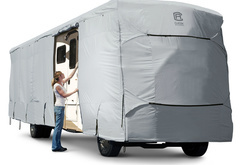 Protect your RV from wind, rain, and sun damage with a Classic Accessories PermaPro RV Cover. Made of patented PermaPro "ripstop" fabric, these covers are breathable and dry quickly in addition to being adjustable to fit any RV. Made for either Class A or Class C RVs, these covers have been loaded with convenience and durability at every turn.
From $532.49
Free Shipping
Quick View